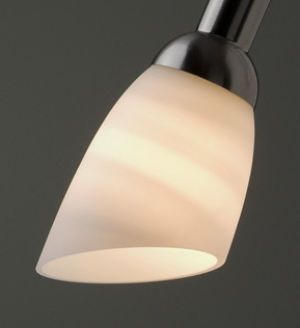 Shielded light shower as table lamp for the desk and much more. With light socket E14.
Flexibility is a top priority with this table lamp. The focus lies naturally in the shieldingShielding is the protection from the effects of external fault zones and environmental influences (on a person's health most of the time). More against electric and magnetic alternating fields and this was integrated optically very appealing with this light shower in a lamp construction from brushed steel. The integrated flexible metal tube in the luminaire arm allows almost any luminaire position and thus creates the ideal light cone depending on the requirements.
This screened light shower is also an ideal reading lamp or as radiation-free light for the small bedside table at the bed. The reflector glass consists of handmade opal flashed glass which conjures up particularly beautiful lighting effects. Each individual luminaire is unique and unique.
Table lamp and reading lamp or bedside lamp for reducing low-frequency electric and magnetic alternating fields
Brushed steel
Ideally suited for offices, living rooms, bedrooms (bedside cabinets) and children's rooms.
Protection class 1 (with protective conductor) according to DIN / VDE
In these countries this shielded light shower can be used:
CEE-7/4 (German System) and CEE-7/7 (French System): Afghanistan, Algeria, Andorra, Belgium, Bosnia-Herzegovina, Bulgaria, Croatia, Czech Republic, Estonia, Finland, France, Germany, Greece, Hungary, Iceland, Indonesia, Italy, Korea, Latvia, Lithuania, Luxembourg, Morocco, Macedonia, Monaco, Montenegro, Moldova, Netherlands, Norway, Poland, Portugal, Romania, Russia, Serbia, Slovakia, Slovenia, South Korea, Spain, Sweden, Tunisia, Turkey, Ukraine, Yugoslavia, Iceland.
Ideal accessory for this shielded light shower