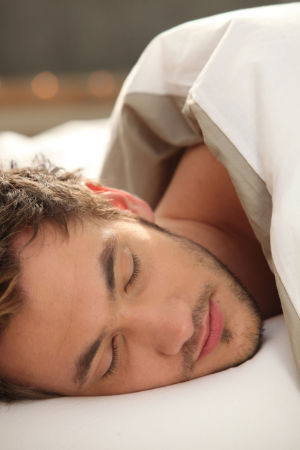 Protection against EMF immissions even when travelling, outside the protected sleeping area at home. ShieldingShielding is the protection from the effects of external fault zones and environmental influences (on a person's health most of the time). More bedding TBL, groundable and effective against 5G!
This linen is sewn with the same shielding fabric as our ElectrosmogElectrosmog is a colloquial term for all emissions from electric, magnetic, and electromagnetic fields. More PRO sleeping bag and shielding blanket for relaxing. The linen protects from LF electric alternating fields and can be grounded. It also offers effective protection from radiation from WIFI, cell phones, smartphones, DECT, LTE, etc. with an attenuation of up to 41 dB.
Because the head remains unprotected with the shielding linen, it is a reduction of the burden and not all-around protection, which the Electrosmog PRO canopy manages to offer a lot better.
Stainless steel threads are sewn into the fabric because they are considerably more durable and stable than fabrics with silver threads during vigorous movement. The fabric scratches the skin lightly, similar to a woolen jumper. If you sleep in it naked, this can disturb you – however, if you are wearing pajamas or other night attire, it will no longer trouble you.
Contents of the shielding linen
The linen is made up of two parts – the bed sheet and the duvet cover. The bed sheet can be covered by an additional sheet or fitted sheet if needed – we even recommend this. Lay the shielding bed sheet first, then ground it and put a comfortable fitted sheet or something similar over it.
The duvet cover is sewn differently on both sides: a gray side with shielding fabric and prepared for groundingGrounding is an electrically conductive connection with the electric potential of the ground. More, and a white side made out of cotton wool (Warning: the color may vary) that feels more cozy and comfortable. There are no pillow covers because they make less sense because of the existing sheet. We recommend our great neck support pillow, alternative massage pillow or a TraWuKu.
*Please note: The line is an "intermediary" and not final solution for "NO ELECTROSMOG"!
The best protection from radio radiation is achieved if you lay directly on the gray bed sheet and put the gray shielding fabric underneath on you. That way, shielding fabric is on shielding fabric and almost creates a unit. However, if you then lay on the woven stainless steel threads, a part of the LF electric alternating fields will reach your body despite the earth.
You will solve the issue of grounding LF electric alternating fields if you lay on an extra sheet or fitted sheet and the duvet with the white cotton fabric (Warning: the color may vary) underneath. For this, the protection against electrosmog caused by radio is lowered. Our recommendation is to go for the "weaker screening attenuation against RF electrosmog".

Further details of the shielding linen
Sheet dimensions: 240 cm x 140 cm
Duvet cover dimensions: 200 cm x 135 cm
HF attenuation: up to 41 dB
Color: Gray / light gray
Materials: 40% cotton wool, 30% polyester, 30% stainless steel
Surface conductivity: 100-800 Ohm / Inch (2.54 cm)
Use: out and about, short-term use at home as a kind of "intermediary solution" (not a real alternative to the canopy)
Grounding the shielding bed linen
This product can be grounded for protection from electric alternating fields (LF) with velcro grounding plate. This essential grounding accessory is not included – a grounding plate and grounding cable are needed. We recommend choosing the all-inclusive linen SET!
Caring for the fabric in the shielding bed linen
Wash gently at 30°C. Iron without steam for the first time. Do not tumble dry. Do not bleach. Do not dry clean. For allergic people: all new fabrics smell, wash before first use! We recommend TEXCARE or our ecological, vegan UNI SAPON detergent.
Documentation about shielding linen TBL (.pdf)
Technical details
Laboratory report screening attenuation
Withdrawal of the order
Please be aware that hygiene products like shielding clothes, blankets, bedding or sleeping bags cannot be returned when used.