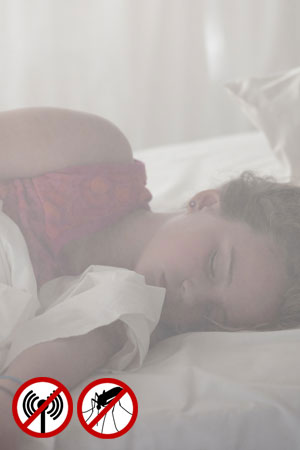 ULTIMA ™ shieldingShielding is the protection from the effects of external fault zones and environmental influences (on a person's health most of the time). More fabric against HF electrosmogElectrosmog is a colloquial term for all emissions from electric, magnetic, and electromagnetic fields. More caused by radio radiation (mobile radio, WIFI, DECT, …). HF shielding up to 41 dB of RF electrosmog by means of curtains. Effective against 5G!
This very attractive ULTIMA™ shielding fabric is excellent for curtains and canopies. Because the woven, radio-reflecting silver threads are insulated for protection, there is no oxidation with oxygen and, as a result, the ULTIMA shielding fabric's color does not fade with time. The curtain or canopy equipped with the ULTIMA™ will stay there in its natural ECRU-WHITE color for years.
The ULTIMA™ shielding fabric is the luxury version of the NATURELL™ shielding fabric by Swiss-Shield®. This shielding fabric is a half-transparent cotton wool fabric for protection from high-frequency electromagnetic fields (HF) from transmission masts and private devices such as cell phones, smartphones, WLAN routers, mobile LTE Internet, etc. It should be noted, however, that this shielding fabric cannot be earthed. ULTIMA™ is not electrically conductive, so protection provided by reflecting invading mobile radiation is limited.
The ULTIMA™ shielding fabric is made out of a special cotton wool tissue. This patented high-tech yarn is made of 82% cotton wool, 17% copper and 1% silver and reaches attenuation values of up to 41 dB, even up to 54 dB with two layers.
Use and assets of the ULTIMA ™
Ideally, the ULTIMA™ needs to be used for curtains and canopies because of its transparency.
The convincing properties of the ULTIMA™ shielding fabric are:
Cotton wool tissue following Eco-Tex 100 + 1000
High screening attenuation for a cotton wool fabric
Excellent price/performance ratio
Textile properties: washable, can be ironed, can be sewn
Quality grading: very high
Please note: if you also need protection from low-frequency electric fields, you will need complementary methods, such as shielding paints, to achieve this.
Caring for the ULTIMA™ shielding fabric
Wash gently at 30°C. Iron without steam for the first part. Do not tumble dry. Do not bleach. Do not dry clean. For allergy sufferers: every new fabric smells, wash before first use! We recommend TEXCARE or our ecological, vegan UNI SAPON detergent.

ULTIMA™ HF electrosmog shielding fabric technical information
Screening attenuation: 41 dB; 54 dB with two layers. All values provided apply for 1 GHz. Measurement from 40/600 MHz to 40 GHz according to standards ASTM D4935-10 or IEEE Std 299-2006.
Length: Running meter
Materials: 82% cotton wool, 17% copper, 1% silver
Dimensional stability: +/- 3 %
GroundingGrounding is an electrically conductive connection with the electric potential of the ground. More: Not electrically conductive. No protection from electric alternating fields (LF), these must be reduced through complementary methods. For this, we recommend suitable shielding paint or activation with a mains decoupler.
Application: Curtains, windows
Field type: HF (high-frequency electromagnetic fields)
Ecology: Very high
HF screening
Materials
Web width
Weight
Color
Coloring possible
Discoloration of the silver
Optical transparency
Quality grading
Washing test / screening attenuation
up to 41 dB
Cotton wool
copper
silver
250 cm
+/- 2 cm
85 g/m²
ecru-white
yes
no
middle
Very high
Very good
No cancellation for FABRICS

Like for cuts, there is no right to return shielding fabric.

Please note that cancellations do not apply to these products, because they were cut to the customer's specifications. Reselling a tailored item is no longer possible. For this reason, it is possible to request a free sample of the ULTIMA™ shielding fabric. By ordering pre-finished products, waiving the statutory right to return goods is accepted. We only sell the highest-quality fabrics! Because of the high production costs and a favorable price, small flaws are not grounds for complaint.
Documentation (.pdf)
Technical details
Laboratory report screening attenuation
Eco-Tex certificate