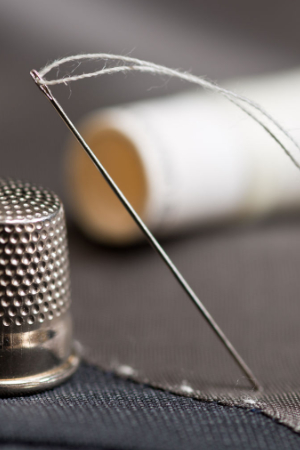 SILVER ELASTIC shieldingShielding is the protection from the effects of external fault zones and environmental influences (on a person's health most of the time). More fabric against electrosmogElectrosmog is a colloquial term for all emissions from electric, magnetic, and electromagnetic fields. More. Elastic and ideal for clothing. HF shielding with 99.999% efficiency, up to 50dB. Groundable LF. Effective against 5G!
The SILVER ELASTIC shielding fabric is typically used as a clothing fabric like our HF electrosmog shielding head gear. In our eyes, however, shielding clothing makes sense as an extension of healthy sleep without HF or LF electrosmog. With this, the electrosensitive person can find another effective shielding during the day to add to the shielded bedroom or anti-electrosmog canopy at night.
SILVER ELASTIC is a fully silver-coated fabric made out of 80% elastane and 20% silver. This makes SILVER ELASTIC extremely elastic, flexible, and comfortable to wear. SILVER ELASTIC also has a very high screening attenuation of up to 50 dB against electrosmog caused by HF mobile radiation.
Use and assets of the SILVER ELASTIC
The fabric is gray and cannot be told apart from other classic fabrics without shielding function. This can be important for people who want to keep sensitivity to electricity to themselves and don't want discussions to breakFault rocks are breaks that can arise from movements in the ground. Earth and rock layers are moved from their original position by fault rocks, which in turn moves minerals and metals. More out. SILVER ELASTIC is currently our best clothing fabric.
High screening attenuation, even at frequencies above 5 GHz.
Contactable (groundable) to protect from LF fields
Textile properties: washable, can easily be sewn. Exception: Cannot be ironed!
Quality grading: Very high
Caring for the SILVER ELASTIC shielding fabric
The normal "shrinkage" that happens after the first wash should not happen with SILVER ELASTIC as long as the washing temperature stays at 30 °C. Wash gently at 30°C. Do not tumble dry. Do not bleach. Do not dry clean. For allergy sufferers: every new fabric smells, wash before first use! We recommend our ecological, vegan UNI SAPON detergent.

SILVER ELASTIC electrosmog shielding fabric technical information
Shrinkage after the first wash: 0% width, 0% length
Elasticity: 50% width, 80% length
Screening attenuation: up to 50 dB. All values provided apply for 1 GHz. Measurement from 40/600 MHz to 40 GHz according to standards ASTM D4935-10 or IEEE Std 299-2006.
Length: Running meter
Color: silver
Use: Clothing, textile products
Materials: 80% elastane, 20% silver
Surface conductivity: 0.5 Ohm / Inch (2.54 cm)
HF screening
Materials
Web width
Weight
Color
Coloring possible
Discoloration of the silver
Optical transparency
Quality grading
Washing test / screening attenuation
up to 50 dB
Elastane
silver
150 cm
+/- 2 cm
130 g/m²
gray / silber
no
yes, strong
none
Very high
Very good
SILVER ELASTIC changes color over time
It should be noted that while the fabric with silver threads is highly effective, they change color as time goes on. The electrically conductive side of the shielding fabric can also have stains from the factory. Its quality and impact are not affected by this, it is, however, an optical change that can be covered in creative ways on curtains.
SILVER ELASTIC changes color!
No cancellation for FABRICS

Like for cuts, there is no right to return shielding fabric.

Please note that cancellations do not apply to these products, because they were cut to the customer's specifications. Reselling a tailored item is no longer possible. For this reason, it is possible to request a free sample of the SILVER ELASTIC shielding fabric. By ordering pre-finished products, waiving the statutory right to return goods is accepted. We only sell the highest-quality fabrics! Because of the high production costs and a favorable price, small flaws are not grounds for complaint.
Documentation of the SILVER ELASTIC shielding fabric (.pdf)
Technical details
Laboratory report screening attenuation