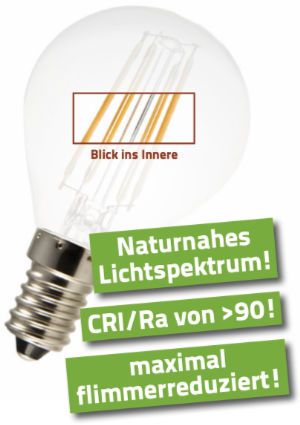 Feel good LED filament light Pure-Z-Retro with E14 base. A natural BIO LIGHT with excellent colour rendering and almost "flicker-free" light. Not dimmable.
The almost continuous spectrum of the emitted light is close to that of incandescent lamps or halogen lamps, but without the proportion of heat radiation (IR or infrared radiation).
Details make all the difference. This is especially true for LED's!
The colour rendering index (Ra or CRI) describes the effect of light on the colour appearance of objects by comparison with daylight (not dependent on colour temperature). Incandescent lamps have a CRI of 100, this LED a very good CRI of 94.
The colour temperature is a measure of the respective colour impression of a light source. Warm light colours (warm white, 2700 K) have a low Kelvin number, cold light colours (cold white, 5000 K) have a high Kelvin number.
The light exit angle of almost 360º is very well suited for all applications where incandescent lamps were previously used.
LED lamps are made of a semiconductor and operated with an integrated ballast. The resulting voltage generates "light flicker" (pulsation). This pulsation could be reduced to a minimum (below 1 %) with the "filament" LED.
Electrosmog: The Pure-Z-Retro LED was designed to generate small technical fields comparable to those of a light bulb.
Consideration of the time of day: The light spectrum of the "filament" has a slightly higher blue component compared to incandescent lamps or halogen lamps. According to medical experts, this influences the human waking state or sleep (melatonin formation). We therefore recommend using LEDs in "active areas" (desks, kitchens, corridor lighting, etc.), at reading places in the evenings, at bedside tables or in the period before going to bed, to continue using incandescent lamps or G9 halogen lamps.
LED Filament Pure-Z-Retro bulb almost flicker-free!
Performance data of this LED illuminant brought to the point
E14 socket
3 watts (corresponds to the light output of a 30 watts light bulb)
300 lumen luminous flux
almost flicker-free – pulsating light / pulsation < 1%
Colour rendering index: RA > 90 %, for colours that are as authentic and eye-friendly as possible
Color temperature: 2700 K (Kelvin), for warm white light
not dimmable
Average life: 15,000 hours
Download product details (german)