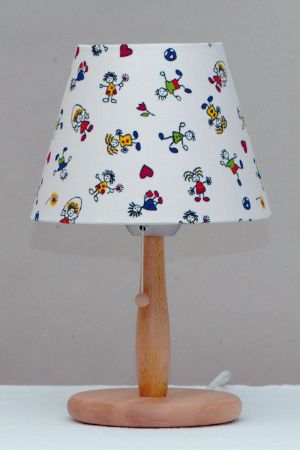 Shaded beech wood table lamp for kids. With cotton lampshade, printed. With lamp base E27.
Ecology, renewable natural substances and comfort are the main features of this shielded lamp series from DANELL. This table lamp for children is made of the natural product wood. Every single turned lamp base differs from the next in colour and grain. After production, the beech wood is treated with natural oil wax (Auro 129). In combination with the playfully printed "Stichmännchen" lampshade, this results in a flexible application as healthy light for kids in the children's room.
In addition to protection against alternating electric fields, other aspects of building biology were also taken into account. For example, the inner reflector of the lampshade is made of paperboard. The reason for this is the prevention of any evaporation by this reflector.
Table lamp and bedside lamp for the reduction of low-frequency electric and magnetic alternating fields
Turned beech wood, with lampshade made of cotton with print
Ideal for children's rooms
Protection class 1 (with protective conductor) acc. to DIN / VDE
The production of our lights from beech wood takes place in Germany, which concerns the production as well as the assembly. The high-quality lighting parts are the result of the craftsmanship of people with years of experience in their craft. This local production enables the replacement of individual parts, such as the mains connection cable or the lamp shade, even after years.
Ecological motto: Creating durable products. Not throw away, but redesign or repair.
In these countries this shielded lamp can be used:
CEE-7/4 (German System) and CEE-7/7 (French System): Afghanistan, Algeria, Andorra, Belgium, Bosnia-Herzegovina, Bulgaria, Croatia, Czech Republic, Estonia, Finland, France, Germany, Greece, Hungary, Iceland, Indonesia, Italy, Korea, Latvia, Lithuania, Luxembourg, Morocco, Macedonia, Monaco, Montenegro, Moldova, Netherlands, Norway, Poland, Portugal, Romania, Russia, Serbia, Slovakia, Slovenia, South Korea, Spain, Sweden, Tunisia, Turkey, Ukraine, Yugoslavia, Iceland.
Ideal accessory for this shielded lamp