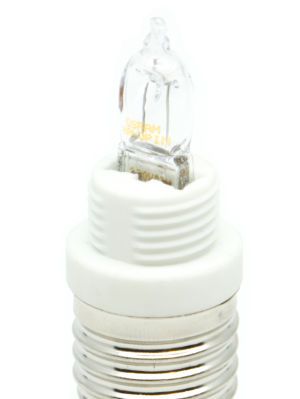 Universal adapter G9 socket to E27 socket. Ideal for halogen lamps.
With this adapter it is easy and effective to use any lamp with G9 socket in all lamps with E27 socket. The adapter can be easily screwed into the E27 socket by using the E27 screw thread.
We have decided for this adapter G9 socket to E27 socket from the point of view of building biology and health. The exchange of the used illuminant becomes child's play.
Halogen G9 lamps and the ban on incandescent lamps
Only halogen incandescent lamps in the G9 design have "survived" the European light bulb death, albeit only because of this compact design. The light produced by the G9 halogen lamp is of high quality in a wide variety of respects and is recommended from a building biology point of view.
Ideal for our G9 halogen bulbs