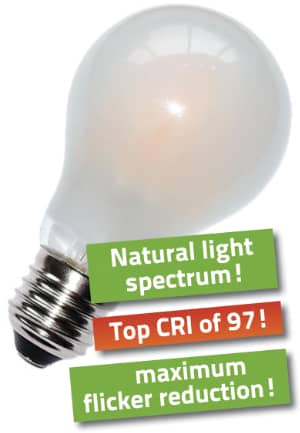 4.2 watts LED Filament Pure-Z NEO with E27 socket. A natural feel-good factor BIO LIGHT with incredible CRI 97 colour rendition and virtually "flicker-free" lighting quality. Warm white at 2700 Kelvin. As bright as a 38 watts light source. Not dimmable.
The almost continuous spectrum of the light emitted is close to that of incandescent or halogen lamps but without the proportion of heat radiation (IR or infrared radiation). In addition to the rating "recommended for residential medicine", this LED lamp in the clear glass version with 6.4 watts has also received the rating "GOOD" from ÖKO-TEST after a performance test.
The Pure-Z NEO LED produces an even, sunlight-like feel-good light in which the flicker content has been reduced to a minimum of < 1%. This LED is quasi the opposite to our full spectrum daylight lamps, which focus on the building biologically healthy lighting during the day, for the darker times (fog, cloudy, …) and the sunlight-reduced months of the year. The Pure-Z NEO LED, on the other hand, provides high-quality warm-white light throughout the year and is therefore ideal for cosy evenings at home – a light that makes you feel good.
CRI 97. Small detail, big effect!
The colour rendering index (Ra or CRI) describes the effect of light on the colour appearance of objects by comparison with daylight (not dependent on colour temperature). Incandescent lamps have a very high CRI of up to 100, this LED achieves the incredible Ra or CRI of 97. The higher the CRI is at 100, the more natural and real colours are.
The colour temperature is a measure of the respective colour impression of a light source. Warm light colours (warm white, 2700 K) have a low Kelvin number, cold light colours (cold white, 5000 K) have a high Kelvin number.
The light exit angle of 360º is very well suited for all applications where incandescent lamps have been used up to now. Ideal for lighting an entire room as all-round light.
LED lamps are made of a semiconductor and operated with an integrated ballast. The resulting voltage generates "light flicker" (pulsation). This pulsation could be reduced to a minimum (below 1 %) with the "filament" LED.
Electrosmog: The Pure-Z-Retro LED was designed to generate small technical fields comparable to those of a light bulb.
Consideration of the time of day: The light spectrum of the "filament" has a slightly higher blue component compared to incandescent lamps or halogen lamps. According to medical experts, this influences the human waking state or sleep (melatonin formation). We therefore recommend using LEDs in "active areas" (desks, kitchens, corridor lighting, etc.), at reading places in the evenings, at bedside tables or in the period before going to bed, to continue using incandescent lamps or G9 halogen lamps.
LED Filament Pure-Z NEO bulb almost flicker-free!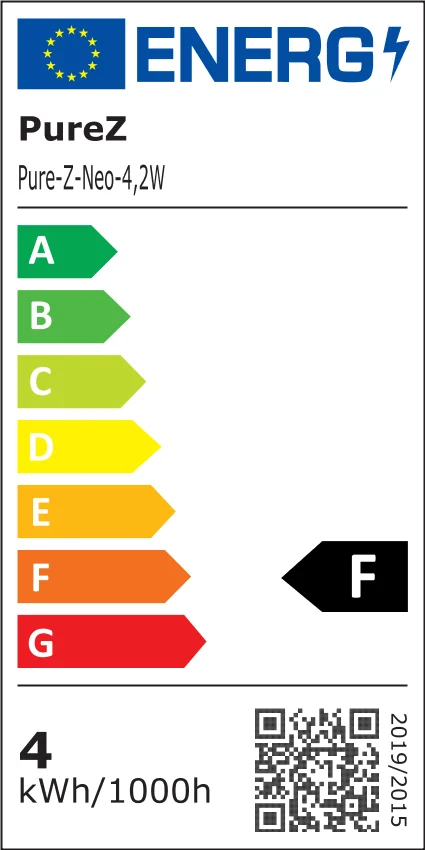 Performance data of this LED illuminant brought to the point
E27 socket
4.2 watts (corresponds to the light output of an 60 watts light bulb)
400 lumen luminous flux
2 variants: clear glass / frosted glass
almost flicker-free – pulsating light / pulsation < 1%
Colour rendering index: CRI 97, for maximum authentic and eye-friendly colours
Colour temperature: 2700 K (Kelvin), for warm white light
not dimmable
Average life: up to 15,000 hours
Switching cycles: up to 20,000
Information flyer, LED, clear (german)
Information flyer, LED, frosted (german)
Ideal shielded lamps for this LED Filament Pure-Z NEO light bulb