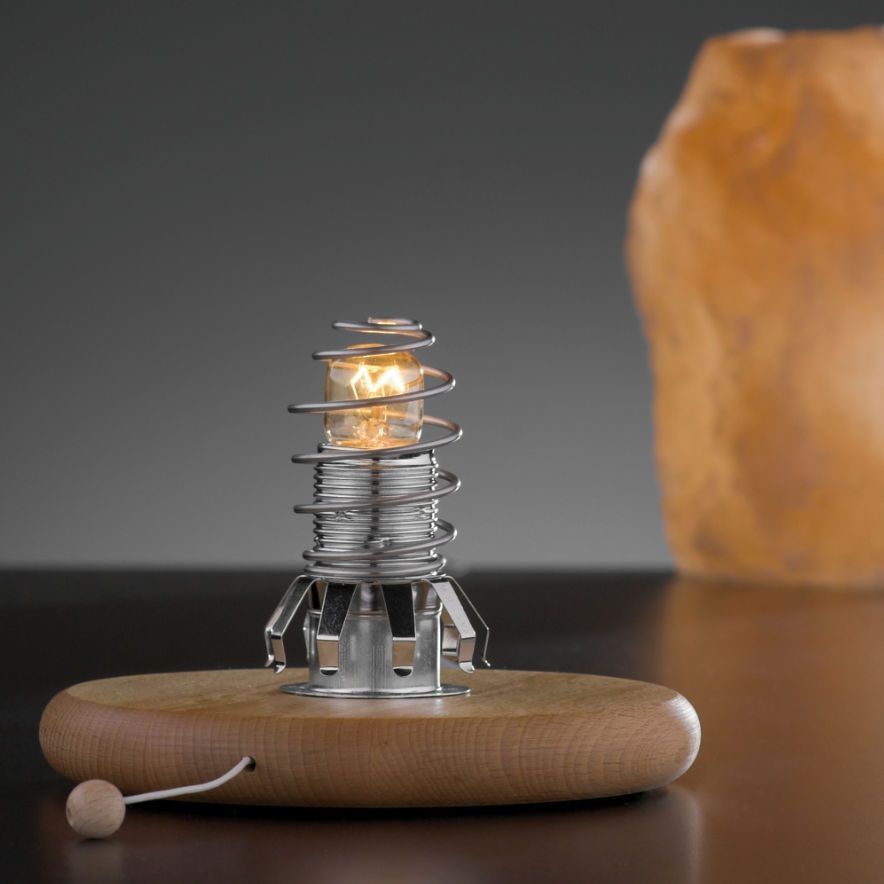 Shielded lamp base for retrofitting e.g. salt crystal lamps. Also ideal as a base for self-designed lampshades. Ideal with LED light source for socket E14.
This shielded lamp base is intended for retrofitting existing salt crystal lamps and for further processing and can be combined with a compatible lamp shade that is larger in size. Especially for alternative lampshades the waste heat of the used light source has to be considered, therefore we recommend to use LED light sources with E14 lampholder without exception.
Table lamp for the reduction of low-frequency electric and magnetic alternating fields
Ideal for retrofitting salt crystal lamps
Protection class 1 (with protective conductor) acc. to DIN/VDE
Disclaimer: For combinations with alternative lampshades we can neither guarantee nor assume liability. It is essential that you have the finished lamp checked by an electrician before putting it into operation.
Salt crystal lamps and suitable bulbs
For the salt crystal lamp we recommend a lamp with E14 socket with a maximum of 15 watts. It is also possible to use a halogen lamp with a G9 socket. In this case the adapter G9 to E14 is necessary. A further detail is the high electric alternating field of commercially available salt crystal lamps.
An unshielded salt crystal lamp (protection class 2) with a 2-pole mains connection cable and connected Euro plug (EN 50075) results in an alternating electric field of approx. 100 – 160 V/m. This field creates a range of up to 2 metres. In terms of building biology, such emissions should be avoided with a salt crystal lamp in particular. Our shielded lamp base (protection class 1) with 3-pole shielded mains connection cable, a metallic housing and the protective basket for the lamp results in an alternating electrical field of approx. 0.4-0.6 V/m (measured under laboratory conditions).
In practice, small environmental deviations must be taken into account. In the area of the socket outlet (earthed plug), the strength of the alternating electric field is influenced by the electrical installation. The shieldingShielding is the protection from the effects of external fault zones and environmental influences (on a person's health most of the time). More is checked in accordance with the specifications, frequencyFrequency is the number of occurrences of a repeating event per unit of time. It is a physical measurement that is important for describing periodic processes, such as vibrations. More bands and measuring distances of the recognised screen standards (for low-radiation screens / monitors): TCO'99, Band I (MPR II) and DIN EN 50279 (measuring distance 30 cm).
This shielded lamp base can be used in the following countries:
CEE-7/4 (German System) and CEE-7/7 (French System): Afghanistan, Algeria, Andorra, Belgium, Bosnia-Herzegovina, Bulgaria, Croatia, Czech Republic, Estonia, Finland, France, Germany, Greece, Hungary, Iceland, Indonesia, Italy, Korea, Latvia, Lithuania, Luxembourg, Morocco, Macedonia, Monaco, Montenegro, Moldova, Netherlands, Norway, Poland, Portugal, Romania, Russia, Serbia, Slovakia, Slovenia, South Korea, Spain, Sweden, Tunisia, Turkey, Ukraine, Yugoslavia, Iceland.
Ideal accessory for this shielded lamp base