Adapter illuminant E27 base to B22 socket. Use bulbs with E27 screw thread on every lamp with B22 bayonet socket!
With this adapter it is easy and effective to use any lamp with E27 screw base in all lamps with B22 bayonet socket. The adapter can be easily inserted through the B22 bayonet into the B22 socket and fixed by turning.
We have chosen this adapter E27 screw base to B22 socket for health reasons. This means that our flicker-free and building-biologically healthy illuminants can also be used outside the EU and the replacement of the illuminant is very easy.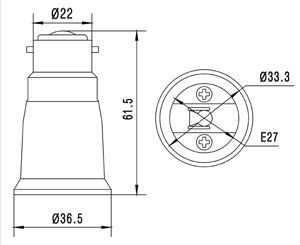 B22 bayonet socket
The "B" in the base designation stands for the term bayonet socket. Even if this has nothing to do with the original bayonet, the French weapon, the name does not come from nothing. It does refer to the bayonet catch. It works similarly to the bayonet that was put on the rifle as a stabbing weapon and is defined as a connection between tubular parts that is made by turning and can be easily released again.
A bayonet socket is therefore a socket with a bayonet catch for lamps. Alternative designations for the bayonet socket are swan socket or swan base, after the inventor Joseph Wilson Swan, who together with Edison invented the incandescent lamp.
Ideal LED lamps for this E27 to B22 adapter