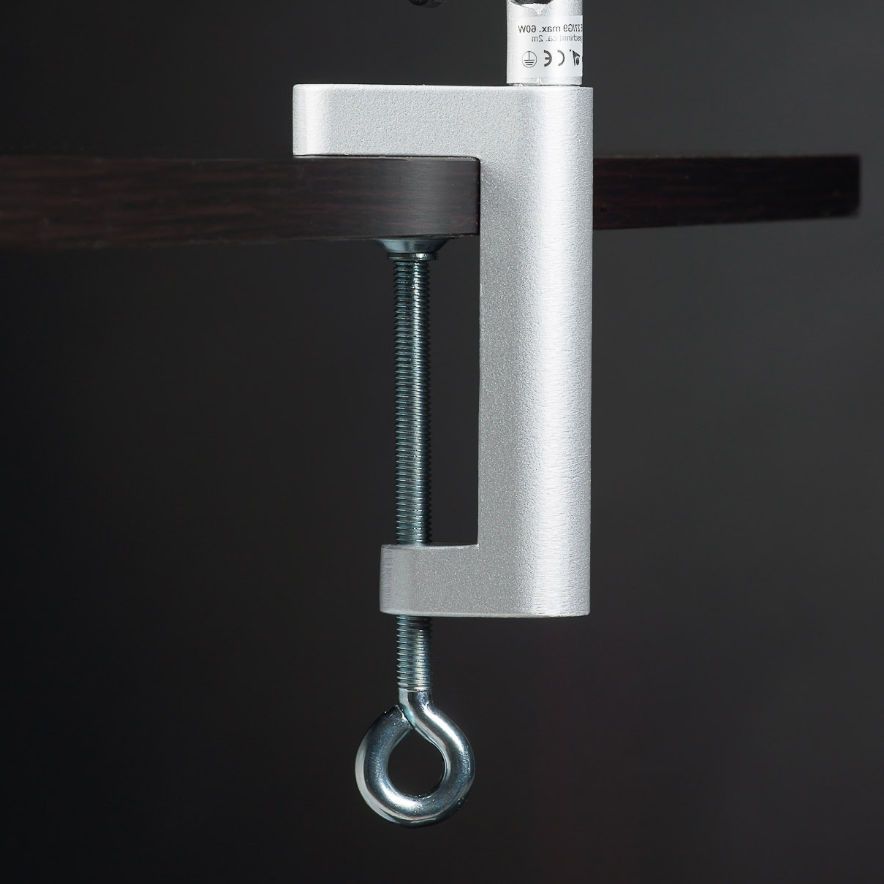 Shaded luminaire in WHITE design for the private desk and workplace. Equipped with a clamping foot, this lamp can be fixed practically anywhere.
This solid lamp is manufactured in contrast to commercially available lights manual and labor-intensive. The whale of the colour WHITE combines flexible use with a classically discreet, unobtrusive design. Reliability is the main focus of this shielded lamp, as it is a work lamp, i.e. designed for continuous use over many years. In addition to white, the lamp is also available in aluminium silver and black.
The friction joint with a wing nut at the lower and middle joint holds the lamp arm reliably and stable in the chosen position. By these integrated joints the position of the high-quality light of this lamp can be changed if necessary directly fast.
Desk doors for the reduction of low-frequency electric and magnetic alternating fields
High-quality and stable workplace lamp made of 18 mm round aluminium profiles
Ideal for the desk, workstation and as a work light
Protection class 1 (with protective conductor) acc. to DIN / VDE
Flexible lamp with E27 socket and bulbs up to max. 60 watt
This white working lamp is shielded against alternating electric fields and equipped with an E27 socket. The power class of the lamp used is designed for a maximum of 60 watts. This lamp also comes with a universal adapter for G9 bulbs, which is ideal for use with G9 halogen bulbs.
In addition to our bio-light LED lamps, these halogen lamps convince by high lumen values for more light output, at the same time lower wattage and thus lower power consumption. Alternatively, it can also be operated with our BIO-Light Filament LED light source.

In these countries this shieldes lamp can be used:
CEE-7/4 (German System) and CEE-7/7 (French System): Afghanistan, Algeria, Andorra, Belgium, Bosnia-Herzegovina, Bulgaria, Croatia, Czech Republic, Estonia, Finland, France, Germany, Greece, Hungary, Iceland, Indonesia, Italy, Korea, Latvia, Lithuania, Luxembourg, Morocco, Macedonia, Monaco, Montenegro, Moldova, Netherlands, Norway, Poland, Portugal, Romania, Russia, Serbia, Slovakia, Slovenia, South Korea, Spain, Sweden, Tunisia, Turkey, Ukraine, Yugoslavia, Iceland.
Ideal accessory for this shielded lamp