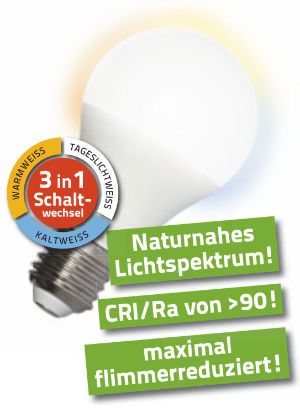 TRICOLOR Pure-Z NEO LED lamp with E27 base. Bright as 80 watts. Switchable colour temperature between daylight white, cool white and warm white for a natural BIO light. Not dimmable.
This LED is a 3-in-1 illuminant with a near-natural BIO light i.e. with an excellent colour rendering and almost "flicker-free" light.
The almost continuous spectrum of the emitted light is in the "warm white" mode close to that of incandescent or halogen lamps, but without the proportion of heat radiation (IR or infrared radiation). However, the two other operating modes "daylight white" and "cold white" make this LED technologically superior.
With this TRICOLOR LED, we are expanding our existing 12 watt (comparable to 100 watts) and also switchable full spectrum DUOLIGHT LED by a further model with lower luminous intensity. If we use the LED DUOLIGHT in commercial offices, the focus of this LED TRICOLOR is on private households.
Details make the difference. This is especially true for LED's!
The colour rendering index (Ra or CRI) describes the effect of light on the colour appearance of objects by comparison with daylight (not dependent on colour temperature). Incandescent lamps have a CRI of 100, these LEDs have a very good CRI of over 90.
The colour temperature is a measure of the respective colour impression of a light source. Warm light colours (warm white, 2700 K) have a low Kelvin number, cold light colours (cold white, 5000 K) a high one. This LED TRICOLOR is able to display 3 colour temperatures. Warm white, cold white and daylight white.
The light exit angle of almost 360º is very well suited for all applications where incandescent lamps were previously used.
LED lamps are made of a semiconductor and operated with integrated ballast. The resulting voltage produces a "light flicker" (pulsation). This pulsation could be reduced to a minimum (below 1 %) with the "filament" LED.
Electrosmog: The Pure-Z Neo LED has been designed to generate low technical fields comparable to those of a light bulb.
Consideration of the time of day: This is exactly where this TRICOLOR LED shows its full strength in private rooms. Daylight white and cold white contain a significantly higher blue component. This influences the human waking state and prevents the formation of melatonin, which is absolutely necessary for restful sleep. Later in the day, when reading in the evening, in the living room, at the bedside table or generally in the period before going to bed, switch the operating mode to warm white.
3-in-1 light. 3 illuminants in one LED " new light on click!
Due to price reasons, this technology of colour temperature switching was previously reserved for commercial use. With this new development with reduced performance it has been possible to achieve an attractive price level. Reasons for this are the private use, which is significantly lower in relation to the commercial application and also the luminous intensity can be lower. However, the function for switching the light temperature remains the same, only the sequence of the individual light temperatures is adapted to the private household.
Daylight white with a colour temperature of 6.500 Kelvin
Cold white with a colour temperature of 4.000 Kelvi
Warm white with a colour temperature of 3.000 Kelvin
The colour change takes place directly at the light switch on the wall. If the light switch is actuated within 3 seconds with Off/On, the TRICOLOR LED changes to the next colour temperature. If the lamp remains off for more than 3 seconds, it starts again at the first colour temperature, warm white with 3,000 Kelvin – similar to the classic Edison incandescent light or halogen light.
LED TRICOLOR Pure-Z NEO bulb almost flicker-free!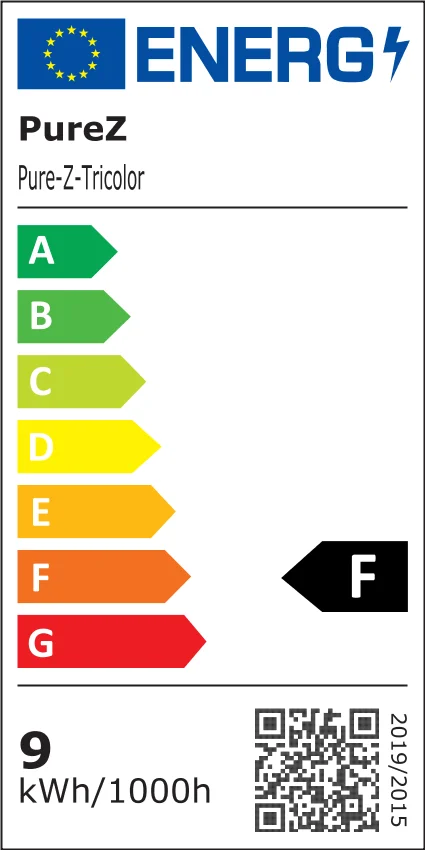 Performance data of this LED illuminant brought to the point
E27 socket
9 watts (corresponds to the light output of an 80 watts bulb)
800 to 850 lumen Luminous flux
almost flicker-free – pulsating light / pulsation < 1% – high light / pulsation
Colour rendering index: above CRI 90, for the most authentic and eye-friendly colours
Colour temperature: 3000 K (Kelvin), 4000 K and 6500 K
Glass: diffuser matt
Not dimmable
Lifetime: up to 20,000 hours
Switching cycles: up to 20,000
Starting time: less than 1 second
Download product details (german)
Ideal shielded lamps for our LED TRICOLOR Pure-Z Neo lamps