8 Watt LED Full Spectrum with E27 Base, Dimmable (TRIAC). A nature-close daylight with high colour rendering CRI 97 and nearly "flicker-free". Suitable for continuous operation.
This LED is the biologically healthy and direct replacement for the classic Edison incandescent lamp. It goes without saying that this full-spectrum daylight LED can effectively replace any energy-saving lamp and standard LED of this 60-watt performance class in terms of light quality and performance. Naturally, it is mercury-free!
The full-spectrum daylight produced here is flicker-free and feels brighter than that of a 60-watt incandescent bulb. The absolute special feature of this 8-watt LED lamp is the ability to dim, while maintaining a consistently very high light quality. An LED-compatible phase-cut dimmer (TRIAC) is required for this dimming functionality.
Full Spectrum Daylight LED: Sensational Lighting Technology Modelled After the Sun
This high-tech 8-watt LED impresses not only with its brightness but also with very high colour rendering. The colour rendering index is an incredible CRI 97, meaning that with this full-spectrum LED lamp, you can enjoy light that is as close to natural sunlight as possible. In terms of colour, this means: seeing colours naturally, recognizing colours naturally, and comparing colours naturally, but also being less tired and able to concentrate better.
Other useful factors include: low heat generation and a nice fresh, clear light for maximally natural illumination in the living area and at the workplace. Upon switching on, this LED lamp immediately shines with full brightness, only brighter than a standard 60-watt incandescent bulb.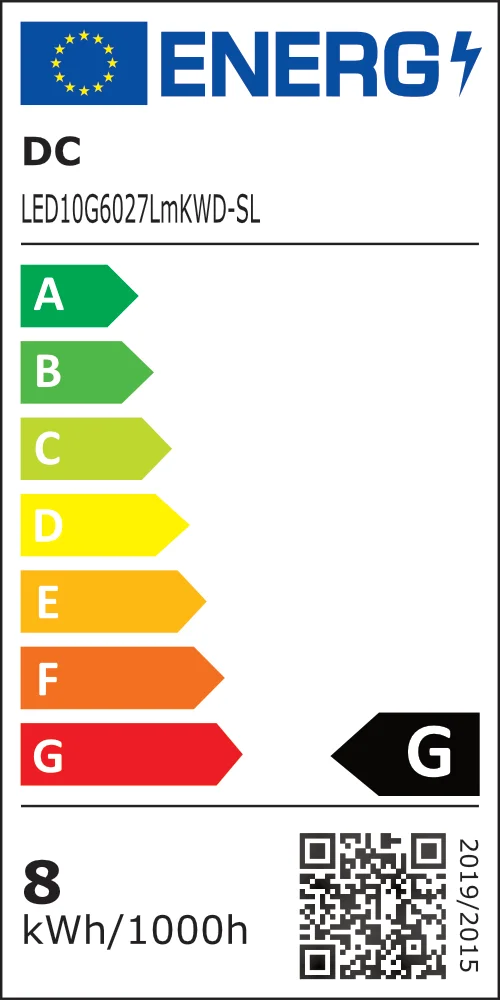 Full spectrum daylight, explained by the natur-nah® expert (german)
Full Spectrum Daylight LED: Compelling Performance at a Glance
Sunlight does not flicker, meaning it is flicker-free at 0 Hz (Hertz). Developed to emulate our sun, this LED is also designed to minimize flickering, that is, to be healthy and flicker-free according to building biology guidelines. This LED produces a luminous flux of 560 lumens with a brightness over that of a 60-watt bulb.
Color Temperature: 5000 Kelvin
Flicker-Free (below 1 percent)

Color Rendering Index CRI 97
Sunlike SMD with low blue light content
560 Lumens
Dimmable (TRIAC)
Consumption: 8 Watts
Lifespan: up to 35,000 hours
Switching cycles: up to 25,000
Business Quality = Suitable for continuous operation
3 years warranty
Recommendation: Try reading a book in the light of such a full spectrum daylight LED. We can hardly describe the difference in the contrast of the text and the generally pleasant reading experience – only personal experience will help!
FULL SPECTRUM LAMPS – THE HEALTHIER LIGHT
Our near-sun full spectrum daylight lamps support your natural vision and health in many ways. This is because their spectrum is very similar to sunlight. They therefore achieve similar supporting effects as the sun. The most important advantages for you are:
More well-being
High contrast viewing of small fonts
See and distinguish natural colors
Fewer eye problems
Less tired
Concentrate longer
More capacity
FOR THEIR ILLUMINATED EVERYDAY LIFE THIS MEANS:
Awake longer
Feel better
More concentrated
More relaxed eyes
Examples of use
As an LED lamp (without mercury) with E27 socket, it can be used wherever you have previously used incandescent lamps, energy-saving lamps or normal LEDs. For example for lighting in the kitchen, at the dining table, in the living room, in the children's room, in the hallway, in the bathroom, at the desk or in the reading corner. Basically everywhere where bright fresh light is desired and natural lighting is simply ideal.
Easy mounting
The installation of the LED lamp is identical to changing a light bulb. Simply screw it in and that's it. This LED fits everywhere where an E27 light bulb was used before.
Brightness
The brightness of this full-spectral LED lamp belongs to the 60 W incandescent lamp power class, but shines brighter.
Supplementary information and notes
This LED full spectrum daylight lamp, with a consumption of 8 watts, has already paid for itself within 2,050 hours despite the higher acquisition costs due to the low energy consumption compared to a 60 watt bulb!
Important Notice!
Due to the risk of overheating, the LED bulb must NOT be used in a small enclosed casing (less than 25 cm)
This LED bulb must NOT be operated with fluorescent tubes or energy-saving lamps on the same circuit