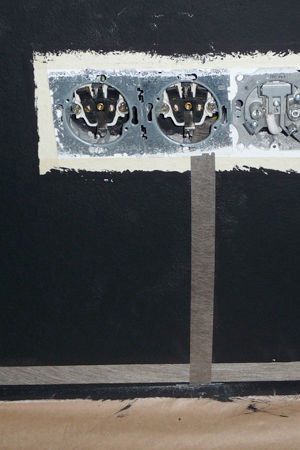 Self-adhesive shielding fleece EB3 with electrically conductive adhesive. 10 cm wide.
This shielding self-adhesive fleece is based on the same as the EB1 grounding strap on our shielding fabric HNV80. In contrast to the EB1 with a width of 2 centimeters, the EB3 has a width of 10 centimeters and thus this shielding fleece EB3 allows an additional application. Due to this 10 cm width of 10 cm, EB3 can be used if higher leakage currents are required.
Furthermore, the EB3 can be used by this width of 10 centimeters the shielding effect of the shielding fabric HNV80 of 80 dB against high-frequency radio radiation. This shielding fleece EB3 can be used for small-area shielding of slots, openings, cables, etc.
Also, the repair or repair of damage (holes) of a wall treated with shielding paint or shielding fabric is possible with EB3. After appropriate preparation of the surface in question (eg removal of the covering color on the shielding paint), the shielding fleece can simply be glued onto the damaged area.
Grounding a Faraday cage is mandatory!
The grounding of a Faraday cage is imperative. This is also a legal requirement – an electrically conductive surface must be grounded for reasons of personal safety by law. This is about the mandatory potential equalization (up to the FI circuit breaker) which results from the "requirements for protection against electric shock" and is binding in a DIN VDE regulation.
INFO - Grounding a room with earthing strap EB1
Processing of self-adhesive ground strap EB3
An electrically conductive grounding strap is an excellent way of electrically connecting a shielded conductive surface and tracks. An alternative to the ground strap is our AF3 additive, which contains electrically conductive carbon fibers. The grounding strap is adhered directly to the processed shielding material for electrical contacting, therefore, the adhesive used is electrically conductive.
This ground strap EB3 is suitable for processing on shielding paints, shielding fabrics and shielding fleeces. EB1 can be glued both under and on the shielding material. For practical reasons, we recommend applying on the shielding material. Due to the electrically conductive filling of the adhesive on the back, the adhesive power is 3 N / cm. EB3 sticks badly on difficult surfaces (eg gypsum plaster boards), therefore these should be pretreated with the GK5 primer.
Details to shielded grounding strap EB3 with conductive adhesive
self-adhesive
with electrically conductive adhesive
shield attenuation: 80 dB at 1 GHz
adhesive force 3 N / cm
width 10 cm
length 1 m
thickness 0.1 mm
Cutting takes place in 1.0 meter increments (example: a quantity of "4" is supplied as 4 meter long shielding fleece EB3)
No right of revocation for shielding fleece EB3
As usual with blanks, there is no right of return for shielding fleece EB3.
The number of products is the number of running meters ie. The shielding fleece is cut to the desired length for the customer. Please note that for tailor-made goods there is no right of revocation, as a resale of cut goods is not possible. By ordering blank goods, the waiver of the statutory right of withdrawal is accepted.
Documentation of the HNV80 shielding fleece, mesh base from the EB3 (.pdf)
Technical data
Shielding report