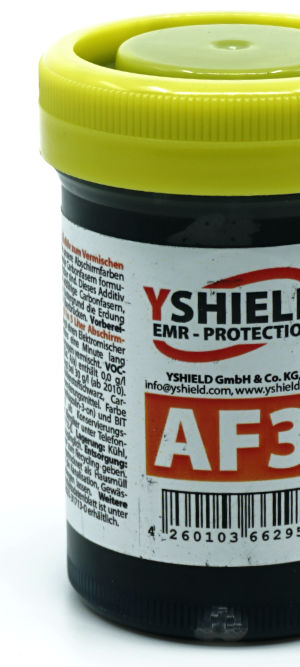 The AF3 ADDITIV contains long, electrically conductive carbon fibres and is an alternative to the classic self-adhesive groundingGrounding is an electrically conductive connection with the electric potential of the ground. More tape. It is mixed with shieldingShielding is the protection from the effects of external fault zones and environmental influences (on a person's health most of the time). More paints and is therefore invisible and bridges cracks underneath.
If a room is protected by a conductive shielding paint, this Faraday cageThe faraday cage is an enclosure made out of a conductive material that acts as an electric shield. More must be grounded. This grounding is normally accomplished with a self-adhesive grounding strap and conductive glue. Depending on the surface that the shielding paint was applied to, tears can appear over time. With the AF3 ADDITIVE, these tears can be bridged, even without grounding tape.
All shielding paints made by YSHIELD are formulated without any tearing carbon fibers. As a result, these airless paints are sprayable. However, if this is not needed and the paint is applied with a roller, the subsequent mixture with this AF3 ADDITIVE with long, conductive carbon fibers can be done before painting.
Processing the AF3 ADDITIVE
The AF3 Additive contains 90 mL of long, conductive carbon fibers. This quantity of 90 mL is enough for 5-liter shielding paints and is easily mixed. Always use an electric mixer and stir for at least a minute to get a completely homogenous mixture.
The AF3 ADDITIVE is suitable for the MAX54, PRO54, HSF54, HSF64 und NSF34 shielding paints.
AF3 ADDITIVE technical information

Suitable for YSHIELD shielding paints: MAX54, PRO54, HSF54, HSF64, NSF34
Container size: 90 ml
Yield: For mixing with 5-liter shielding paint
Ingredients: Water, carbon black, carbon fibers, surfactant, anti-foaming agents, preservatives (MIT, BIT).
Color: Black
Frost-resistant (3 freeze/cycle), can be shipped all year.