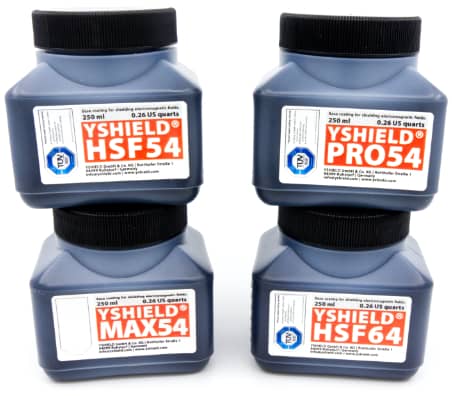 With our selection of shielding paints it can be difficult to choose the right one. With this sample set with 4 different HF shielding paints of 250 mL each, you will get help with your choice. TÜV SÜD certified
Uncertain which shieldingShielding is the protection from the effects of external fault zones and environmental influences (on a person's health most of the time). More paints is the ideal and most suitable? With this sample set of shielding paints against electrosmogElectrosmog is a colloquial term for all emissions from electric, magnetic, and electromagnetic fields. More by radio radiation HF (mobile radio, WIFI, LTE, 5G, …) it is possible to try out our different shielding paints in practice, before shielding paint is requested in larger quantities for the shielding of individual rooms, whole houses or laboratories.
In this sample set HF shielding paints are 4 variants of shielding paints with 250 mL each included.
Shielding colours are mainly black and this also applies to these YSHIELD shielding paints. Visually, the difference is practically invisible, but as soon as the application is concerned, the difference becomes enormous. The chemical differences are very big i.e. in the binder, the smell, the viscosity and generally in the behaviour during processing. The sample set helps immensely in the practical application to find the right paint; to test the adhesion on small areas of the substrate and also the adhesion of the coating on the dry shielding paint itself.
Scope of delivery of the shielding paint sample set
Shielding paint sample set technical details
Application: Indoor walls, ceilings, floors, outdoor walls
Field types: LF (low-frequency electric alternating fields), HF (high-frequency electromagnetic fields)
Ecology: High, very high, normal
Color: Black