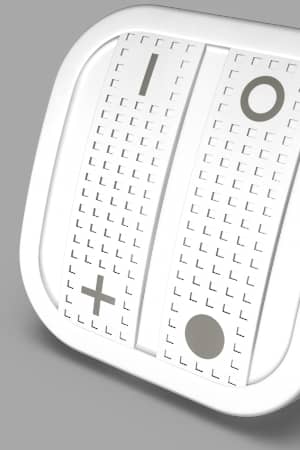 The remote control 
TX-NA16-HAND 
is the model for the hand. It functions according to the EnOcean standard, i.e. radio technology that is harmless to the environment. The 2-channel hand-held transmitter works without battery.
With this control for the hand, a comfortable use of the demand switch NA 16-1P radio is directly possible, independent of location and thus not bound to a certain prepared room. The ingenious thing here is the radio technology used for this, called the EnOcean standard. Due to the low transmission energy required, the kinetic energy of the keystroke is sufficient to send a control telegram (data packet or radio signal) coded according to the EnOcean standard to the mains cut-off switch or repeater.
Since this 868 MHz radio signal is only generated for a fraction of a second and only when the remote control is pressed, this remote control, as well as the entire master switch series, is classified as harmless from a building biology point of view.
Details of the TX-NA16-HAND handheld transmitter
This 2-channel remote control can also switch several basic devices installed in the power distributor, as well as radio-controlled sockets or other EnOcean devices. And due to the battery-free operation, both this remote control for the Hans and the alternative wall transmitter are completely maintenance-free.
Furthermore, the hand-held transmitter is rubberised and is thus protected against shock (falling down) and splash water in the best possible way in everyday use. The mini magnets integrated on the back also have a practical advantage. This allows the hand-held transmitter to be fixed to all metallic surfaces.
Convincing performance of the TX-NA16-HAND remote control at a glance
2-channel hand-held transmitter for extending the field disconnector of the NA 16-1P radio series.
for controlling one, two or more (in combination with auxiliary relays) monitored circuits/rooms.
building-friendly radio technology according to EnOcean standard
very robust
1 year warranty
TX-NA16-HAND remote control documentation (german / .pdf)
Technical data
Range overview
MASTER SWITCH SERIES
Overview of the range and parts of our master switch series