MASTER SWITCHES ARE THE MAINS DISCONNECTORS FOR OUR MODERN SMART TIMES. THE AUTOMATIC, CLASSIC DEMAND SWITCH IS INCREASINGLY LOSING ITS COMPATIBILITY WITH LED, HOUSEHOLD APPLIANCES, ETC.
This is a topic that has accompanied building biology for many years and demands the most creative considerations. The classic mains disconnector is in operation 24 hours a day and functions automatically, i.e. it switches on the circuit when power is needed and switches it off again when no power is being consumed. This functional principle worked perfectly for many decades in the fuse box and would still do so today, were it not for the EU's ban on light bulbs.
With the introduction of low-voltage technology such as LED lamps, household dust collectors with electronic controls, wall switches for electric window blinds, etc., the mains disconnector reached its technical limit in terms of automatic detection. The power consumption of an LED when it is switched on is too low. As a result, the light remains off even though the light is switched on at the wall switch. With our base load resistor, it is possible to "help" the mains cut-off switch, because thanks to the resistance when switching on, it is increased to such an extent that the mains cut-off switch recognises this actuation at the light switch again.
This combination of mains cut-off switch with base load resistor will also work well in the future with regard to LED lighting. But it will not stop there, in our opinion.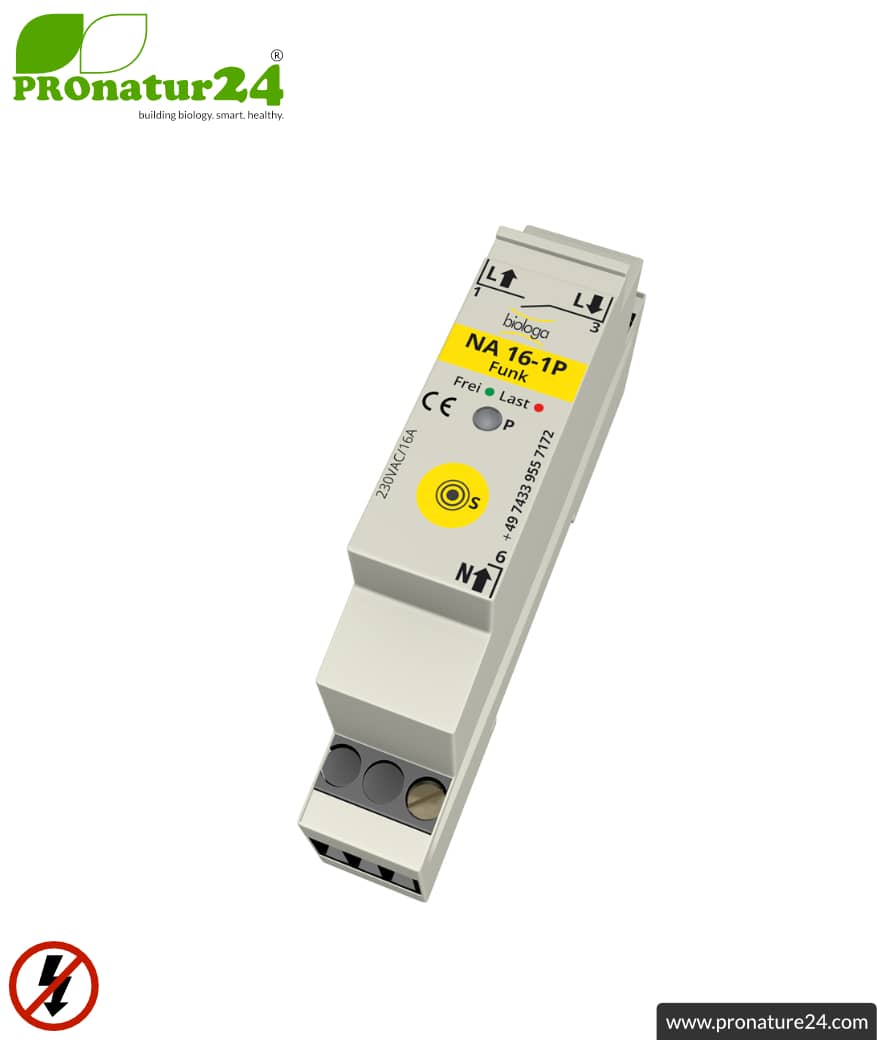 Master switch is the solution for the modern and smart age
Smart applications and smart controls via apps on smartphones and the like are penetrating our everyday lives more and more. The possibilities of these smart, sophisticated developments are too convenient and too tempting. And they all work in the low-voltage range. It is self-explanatory that at this point, at the latest, any automatic system will stop working despite an upgrade via base load resistor. The technology that follows the classic mains decoupler is called a master switch and is supposed to make everything better. Well, so much for theory, one should rather say.
We have been searching for a long time for a master switch system that is compatible with building biology and does not – as is so often the case – solve one problem and create a new one. With regard to such master switches, an example would be that although electrosmogElectrosmog is a colloquial term for all emissions from electric, magnetic, and electromagnetic fields. More is prevented by alternating current, permanent exposure to high-frequency electrosmog is produced by permanently transmitting transmitters and repeaters. This is not a real improvement in building biology, even if the basic approach might be correct, but it is just not thought through to the end.
Our master switch series is an interplay of different manufacturers
We are neither advisors nor sellers of specific brands, according to the motto "only that of brand X is the best". Quite the opposite. Our practice has shown that there are various ingenious companies and developers worldwide who achieve sensational things in special areas. In our experience, however, there is no brand that is "best" in everything. For this reason, we combine well thought-out and compatible individual products from different brands such as Biologa, Eltako and Nodon in a goal-oriented manner with the best price/performance ratio for the master switch series. The NA 16-1P demand switch forms the core of the master switch system and is expanded with corresponding options depending on local requirements.
MASTER SWITCH SERIES
Overview of the range and parts of our master switch series
Master switch and mains decoupler. What is the difference?
At the risk of repeating some things, here is a summary. Since the invention of the classic mains disconnector, formerly called field disconnector and until a few years ago mains disconnector, the technology has evolved with the market. The basis has always been automatic detection systems, sometimes specialised in special functions, but always on the same functional basis. With the introduction of energy-saving lamps and LED light sources, however, this technological basis has increasingly come under pressure with regard to the automatic detection of the switching on of a device or end user. Base load resistors are an effective way of bridging this problem, but if a bus system or the smart household becomes an issue, the classic mains decoupler comes to an end. And the next generation of mains disconnectors takes over – the master switch.
No, the master switch technology is not new. We are all familiar with it from our visits to hotels with a key card for the room. On the one hand, this key card opens the room door, and on the other hand, it has to be inserted into a reader on the wall inside the room in order to activate the electricity. This is exactly the function of a master switch technology, simply explained. The requirements in one's own household for this technology are dramatically higher and more complex. It is a matter of flexibility and freedom, and the health aspects of building biology should also be taken into account.
Where automatic systems do not interrupt the power circuit due to small permanent consumers from smart applications, Tiptronic switches or bus systems or do not reactivate it due to low-voltage lighting, with the master switch it is the human being who decides when power is OFF or ON. We are always talking about one circuit, whereby further circuits can be "added" to the master switch without any problems, as long as the maximum load capacity of the mains decoupler of the master switch system is not exceeded.
To enable this manual switching, either a separate control cable can be laid to the master switch (which is very costly or even impossible in an existing building). Or a radio technology is used, which in turn can lead to an increase in electromagnetic radiation within the building. And this is exactly where we come in with our master switch system, which we have developed over many years. We use a radio signal coded according to the EnOcean standard at 868 MHz, which is harmless to building biology. This low frequencyFrequency is the number of occurrences of a repeating event per unit of time. It is a physical measurement that is important for describing periodic processes, such as vibrations. More has a very good moult penetration and is harmless because the radio signal is only forwarded when the transmitter is activated. The transmitter itself works without batteries and is based on kinetic technology. Pressing the switch briefly generates sufficient electrical voltage to transmit a control signal via radio to the master switch system (= EnOcean functional principle explained simply).
Please note: Within an EMF-shielded room, this EnOcean also reaches its technical limits of functionality. If this is to be combined, i.e. a faraday cageThe faraday cage is an enclosure made out of a conductive material that acts as an electric shield. More with a master switch, it is essential to obtain building biology advice and discuss the project via our hotline.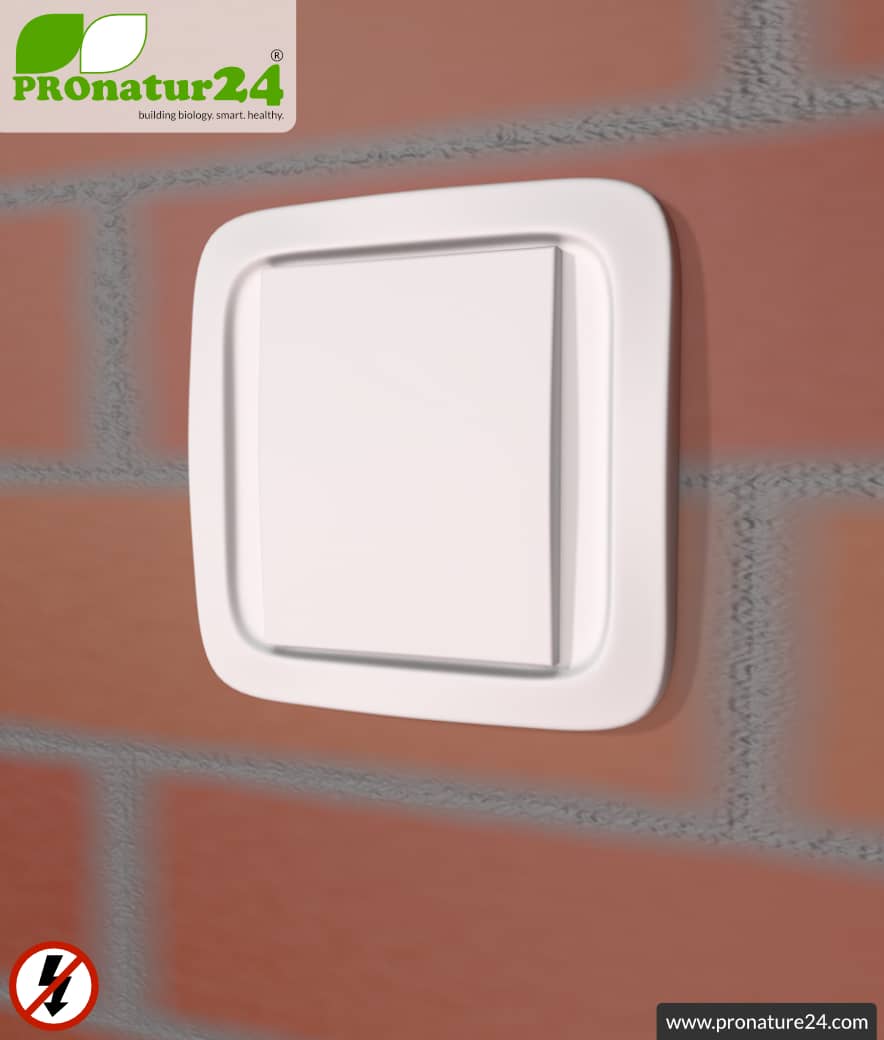 EnOcean Standard, a small detail makes a big difference!
Functionality according to the EnOcean standard means nothing other than simply radio technology that is harmless from a building biology point of view. This radio technology is also electromagnetic radiation (wireless radio technology) and uses the frequency 868 MHz for data transmission. However, this radiation is only generated for a fraction of a second, namely when a button is pressed on the remote control. The EnOcean standard is based on the kinetic energy generated when the button is pressed and this is sufficient to send a control telegram (data packet or radio signal) coded according to the EnOcean standard to the mains cut-off switch or repeater.
The fact that 868 MHz was selected as the frequency probably has to do with two factors. The frequency band between 863 MHz and 870 MHz belongs to the licence-free ISM bands with pure rules regarding transmission power and sub-bands. And the second reason is probably the good wall penetration of this frequency far below the free 2.4 GHz band of WLAN. It is true that the data rates are also low in this low band, but this is not an issue with the EnOcean standard anyway – the control telegrams are the smallest data packets and thus the smallest amounts of data.
Sounds strange, but it's true. All available remote controls work without batteries and are therefore completely maintenance-free. With regard to the radio radiation produced, the same applies to all available repeaters; a data packet is only forwarded when one arrives. Based on these holistic implementations and technological developments, this master switch system is classified as harmless from a building biology point of view.