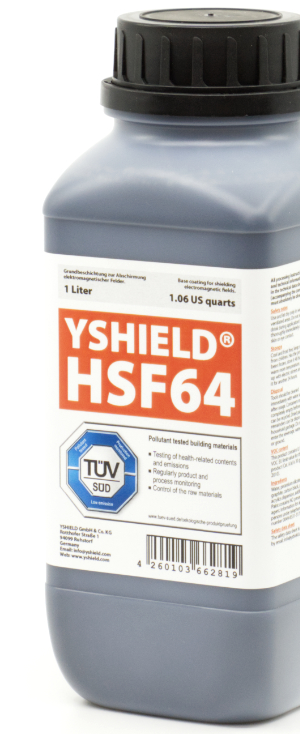 HSF64 is our shieldingShielding is the protection from the effects of external fault zones and environmental influences (on a person's health most of the time). More paint which does not contain any preservatives. Suitable for indoor use only! Now up to 93 dB shielding effectiveness at 40 GHz (up to over 99.9999999% shielding effect). TÜV SÜD certified!
The HSF64 shielding paint from YSHIELD focuses on people with an allergy to preservatives. This shielding paint was developed according to a minimalist formula based on potassium water glass. This results in slight limitations in film hardness, adhesion and shielding compared to alternative HF shielding inks HSF54, MAX54 or PRO54.
HSF64 was revised, modernized and optimized in 2019 after several years for even more efficient shielding effectiveness compared to the previous formulation of HSF64. Today, the focus is logically on 5G, even if this was not decisive for this further development of HSF64, the previous formulation was already perfectly suited for this purpose. This new formulation of HSF64 makes it possible to combine the previous shielding paints HSF64 and HSF74 without having to sacrifice a valuable property.
Due to the minimalistic formulation the shielding performance per coat is lower. This represents a weakening in direct comparison with alternative shielding paints. For this reason the triple coating of HSF64 shielding paint is explicitly recommended, the double coating is considered the minimum and a must.
HSF64 is now also a frost-resistant shielding paint and can therefore be shipped all year round for the first time. HSF64 is therefore also suitable for parcel shipment in winter as well as on pallets for trucks, trains and ships. Furthermore, HSF64 is highly breathable, solvent-free, plasticizer-free, low-emission and preservative-free. I.e. outstanding physical and chemical properties combined with very high ecology. This performance is confirmed by the TÜV SÜD certification.
Convincing properties of the HSF64 shielding paint
The shielding paint HSF64 from YSHIELD is ideally suited for the very effective shielding of exposure to electrosmogElectrosmog is a colloquial term for all emissions from electric, magnetic, and electromagnetic fields. More from radio radiation and alternating electric fields. Radio pollution from mobile phones, mobile Internet, WIFI, DECT, GSM, LTE, 5G, etc. is shielded up to 93 dB, which corresponds to an effectiveness of 99.9999999%. Electrical fields from domestic electricity (alternating current) are grounded extremely effectively and can be completely shielded up to 100%.
We generally recommend painting in two, but it is better to paint in three layers. The HSF64 shielding paint must be grounded!
Effective RF shielding. Screening attenuation: Single layer HSF64 shields up to 43 dB, two layers up to 50 dB and three layers up to 54 dB at 1GHz. At higher frequencies up to 40 GHz incl. 5G, the shielding is significantly higher again, up to 93 dB.
Substrate: Good adhesion on absorbent, untreated, preferably mineral substrates such as chalk, silicate, clay, cement, etc..

Not usable on gypsum-based substrates (plasterboard, …)!

After checking on a test surface, you can use small amounts of paint on absorbent dispersion paints, wallpapers, etc.
Final coating: Preferably covered with plastic-bonded dispersion paints or silicate emulsion paints. We recommend restricted use of pure mineral paints (clay, chalk, pure silicate). You can find concrete recommendations on the technical data sheet.
GroundingGrounding is an electrically conductive connection with the electric potential of the ground. More: Must be grounded! We recommend the self-adhesive grounding tape for indoor use.

Yield of the HSF64 shielding paint
Generally speaking, the yield of a shielding paint is necessary depending on the surface. The more the surface "sucks", ie. absorbing paint, the more shielding paint is required. We recommend conducting small tests to see how quickly the paint "enters". We highly recommend using our primer because that will prevent an excessively-high usage of HSF64 shielding paint. The "average" yield is based on a "non-sucking" surface.
You need to mix the HSF64 shielding paint extensively before applying it. The heavier ingredients will have sunk from storage and transport, and this must be corrected. With the stirrer that we have developed ourselves it is possible to effortlessly and effectively re-mix and re-apply the HSF64 shielding paint. Simply insert it into a standard electric drill and mix for around 5 minutes per container. There should be no more solid remains of the solid ingredients at the bottom of the container – these would make the shielding less effective because they wouldn't be put on the wall, but they'd remain in the paint bucket.
Technical shielding effectiveness values from the EMF laboratory
At a yield of 4 sqm/liter:
At 1 GHz: Single layer 43 dB | Double layer 50 dB | Three layer 54 dB
At 40 GHz: Single layer 53 dB | Double layer 75 dB |

Three layer 93 dB

At a yield of 8 sqm/liter:
At 1 GHz: Single layer 36 dB | Double layer 43 dB | Three layer 48 dB
At 40 GHz: Single layer 39 dB | Double layer 53 dB |

Three layer 66 dB
Stirrer for shielding paints
GK5 primer
Mandatory grounding of the HSF64 shielding paint
All electrically conductive surfaces must be grounded by a qualified electrician in accordance to the DIN/VDE regulations. This can be done over the electrical system's grounding support (ground contact in the socket) or on the grounded heating pipe of the wall heaters (radiator). A protective circuit also needs to be installed in the fuse box. It must be noted that the circuit must be turned off before painting – a 230-volt, 16-amp shock can be deadly! The electrified flush-mounted box must be a centimeter away when painting the wall.
Electrical alternating fields can be grounded, contrary to mobile radiations (high-frequency) which are based on reflection and cannot be grounded as a result. A protection against mobile radiation is also based on reflection whereby the electromagnetic radiation is prevented from entering the room.
The shielding paint HSF64 protects against both electrosmog immissions. I.e. from alternating electric fields by means of earthing and high-frequency electromagnetic fields by means of reflection.
Self-adhesive conductive grounding tape for shielding paint
Conductive carbon fibers as an invisible alternative to the ground tape
HSF64 shielding paint technical information
Screening attenuation
Single-layer at 1 GHz shields HSF64 up to 43 dB, two-layer up to 50 dB and three-layer up to 54 dB. At higher frequencies WIFI, LTE, 5G and up to 40 GHz even higher up to 93 dB three-layered. All values provided apply for 1 GHz. The measurement of the attenuation of electromagnetic waves from 600 MHz to 40 GHz has been performed in close accordance with standards IEEE Std 299™-2006 or ASTM D4935-10.
Underground
Interior: Good adhesion on absorbent, untreated, preferably mineral undergrounds like chalk, silicate, clay, etc.. Restricted use on absorbent emulsion paints, wallpapers, etc., please check first! Not usable on gypsum based substrates!
Application
Ceilings, floors, and indoor walls
Top coating
Preferably covered with plastic bonded, water-based emulsion paints or dispersion silicate paints. We restricted recommend pure mineral paints (clay, loam, chalk, silicate). Please find appropriate product recommendations in the technical data sheet.
Grounding
Must be grounded! We recommend our self-adhesive grounding strap.
Reaction to fire
This product is a flame-retardant according to DIN 4102-1 (B1), see below under "Fire reaction report DIN 4102-1".
Ingredients
Water, potassium silicate, natural graphite, carbon black, pure acrylics dispersion, additives, NO preservation agent.
Documentation of the HSF64 shielding paint (.pdf)
Technical details 1 liter
Technical details 5 liter
Expert report EMF Test Lab Bavaria, 4 sqm/liter
Expert report EMF Test Lab Bavaria, 8 sqm/liter
Screening attenuation
Certificate TÜV-SÜD
Technical details shielding paints
| | | | |
| --- | --- | --- | --- |
| Ready for 5G | Expert report of shielding attenuation up to 40 GHz | TÜV SÜD certification | No nanotechnology |
| Some companies offer "special" 5G-products. This product shields all 5G-frequencies, even without advertising this! Find two gray bars in all shielding diagrams with the 5G frequencyFrequency is the number of occurrences of a repeating event per unit of time. It is a physical measurement that is important for describing periodic processes, such as vibrations. More spectrums FR1 (600 MHz – 6GHz) and FR2 (24 GHz – 40 GHz). | YSHIELD has already invested in an own professional EMV laboratory years ago. YSHIELD not only use it to create our laboratory screening reports but also to check each batch daily. Additionally, YSHIELD has all products checked by an independent, well-respected expert. Double checked for twice the safety. | YSHIELD has the shielding paints monitored by TÜV SÜD.The complete production process with quality assurance, the emission behaviour and the economical use of preservatives are subject to control. | YSHIELD shielding paints are developed in accordance with strict ecological criteria. YSHIELD uses, for example, the carbon black with the lowest emission possible on the market and untreated natural graphite. They consciously do not use graphene, a nanomaterial where the hazard potential is still completely unknown. |