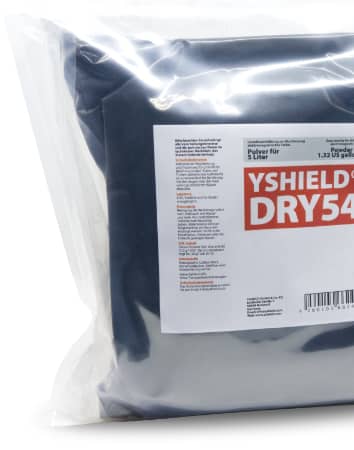 DRY54 is the new special shieldingShielding is the protection from the effects of external fault zones and environmental influences (on a person's health most of the time). More paint from 2021. Supplied in powder form, it convinces with ingenious all-round properties. Up to 84 dB shielding effectiveness at 40 GHz (up to over 99.999999 % shielding effectiveness). Effective at 5G! Since it does not contain water, it is ideal for weight-reduced, problem-free shipping. TÜV SÜD certified!
DRY54 is not the first shielding paint in powder form from YSHIELD, but it is now the bes, most efficient of all previous shielding paints in powder form and at the best price/performance ratio to date. YSHIELD already produced a powder shielding paint in 2003, but the liquid shielding paints were more convincing. The reason for this was probably the mixing of the shielding paint for processing. The power of a commercially available drill or screwdriver was not sufficient for the difficult-to-disperse ingredients. Today, 2021, many years of development time later, this situation has changed completely.
With the special shielding paint DRY54, the perfect formula for a powder shielding paint has been found!
DRY54 is a shielding paint in powder form for shielding high-frequency electromagnetic fields (HF) and low-frequency alternating electric fields (LF). This special paint shines with all-round properties! DRY54 is breathable, plasticiser-free, low-emission and contains no preservatives. Furthermore, this shielding paint convinces with very good physical and chemical properties and at the same time very high ecology.
What really convinced us was the free choice of shielding performance in the form of adding water, i.e. less water = more dB!
DRY54 shielding paint to the point
In variant 1 with more water, the paint remains almost as liquid as water during mixing. This drastically reduces dusting because the powder mixes immediately with the water. After 15 minutes of resting time, it becomes a little thicker. It can then be spread excellently and you get a nice gradient for even screening.
With variant 2 (less water), the paint becomes pasty when mixed. Dust formation and workload are higher and the finished paint quantity is reduced by approx. 17%. The advantage is the approx. 6 dB higher screening attenuation. After 15 minutes of resting time, the paint becomes as thick as a normal emulsion paint and can be applied in the same way.
The outstanding price/performance ratio is achieved because DRY54 costs only half as much as liquid shielding paints. Conclusion: Double the surface area or 2 layers of shielding paint at the same price. With DRY54, the planned shielding budget is clearly spared!
The powder is vacuumed 3 times during filling! Elaborately sealed in 3 bags inside each other. The reason for this is to maximise the shelf life unprocessed. Only when vacuum-sealed in this way can the shielding powder avoid moisture even after years of use.
Convincing properties of the shielding paint DRY54
Very long shelf life without contact with water
No preservatives necessary
Reduced risk of frost damage
up to 80 % less plastic waste
More safety during shipping in case of packaging damage
If necessary, small quantities can be taken out for repair work
This special shielding paint DRY54 is ideally suited for the effective shielding of exposure to electrosmogElectrosmog is a colloquial term for all emissions from electric, magnetic, and electromagnetic fields. More from RF radiation and alternating electric fields. Radio pollution from mobile phones, mobile internet, WLAN, DECT, GSM, LTE, 5G, etc. is shielded up to 84 dB depending on the frequencyFrequency is the number of occurrences of a repeating event per unit of time. It is a physical measurement that is important for describing periodic processes, such as vibrations. More, which corresponds to an effectiveness of over 99.999999 %. Electric fields from domestic electricity (alternating current) are effectively earthed and can therefore be completely shielded.
Today, we recommend painting in three layers. Especially with modern radio technologies such as 5G, high shielding effectiveness is a key issue. The DRY54 shielding paint must be grounded!
The special shielding paint DRY54 from YSHIELD is ideally suited for the effective shielding of exposure to electrosmog from radio radiation and alternating electric fields. Radio pollution from mobile phones, mobile internet, WLAN, DECT, GSM, LTE, 5G, etc. is shielded by up to 84 dB, which corresponds to an effectiveness of over 99.999999%. Electric fields from domestic electricity (alternating current) are grounded extremely effectively and can be completely shielded up to 100%.

How to mix the DRY54 shielding paint correctly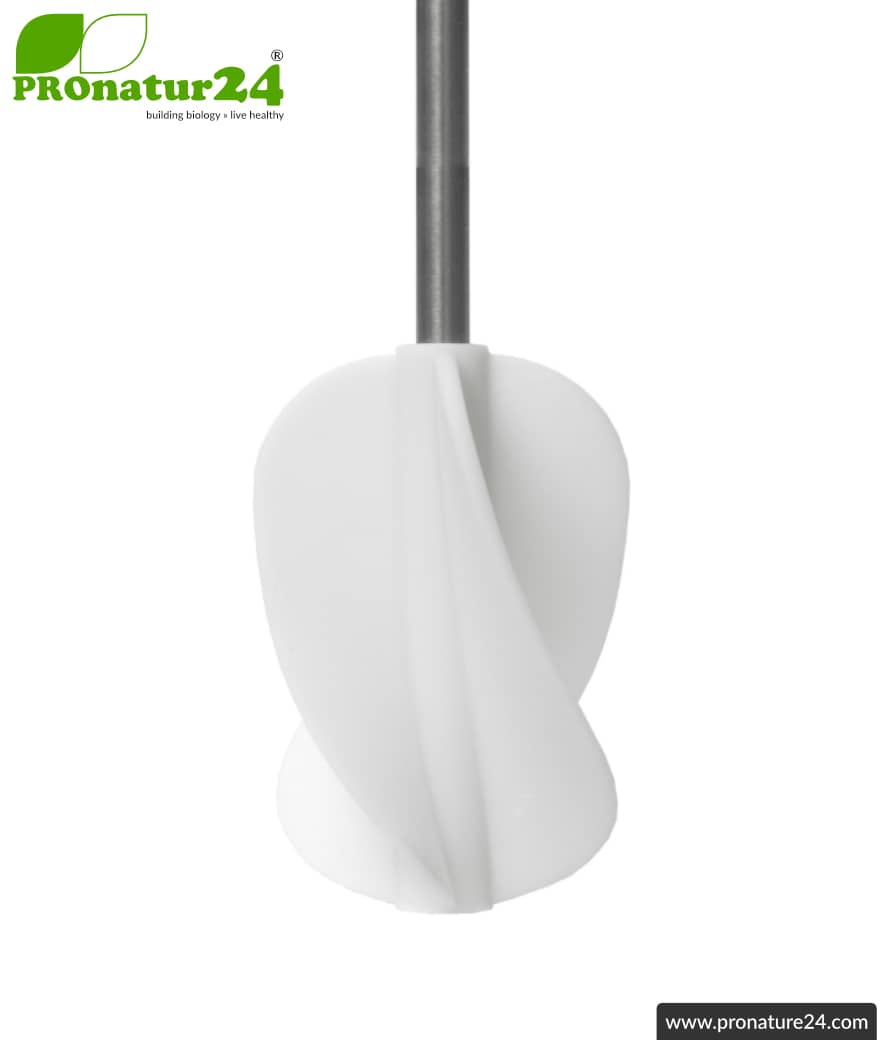 The powder must be mixed with water. This requires:
digital scales
protective mask (a "sad" positive side effect of the Corona pandemic, which means that every household should be equipped with one)
Safety goggles
AR42 paint stirrer or equivalent alternative
Bucket for mixing
Drill or powerful cordless screwdriver
Depending on the chosen variant, between 15 and 30 minutes time
Technical shielding effectiveness values from the EMF laboratory
At a yield of 4 sqm/liter (variant 2**):
At 1 GHz: Single layer 36 dB | Double layer 41 dB | Three layer 46 dB
At 40 GHz: Single layer 42 dB | Double layer 55 dB | Three layer 84 dB
At a yield of 8 sqm/liter (variant 1*):
At 1 GHz: Single layer 30 dB | Double layer 36 dB | Three layer 40 dB
At 40 GHz: Single layer 34 dB | Double layer 42 dB | Three layer 54 dB
Technical data for shielding paint DRY54
Screening attenuation
Single-layer at 1 GHz shields DRY54 up to 36 dB, two-layer up to 41 dB and three-layer up to 46 dB. At higher frequencies WIFI, LTE, 5G and up to 40 GHz even higher up to 84 dB three-layered. All values provided apply for 1 GHz. The measurement of the attenuation of electromagnetic waves from 600 MHz to 40 GHz has been performed in close accordance with standards IEEE Std 299™-2006 or ASTM D4935-10.
Application
Outdoor walls, ceilings, indoor walls, floors
Underground
Interior and exterior: Excellent adhesion on almost all undergrounds like existing emulsion paints, sheetrock, wallpaper, cement, plaster, masonry, wood, etc.
Frost resistance
This product is delivered as a powder and thus frost resistant.
Top coating
Preferably covered with plastic bonded, water-based emulsion paints, dispersion silicate paints, facade paints or silicon resin paints. Not applicable are pure mineral paints (clay, loam, chalk, silicate). Please find appropriate product recommendations in the technical data sheet. Due to the high adhesive tensile strenght (to ETAG 004 for EIFS-systems, minimum 0.08 N/mm²), applicable directly under pure organic plaster, no mineral pasters!
GroundingGrounding is an electrically conductive connection with the electric potential of the ground. More
Must be grounded! We recommend interior the grounding strap GSX plus grounding plate GS / GF, exterior the fiber additive AF3 plus the grounding plate GF4.
Ingredients
Untreated natural graphite, carbon black, pure acrylics powder, additives, no preservative agent.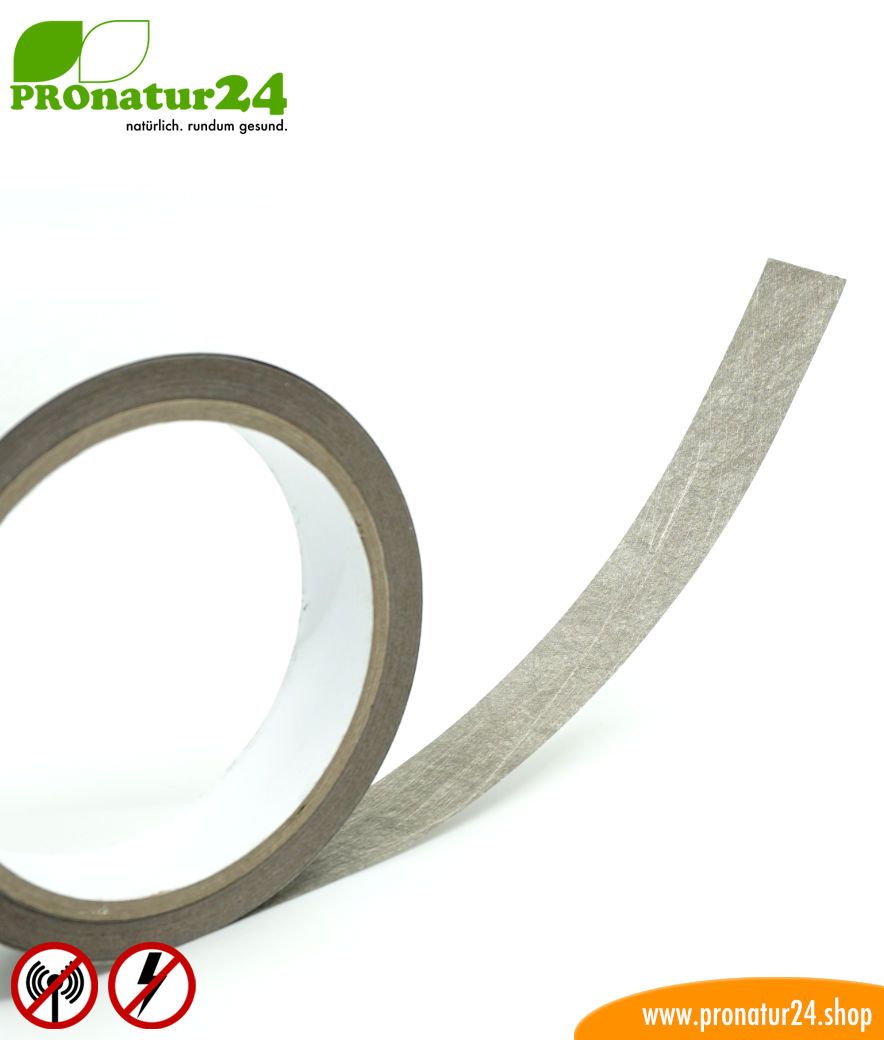 Mandatory grounding of the HSF54 shielding paint
All electrically conductive surfaces must be grounded by a qualified electrician in accordance to the DIN/VDE regulations. This can be done over the electrical system's grounding support (ground contact in the socket) or on the grounded heating pipe of the wall heaters (radiator). A protective circuit also needs to be installed in the fuse box. It must be noted that the circuit must be turned off before painting – a 230-volt, 16-amp shock can be deadly! The electrified flush-mounted box must be a centimeter away when painting the wall.
Electrical alternating fields can be grounded, contrary to mobile radiations (high-frequency) which are based on reflection and cannot be grounded as a result. A protection against mobile radiation is also based on reflection whereby the electromagnetic radiation is prevented from entering the room.
The shielding paint HSF54 protects against both electrosmog immissions. I.e. from alternating electric fields by means of earthing and high-frequency electromagnetic fields by means of reflection.
Self-adhesive conductive grounding tape for shielding paint
Conductive carbon fibers as an invisible alternative to the ground tape
Documentation for the special shielding paint DRY54 (.pdf)
Technical details DRY54, 1 liter
Technical details DRY54, 5 liter
Expert report EMF Test Lab Bavaria, 4 sqm/liter
Expert report EMF Test Lab Bavaria, 8 sqm/liter
Screening attenuation
Certificate TÜV-SÜD
Technical details shielding paints YShield
Ready for 5G
Expert report of shielding attenuation up to 40 GHz
TÜV SÜD certification
No nanotechnology
Some companies offer "special" 5G-products. This product shields all 5G-frequencies, even without advertising this! Find two gray bars in all shielding diagrams with the 5G frequency spectrums FR1 (600 MHz – 6GHz) and FR2 (24 GHz – 40 GHz).
YSHIELD has already invested in an own professional EMV laboratory years ago. YSHIELD not only use it to create our laboratory screening reports but also to check each batch daily. Additionally, YSHIELD has all products checked by an independent, well-respected expert. Double checked for twice the safety.
YSHIELD has the shielding paints monitored by TÜV SÜD.
The complete production process with quality assurance, the emission behaviour and the economical use of preservatives are subject to control.
YSHIELD shielding paints are developed in accordance with strict ecological criteria. YSHIELD uses, for example, the carbon black with the lowest emission possible on the market and untreated natural graphite. They consciously do not use graphene, a nanomaterial where the hazard potential is still completely unknown.