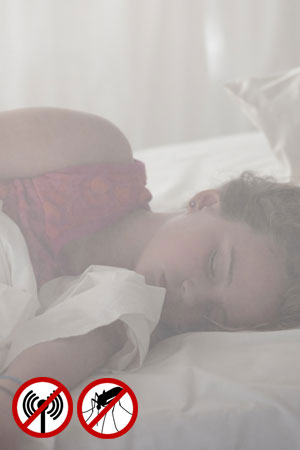 SILVER TULLE is the ingenious shieldingShielding is the protection from the effects of external fault zones and environmental influences (on a person's health most of the time). More fabric we use for our canopy ELEKTROSMOG PRO. HF shielding up to 48 dB, groundable. Effective against 5G!
This SILVER TULLE shielding fabric has a very high shielding efficiency – comparable to our shielding paints. The shielding fabric is a transparent, strongly-silvered nylon fabric for general protection against electrosmogElectrosmog is a colloquial term for all emissions from electric, magnetic, and electromagnetic fields. More. This particular shielding fabric manages to effortlessly reflect high-frequency electromagnetic radiations (HF) and ground low-frequency alternating fields from the house power.
Using SILVER TULLE shielding fabric
We have been using the Silver Tulle shielding fabric for our Elektrosmog PRO canopy for a year. After several tests as curtains, we now recommend SILVER TULLE as a highly-effective shielding fabric for your windows as well. If the silver/beige colors bother you, the shielding fabric can also be sewn on "behind" opaque curtains, for example.
The Silver Tulle shielding fabric is typically used in net curtains, as curtains, as room dividers in laboratories, medical practices, etc. and to sew a bed canopy because of its excellent washability.
Characteristics of the SILVER TULLE shielding fabric
Because of a strong silvering, SILVER TULLE only loses a little bit of efficiency after washing or movement.
Silver products change color as time goes by and often have stains from the factory! If you cannot accept stains or discolorations, please choose a white shielding material with isolated silver threads such as Evolution, Naturell or Ultima (with significantly less shielding effectiveness)
Silver products have a limited shelf life, their lifespan depends on how often they are moved.
The silver in SILVER TULLE does not contain any nanosilver, but a thick, metallic silver layer.
Good light transmission with very high screening attenuation.
Can be contacted (grounded) to shield against electric fields (LF).
Textile-like properties: washable, can be sewn.

Exception: cannot be ironed!

Quality grading: Very high
Caring for your SILVER TULLE shielding fabric
Wash at a gentle cycle at 30°C. Do not iron. Do not dry in the tumble dryer. Do not bleach. Do not dry clean. For allergic users: every new fabric smells, wash before its first use! We recommend our ecological, vegan UNI SAPON detergent.
SILVER TULLE in practice – Examples as curtains
SILVER TULLE technical information
Attenuation: 48 dB, two-ply 67 dB. All values provided apply for 1 GHz. Measurement from 40/600 MHz to 40 GHz according to standards ASTM D4935-10 or IEEE Std 299-2006.
Use for: curtains, canopy
Length: Running meter
Materials: 80% nylon, 20% silver
Grammage: 40 g/m²
Dimensional stability: +/- 1%
Surface conductivity: 0.8 Ohm/inch (2.54 cm)
HF attenuation
Materials
Web width
Weight
Color
Colouring possible
Discolouration of the silver
Optical transparency
Quality grading
Wash test / attenuation
Up to 48 dB
Nylon
Silver
130 cm
+/- 2 cm
40 g/m²
silver / beige
no
yes, a little bit
middle
high
Very good
SILVER TULLE changes color as time goes by
It should be noted that while the fabric with silver threads is highly effective, they change color as time goes on. Its quality and impact are not affected by this, it is, however, an optical change that can be covered in creative ways on curtains.
SILVER TULLE changes color
No revocation for FABRICS
Like for cuts, there is no right to return shielding fabrics.
Please note that revocations do not apply to these products, because they were cut to the customer's specifications. Reselling a tailored item is no longer possible. For this reason, it is possible to request a free sample. By ordering pre-finished products, waiving the statutory right to return goods is accepted. We only sell the highest-quality fabrics! Because of the high production costs and a favorable price, small flaws are not grounds for complaint.
Documentation of the SILVER TULLE shielding fabric (.pdf)
Technical details
Expert report EMF Test Lab Bavaria
Laboratory report screening attenuation