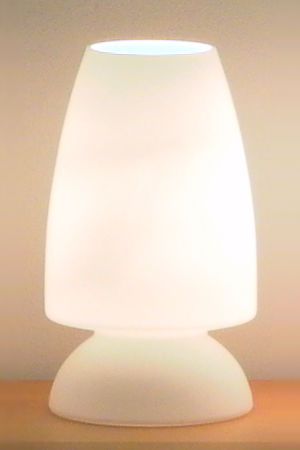 Elegant screened glass lamp for the living area. Made of 100% mouth-blown opal glass. With lamp base E27.
This table lamp, completely made of opal glass, is … to describe it in a few words: a force! When switched on, this glass lamp becomes a magnet for the eyes and attracts attention in a romantic and warm way. This model in DANELL's opal glass luminaire series in particular takes comfort to a whole new level. Describing this lamp is one thing, experiencing it is something completely different.
Like the entire lamp series, this one is also shielded against low-frequency electric and magnetic alternating fields. The highest quality also applies to the light produced by this lamp, as long as the appropriate powerful light source is used. All these factors have been taken into account in this shielded glass lamp and elegantly brought into shape and style in a wonderful masterly manner.
The mouth-blown opal glass shade is made in wood moulds according to traditional glassblowing techniques. Slight irregularities or possible inclusions of air bubbles are a quality feature of this craft. Thus each piece of this lamp series is automatically a unique specimen, a unique piece and an eye-catcher.
Glass lamp for the reduction of low-frequency electric and magnetic alternating fields
Made entirely of opal glass
Ideal for living areas
Protection class 1 (with protective conductor) acc. to DIN / VDE
In these countries this shielded lamp can be used:
CEE-7/4 (German System) and CEE-7/7 (French System): Afghanistan, Algeria, Andorra, Belgium, Bosnia-Herzegovina, Bulgaria, Croatia, Czech Republic, Estonia, Finland, France, Germany, Greece, Hungary, Iceland, Indonesia, Italy, Korea, Latvia, Lithuania, Luxembourg, Morocco, Macedonia, Monaco, Montenegro, Moldova, Netherlands, Norway, Poland, Portugal, Romania, Russia, Serbia, Slovakia, Slovenia, South Korea, Spain, Sweden, Tunisia, Turkey, Ukraine, Yugoslavia, Iceland.
Ideal accessory for this shielded lamp