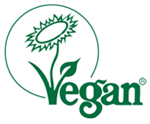 UNI SAPON oxidation bleach. The ideal addition to wash concentrate. The Uni Sapon oxidation bleach is made of soda and sodium percarbonate, which breaks down into water, soda and active oxygen during the washing cycle.
As a result, it is fully biodegradable and does not leave any worrying residue on your laundry. Unlike common bleaches, the Uni Sapon oxidation bleach contains no optical brighteners, synthetic bleach activators or chlorine.
Application of the UNI SAPON oxidation bleach
As an addition for white and colorfast laundry. The active oxygen released prevents white laundry from turning gray or yellow and is even capable of removing existing gray (curtains, linen, towels…). Organic stains from coffee, tea, fruit, grass, red wine… are also effortlessly removed and the laundry is gently disinfected.
Application and dosage
Put 2 tbsp. (= 2 g) into the drawer with the detergent, increase the dosage in case of severe dirt. Stubborn stains can be pretreated with the oxidation bleach, simply put a small amount of the bleach on the dampened stain and let it set.
Important
The active oxygen released from approx. 50°C so, to get the optimal results, you should wash the laundry at the highest temperature possible (the higher the temperature, the better, but follow the care label on the clothing!).
Tips
Also suitable as an addition in the dishwasher to remove tea and coffee stains.
Stubborn dirt on ceramic hobs or in cooking pots (burned milk or similar) is effortlessly removed by spreading a bit of oxidation bleach on and watering with the hottest water (kettle) possible. Then, simply rub off with a sponge.
Can also be used for removing moss from objects and surfaces.

Download application information