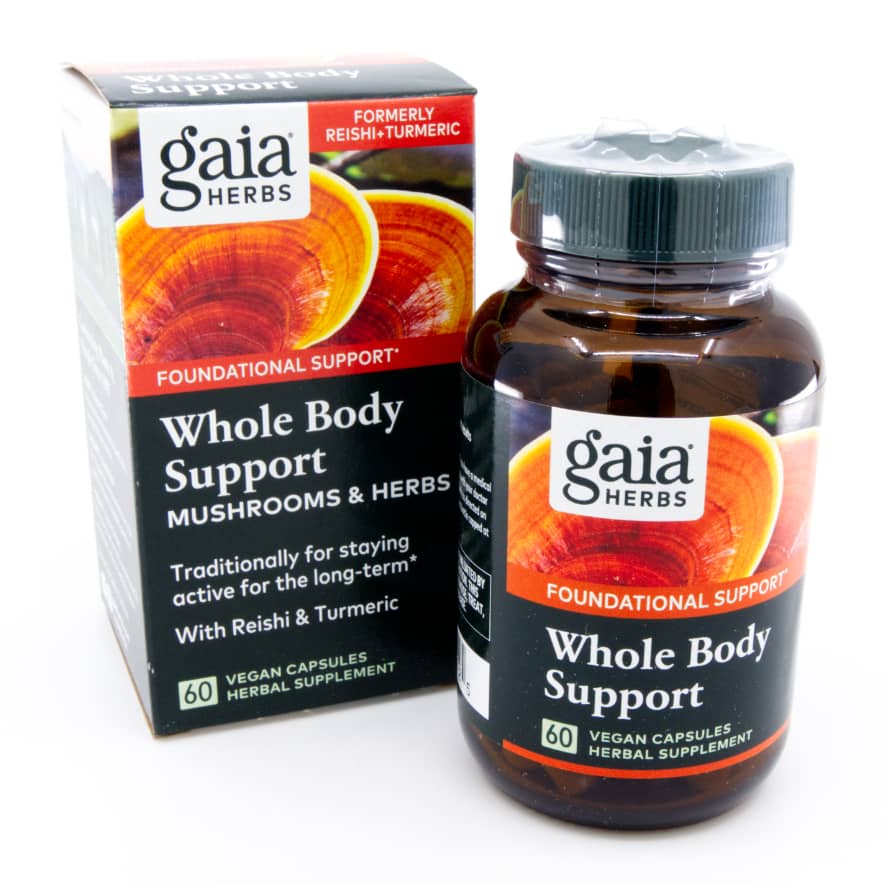 WHOLE BODY SUPPORT, 60 VEGETARIAN CAPSULES. MUSHROOMS & HERBS (MUSHROOMS, VITAL MUSHROOMS & HERBS). REISHI, SHIITAKE, TURMERIC & GINGER – THE INGREDIENTS FOR DAILY ENERGY PLUS AND WELL-BEING.
Ideal for anyone with a busy and challenging life. Everyone knows that daily physical exercise is essential to keep the body fit and strong. Often forgotten, mental exercise is also part of it, because mental flexibility has become more essential than ever at work or school. From time to time, however, this flexibility and resilience suffers. Going through everyday life in a permanently active way costs our bodies a lot of energy. At the same time, our ability to regenerate also suffers significantly due to modern lifestyles.
Whole Body Support contains mushrooms and herbs that have been used for thousands of years to call upon the body's own energy and regenerative capacity over the long term.
Everything is in here that is needed to activate the body's own resources. Each individual component can support the immune system and the vital organs as well as the nervous system in all metabolic processes, so that body and mind can optimally access these resources – for a lifetime.
Reishi mushrooms have been used for thousands of years. They are traditionally regarded as a tonic for life energy. Their positive supporting effect on health is manifold:
Digestion, metabolism, cardiovascular system, healthy energy, stamina, general well-being and immune health.
Shiitake is a power mushroom for the immune system and cardiovascular system.
Turmeric and ginger support your digestion and help the immune system.
Whole Body Support Mushrooms & Herbs. Natural support for your physical and mental performance. All in one capsule, simple and effective.

WHOLE BODY SUPPORT summarised
Everything to activate the body's own energy and physical and mental performance in one capsule.
Curcuma & ginger for digestion and immune system
Reishi – in TCM the mushroom of immortality, for digestion and metabolism
free from: gluten, soya, sugar, milk protein and other allergens
vegan
All raw materials for WHOLE BODY SUPPORT are traceable and tested for highest purity and quality.
Speaking of the ability to regenerate: restful sleep plays a very central role here. There are various prerequisites that directly and indirectly influence restful sleep – a healthy, protective, spatial environment is the basis on which everything else is built. It quickly becomes clear how essential "good sleep" is for our well-being and health, and for this reason the focus of PROnatur24's work is precisely in this area – healthy sleep and healthy living.
Application of WHOLE BODY SUPPORT by Gaia Herbs
The helpful combination of mushrooms and herbs can also be taken over a longer period of time without any problems. For a daily energy boost, it is recommended to take one capsule twice a day.