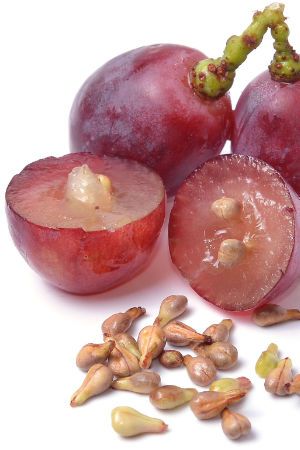 OPC grape seed extract from NOW FOODS. Extra strength, high-dose OPC with 250mg per capsule!
This grape seed extract Grape Seed Extra Strength Capsules from NOW Foods contain highly concentrated OPC with a polyphenol content of 90% including OPC (oligomeric proanthocyanidins).
OPC grape seed extract belongs to the group of flavonols and is a naturally occurring antioxidant in many plants. Especially grape seeds are known for their high content of phytochemicals OPC. In addition to the high-dose OPC grape seed extract, these capsules contain other antioxidant plant substances such as the flavonoid rutin and organic fruit powder from the amala fruit. The Amala fruit is very rich in natural vitamin C, which can also bind free radicals and thus has antioxidant properties.
The high dosage of 250 mg OPC grape seed extract per capsule and the additional supplementation with other antioxidant plant substances make these OPC Grape Seed Extra Strength capsules one of the most effective OPC grape seed extracts on the market.
What effect do antioxidants have? Why are these healthy and important?
The modern way of life is increasingly challenging our body. Environmental influences, decomposition products of the ingested food and nicotine consumption can cause free radicals in the human organism. These free radicals are able to damage our cells and also favor plaque deposits in the blood vessels. In addition, deposits in the blood vessels may increase the risk to our health in areas such as high blood pressure, atherosclerosis, stroke or heart attack.
If the body is provided with sufficient protective substances (antioxidants), free radicals can be effectively neutralized or reduced. In our diet, natural antioxidants are found primarily in fresh fruits and vegetables.
OPC grape seed extract and the skin
Oxidative stress can also have a negative effect on the "outer beauty" if there is no intake of antioxidants. Free radicals can attack the skin cells, causing the skin to lose its elasticity and resilience. Premature aging of the skin and increased wrinkling may be possible signs if free radicals are not effectively neutralized.

The optimal intake of antioxidants, such as the highly concentrated grape seed extract with OPC, supports the neutralization of free radicals. Contained co-factors such as vegetable Rutin and Amla fruit powder, which has a very high concentration of natural vitamin C, additionally support this effect.
Vitamin C is also important for connective tissue and especially in collagen formation. Collagen, on the other hand, provides more elasticity and firmness of the skin and thus makes a decisive contribution to a healthy skin appearance.
But also in wound healing after injuries of connective tissue (ligaments, tendons, joint capsule), collagen formation plays a crucial role in regaining full strength.
Directions for use and dosage of OPC Grape Seed Extract
Unless otherwise provided by your doctor or therapist, the recommendation is to take 1 – 2 vegetarian capsules of Grape Seed extra strength 250 mg capsules per meal.
That's why we chose OPC Grape Seed Extract from NOW FOODS
The NOW Foods brand has over 45 years of experience in manufacturing high quality healthcare products and has been a world leader for decades. By maintaining established quality assurance and control processes, NOW Foods is able to offer the best nutritional supplements, highest pharmaceutical standards and purity at very attractive and affordable prices.