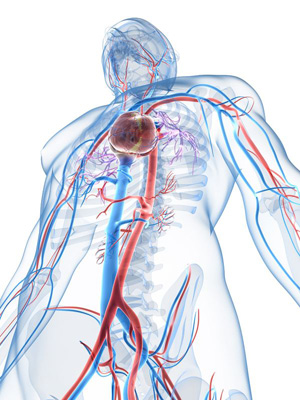 WHC UnoCardio ® 1000 + Vitamin D 1000 OMEGA-3 CAPSULES. Omega-3 fish oil capsules high dosage with additional 1000 IU vitamin D3 per capsule.
Unsaturated animal omega-3 fatty acids in the form of EPA and DHA are essential parts for the development of each cell in our body. The brain, as well as our eyes, need high quantities of DHA. Omega-3 fatty acids play a central role in the development and growth of the nerve cells and are vital for stress, pregnancy, and growth. All of the other cells in the body store EPA in their, and can, therefore, have a positive impact on bodily functions such as blood pressure, heart function, and vision. The carbohydrate and fat metabolisms are also regulated naturally through the balance of different fatty acids in our organism.
High-dosage omega-3 + vitamin D, without saturated fatty acids
UnoCardio 1000 + vitamin D 1000 contains 1200 mg of the best and high-dosage omega-3 fatty acids in tandem with an additional 1000 IE (25 mcg) vitamin D3 per capsule. This premium omega-3 preparation was created by a patented CO2 low-temperature extraction at 35-50°C. Contrary to fish oils obtained by molecular distillation, which are heated up to 160°C, the different omega-3 acids remain fully intact during this careful extraction process and are ideal for our body.
suitable for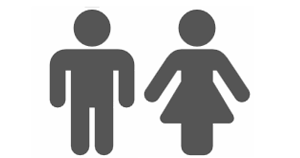 costs der day
Approx. 80 cent per day
Contents
1200 mg OMEGA-3 (rTG)
675 mg (EPA)
460 mg (DHA)
25 mcg VITAMIN D3
Many cheap omega capsules only contain 30% to 60% of omega-3. UnoCardio 1000 contains a hefty 95% of pure omega-3 fatty acids. All of the saturated fatty acids were removed by the low-temperature CO2 extraction.
UnoCardio 1000 capsules receive > 1135 mg of pure DHA and EPA with a ratio of 675/460 mg in the form that is best for our body (R-Triglyceride) with 25 mcg of vitamin D3 (the "sunshine" vitamin) in just one capsule.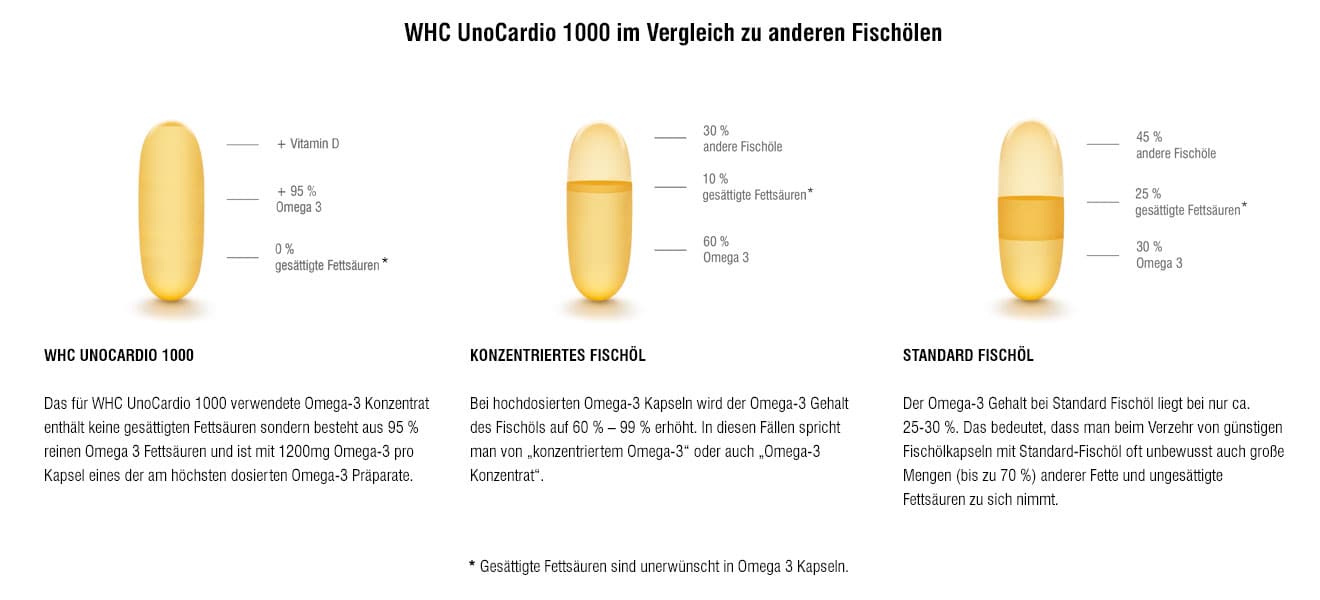 Why Omega-3 with vitamin D3 in one capsule?
Vitamin D3 contributes to healthy bones and muscles and support the immune system. A high-quality and high-dosage omega-3 preparation in tandem with 1000 IU of vitamin D per capsule can optimally supplement the positive properties of omega-3 fatty acids on your health.
Omega-6 to Omega-3 ratio
The human body can only work optimally when its cells have an omega-6 to omega-3 ratio of about 5:1 to 2:1. The so-called omega-3 index, which is used to measure the amount of omega-3 in the membrane of the cell, should be at least 8%.
Our average diet has a omega-6 (linoleic acid) to omega-3 (EPA and DHA) ratio that is too high (12:1 – 25:1) because of an increased consumption of vegetable oils that contain omega-6 (sunflower oil, corn oil, safflower oil, wheat germ oil) and an excessive consumption of grains, as well as animal foods with high levels of saturated fats.
UnoCardio 1000 + vitamin D 1000
Can play a supporting role in rebuilding the balance of saturated and unsaturated fats as well as the balance of omega-6 and omega-3 in our body or blood. UnoCardio 1000 by Nutrogenics is an omega-3 preparation with an exceptionally-high dosage of > 1000 mg eicosapentaeonic acid (EPA), as well as docosahexaenoic acid (DHA) per capsule.

Natural raw materials from sustainable fishing
The fish oils used for UnoCardio® 1000 + Vitamin D 1000 come from sustainable fishing. Only anchovies, mackerel, sardines and anchovies are used, which do not belong to the endangered species (Pacific fishing area).
WHC Nutrogenics fish oils are FOS certified. Friend of the sea (FOS for short) is an internationally renowned non-profit organization that has set itself the task of preserving the global marine environment. FOS operates leading certification projects that verify the sustainability of fishing and Omgea-3 fish oil products.
Which Omega-3 is the best?
"Our decision for UnoCardio 1000 Omega-3 is based on the fact that it is produced using patented CO2 low-temperature extraction at a temperature of 35-50°C. In contrast to molecularly distilled omega fish oils (ethyl esters), which are exposed to heat of up to 160°C, the important Omega-3 fatty acids remain completely intact thanks to this method and can be optimally absorbed by the body."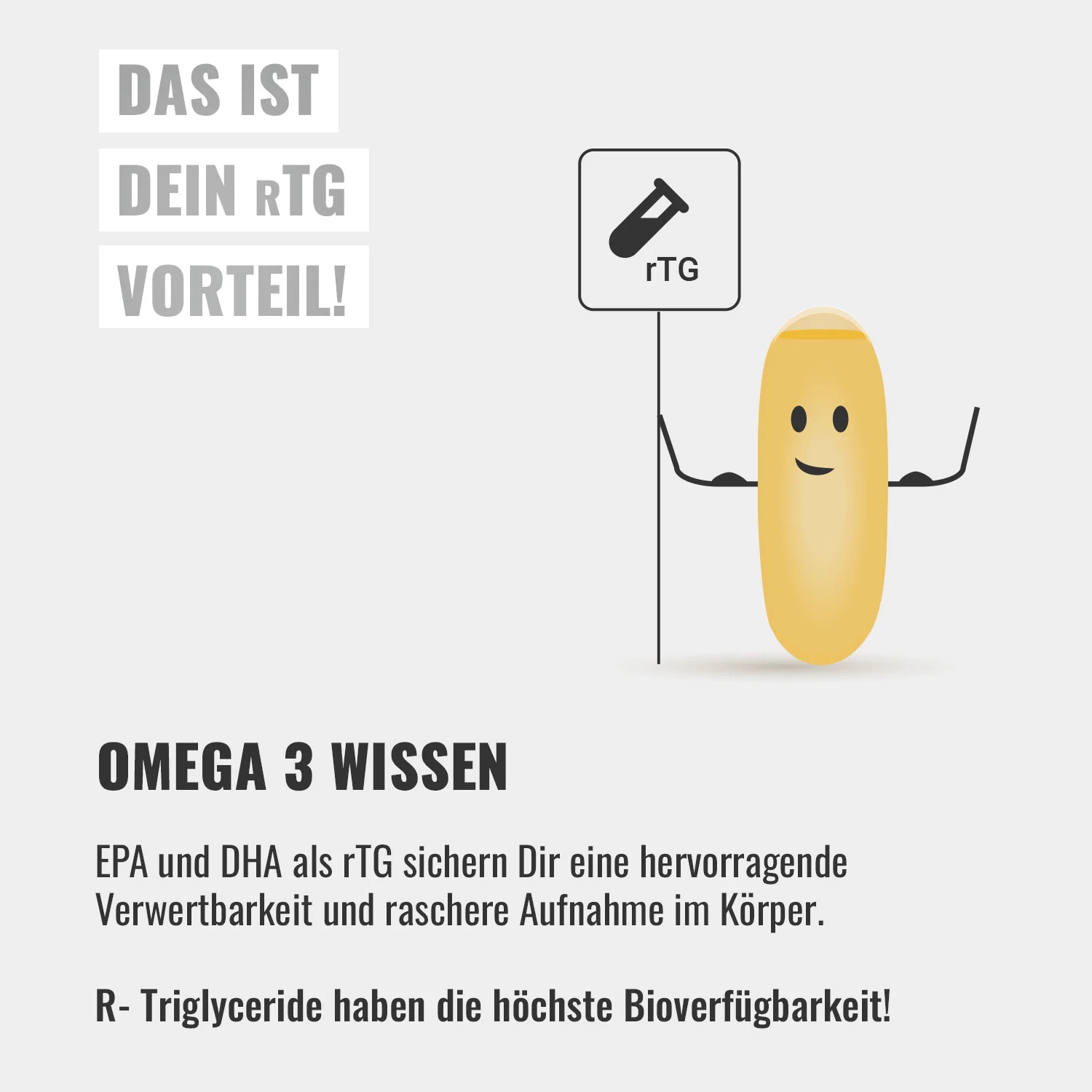 That's your R-TG advantage! | OMEGA 3 KNOWLEDGE – EPA and DHA as R-TG ensure you an excellent usability and faster absorption in the body. R-Triglycerides have the highest bioavailability!
There are different forms of omega-3 fatty acids:
r-Triglycerides (rTG)
Natural triglycerides (TG)
Ethyl Ester (EE)
Free Fatty Acids (FFA)
Studies show that rTG Omega-3 is better absorbed by the body than, for example, Ethyl Ester Omega-3. Thus, Omega-3 rTG has been proven to be the Omega-3 form with the highest bioavailability compared to other forms.
rTG Omega-3 for athletes
EPA and DHA, unsaturated rTG Omega-3 fatty acids, are essential components of every cell and play an important role in various bodily functions such as blood pressure, heart function and vision.
In addition, they contribute to the natural regulation of carbohydrate and fat metabolism through the interaction with other fatty acids.
Fast bioavailability of dietary supplements is preferred, especially in sports.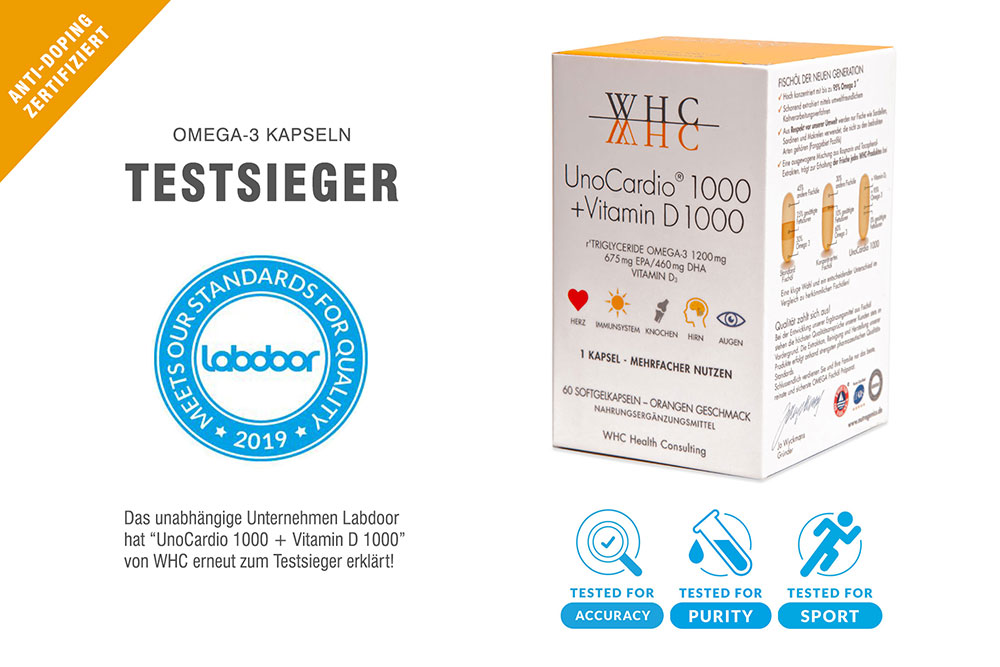 Daily requirement and dosage of UnoCardio 1000 omega-3 fatty acids
One omega-3 capsule of UnoCardio 1000 already offers > 1000 mg of the most important omega-3 fatty acids, EPA and DHA, and contains no saturated fat. With this pure and high dosage of EPA and DHA per capsule, one capsule of UnoCardio 1000 per day is enough to get a high or optimal daily dosage of 1000 mg of EPA and DHA.
One of these easy-to-swallow gelatin capsules a day during a meal is also optimally dosed for a long-term primary prevention.
For higher daily dosages in defined periods for specific, we recommend that you speak with your doctor, therapist, or pharmacist.
In order to optimize the bodily intake of the ingredients, it is recommended that UnoCardio 1000 always be taken with foods that contain fat, such as a yogurt or healthy vegetable oils, such as high-quality olive oil!