WHC QUATTRO CARDIO® BY NUTROGENICS BELGIUM
The top formula – with 4 powerful nutrients for men and women aged 35 and over! Omega-3 complex with vitamin D3, K2 and ubiquinol.
Quattro Cardio® contains 4 unique nutrients and is designed for the health requirements of people aged 35 and over.
Quattro Cardio by Nutrogenics can optimally provide the body with fatty acids. One daily dose of Quattro Cardio contains at least 950 mg of pure omega-3 fatty acids in their natural rTG (re-esterified triglycerides) form. This natural form guarantees the best possible intake of essential fatty acids by the organism.
With the help of an environmentally-friendly cold extraction process, the fish oils were carefully purified and freed of pollutants, such as heavy metals. The result is a highly-pure fish oil concentrate WITHOUT saturated fatty acids.
suitable for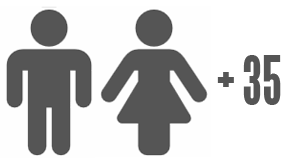 costs per day
€2.13 per day

Contents
950 mg OMEGA-3 (rTG)
davon 480 mg (EPA )   / 380 mg (DHA )
1000 IE VITAMIN D3
90 µg VITAMIN K2
100 mg UBIQUINOL
Vitamin K and vitamin D are also in these capsules. Because vitamin K and vitamin D work together in our organism, Quattro Cardio offers an ideal combination of both. The vitamin K2 used here (menachinon-7 = MK-7) comes from plants (natto or soya) and circulates for up to 72 hours in the blood circulation. As a result, our body can take it very well.

Q10 is an antioxidant – ideal from age 35
The Q10 coenzyme is a very strong antioxidant and supports vitality as you get older. Because the bodily production of Q10 decreases from the age of 25, support with Q10 coenzyme can be recommended from the age of 35. The Q10 coenzyme comes in two forms: as ubiquinol and as ubiquinone. Ubiquinol can be taken directly by our body, whereas ubiquinone has to be transformed into ubiquinol first. Ubiquinol is the preferred form for food supplements. Appropriately, Quattro Cardio also contains the high-quality free form "CoQ10 ubiquinol".
With Quattro Cardio, you receive this optimal mix of the highest-quality active substances in a practical packaging. This preparation can make an important contribution to preserving your vitality from the age of 35 and generally as you get older.

Natural raw materials from sustainable fishing
The fish oil used for the QuattrO3 + PS® come from sustainable fishing. Mackerels, sardines, and anchovies are the only fish used, as they are not endangered species.
WHC Nutrogenics fish oils are FOS certified. Friend of the sea (abrv: FOS) is an international non-profit organization that has taken it upon itself to preserve the global marine habitat. FOS operates leading certification projects that check the sustainability of fishing, as well as omega-3 fish-oil products.