OIL OF OREGANO, 60 CAPSULES | OREGANO: THE POWER PLANT FOR YOUR NATURAL RESILIENCE!
Immerse yourself in the world of Oil of Oregano capsules by Gaia Herbs: Filled with cold-pressed oil from organically grown oregano, these capsules offer a multitude of natural components that can contribute to the support of the body's defense forces. Known since ancient times, Origanum vulgare, better known as oregano, is renowned for its revitalizing properties that work beneficially on several levels of the body.
Carvacrol and Thymol as Core Components in Oregano Oil
Gaia Herbs' Oil of Oregano capsules are rich in the essential oils carvacrol and thymol. Each capsule represents the equivalent of over 2,400 mg of dry plant material. These ingredients support the maintenance of the body's natural defense mechanisms and can be a valuable aid during times when the body is particularly challenged.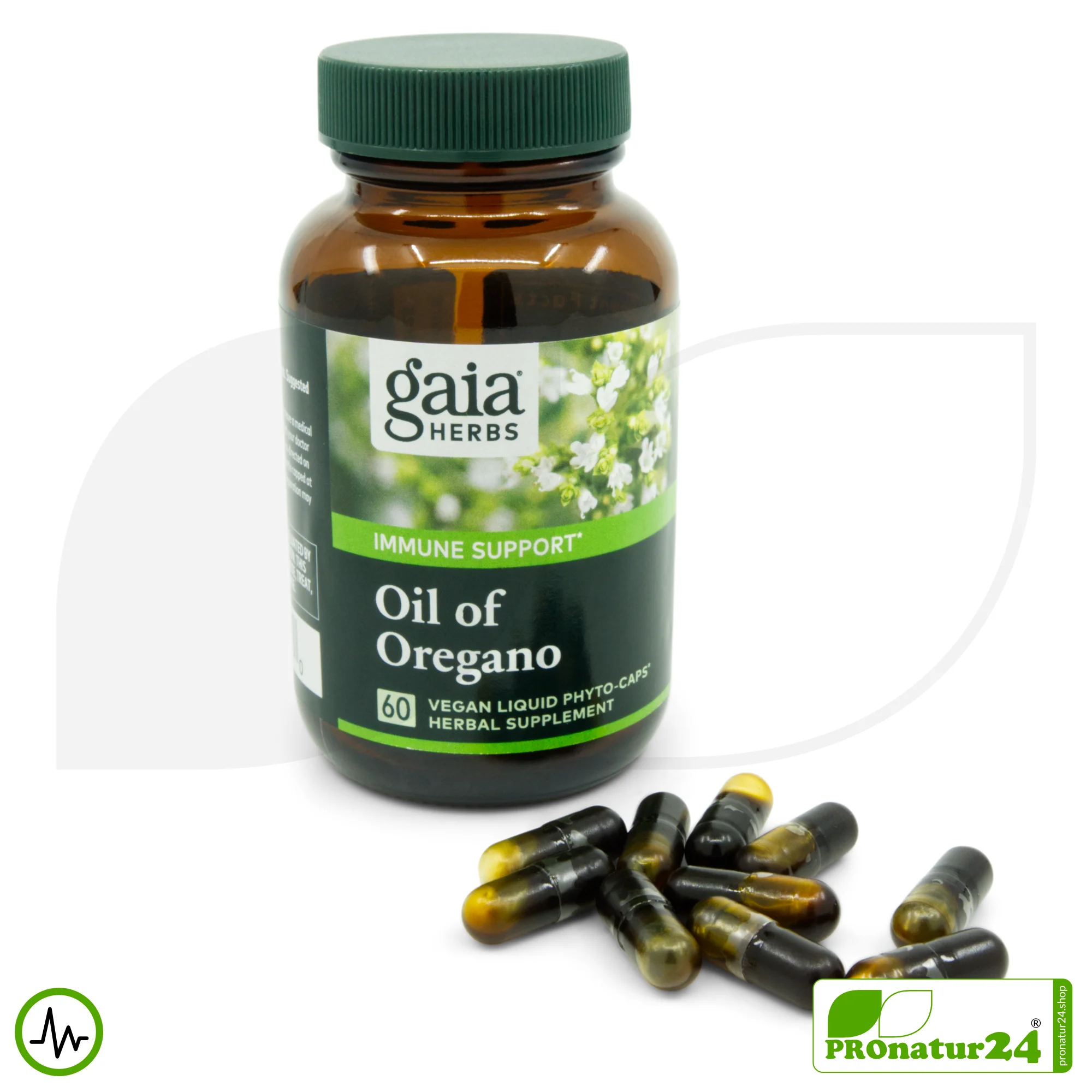 The Versatile Utility of Oregano Oil Compacted into Capsules
Oil of Oregano is not only useful during the cold season or under high physical strain – the capsules can also positively support digestion. Especially after consuming heavy or poorly digestible meals, the patented Liquid Phyto Capsules are valued as a helpful support for enhanced well-being and relaxation.
By using cold-pressed oregano oil from ecological cultivation and a spectrum of high-quality ingredients, Gaia Herbs' Oil of Oregano capsules make a significant contribution to strengthening natural defenses and promoting healthy digestion.

Application + Dosage | Oil of Oregano by Gaia Herbs
For adults: Take 1 capsule twice daily with sufficient fluid during a main meal.
1 capsule is equivalent to about 2,400 mg of dried herbs.
Warning | Oil of Oregano by Gaia Herbs
Oil of Oregano is intended for acute and short-term use only.
Not suitable for long-term use: The maximum duration of use is 2-4 weeks.
Not suitable during pregnancy and breastfeeding. In general, seek expert advice from a doctor before use during pregnancy, breastfeeding, or when taking medication.
Dietary supplements are not a substitute for a balanced and varied diet and a healthy lifestyle.
Keep out of reach of small children. Not suitable for extended use or for children.
Do not exceed the recommended daily intake.
Store in a cool, dry place, protected from light.