ADRENAL HEALTH, 60 CAPSULES | CONCENTRATION AND FOCUS FOR A SUCCESSFUL DAY | FOR A BALANCED STRESS RESPONSE AND MORE ENERGY
Adrenal Health by Gaia Herbs is a blend of adaptogenic plant extracts designed for a balanced stress management and stable energy supply.
In our performance-driven world, we are constantly exposed to a barrage of stimuli and increasing time pressure. This can lead to ongoing irritability, exhaustion, and lack of motivation. Adaptogens, such as Ashwagandha and Rhodiola Rosea, provide crucial support during stressful times.
Stress Affects Both Body and Mind!
Our adrenal glands are put to the test when we strive for peak performance daily in our professional lives, sports, or personal endeavors. The unique herbal blend in Adrenal Health offers both physical and mental boosts and a positive mood enhancement.
Adrenal Health by Gaia Herbs balances your body's stress response, boosts energy and relaxation, thereby enhancing your performance. It supports the ideal balance between regeneration and performance.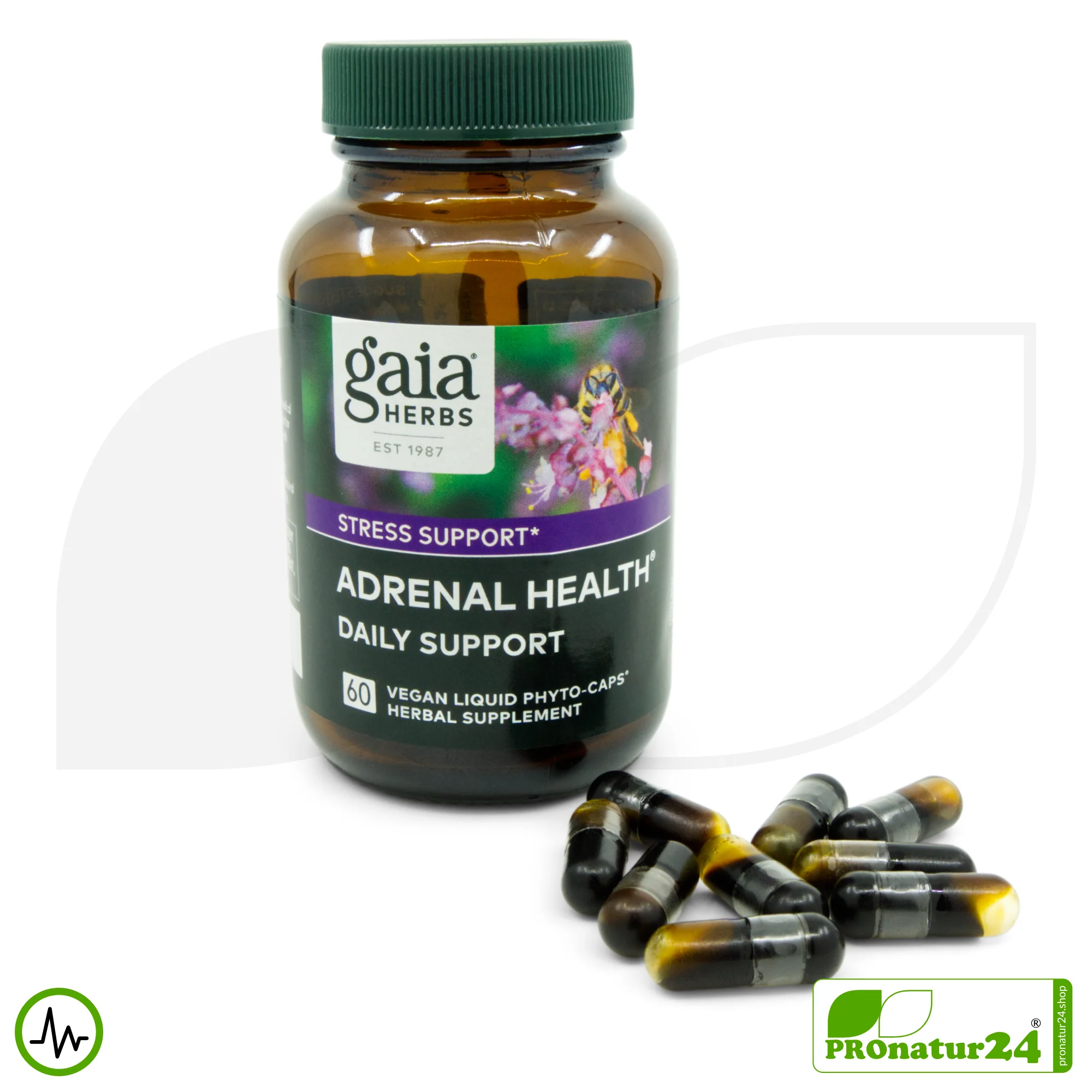 Detailed Overview of Plants in Adrenal Health
Ashwagandha (Withania somnifera): A traditional Ayurvedic adaptogen, used specifically for high stress levels. It positively affects memory performance, stress perception, and endurance, and aids in relaxation before sleep.
Tulsi (Ocimum tenuiflorum): Also known as Indian basil, its essential oils serve as valuable adaptogens for stress management. Tulsi calms the nervous system and holistically strengthens the body.
Siberian Rhodiola Rosea: Enhances cognitive abilities in work, academics, or sports and is particularly effective for altitude training. This plant has a regulatory effect on serotonin and dopamine responses, helping to balance stress levels.
Chinese Schisandra (Schisandra chinensis): These unique berries offer strong antioxidant benefits. Schisandra protects against negative environmental influences and regulates stress.
Oats (Avena sativa): Known for their relaxing and soothing properties. The high magnesium content in oats can have a positive impact on sleep, muscles, and the nervous system.

Application + Dosage | Adrenal Health by Gaia Herbs
Take 2 capsules of Adrenal Health twice daily, with or after a meal.
For high mental and physical stress, discuss the precise dosage and possible product combinations with your therapist or doctor.
Useful to know: Adrenal Health can be effectively combined with St. John's Wort, which has a calming effect. However, if you are taking medication, it is advisable to consult with your doctor before combining it with St. John's Wort. Co-factors such as magnesium or high-quality omega-3 fatty acids, as found in UnoCardio 1000, can enhance the calming effects of the herbs in Adrenal Health. There are no known interactions of co-factors like omega-3 or magnesium with medications.
Warning Notice | Adrenal Health by Gaia Herbs
Dietary supplements are not a substitute for a balanced and varied diet and a healthy lifestyle.
Keep out of reach of small children. Not suitable for prolonged use or for children.
Do not exceed the recommended daily intake.
Not suitable during pregnancy and breastfeeding. Consult with your doctor before use during pregnancy, breastfeeding, or when taking medication.
Store in a cool, dry place, protected from light.