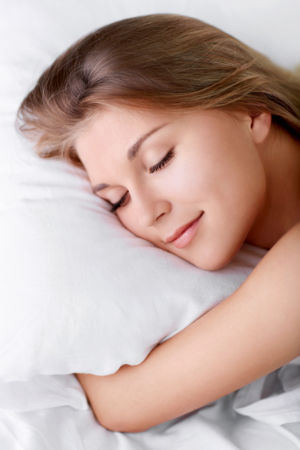 SLEEPTHRU, 60 CAPSULES. CAN EFFECTIVELY SUPPORT HEALTHY AND RESTFUL SLEEP.
Sleep problems or insomnia have diverse causes. We are saying this from extensive experience in geobiologyGeobiology deals with cause studies and shielding technology for restoring and maintaining health. More and the objective of "relaxing sleep" as a significant support for stable health. ElectrosmogElectrosmog is a colloquial term for all emissions from electric, magnetic, and electromagnetic fields. More and earth radiation can be external influences and protection from them is our focus in our daily work for clients and patients. With SleepThru, the effect of our shieldingShielding is the protection from the effects of external fault zones and environmental influences (on a person's health most of the time). More for healthy sleep can be further intensified – from within.
SLEEPTHRU – a food supplement with the objective of healthy sleep
SleepThru by Gaia Herbs convinced us from the idea to its effect. If we can from shield external influences through our service and products for healthy sleep, this purely plant-based SLEEPTHRU preparation carries that protection on in the body.
SleepThru by Gaia Herbs is a purely plant-based preparation made from soothing and sleep-inducing herbs for a relaxing sleep at night. To put it briefly, we see a wonderful addition to our work in this food supplement.
PROnatur24 has decided to go for SleepThru by the Gaia Herbs manufacturer. Gaia Herbs is the leading manufacturer of food supplements in the world of herbs. Through super-critical CO2 extraction, the ecologically grown herbs, berries, and fruits are separated from your potent ingredients. The result is an extremely pure and highly bioactive extract inspired by nature, which is more than just standardized.
Effects of the ingredients contained in the SLEEPTHRU capsules
Lying in bed at night without sleeping is not a good feeling. This is what happens to a lot of people. The day after a restless night does not go as planned most of the time, and people happily go to bed. The second unrelaxing night follows.
There are several natural substances that almost work as a team: ashwaganda root, magnolia bark, passion flower, and jujube. These herbs have always been used in natural medicine because of their soothing and sleep-inducing properties. Purely plant-based herbal preparations are in this highly-pure and therefore bioavailable plant essence and in purely plant-based "liquid phyto caps", like these manufactured by Gaia Herbs for liquid plant extracts, for a healthy sleep.
Application of SLEEPTHRU by GAIA HERBS
2 SleepThru capsules are taken around 30 minutes before going to bed to support a relaxing sleep.