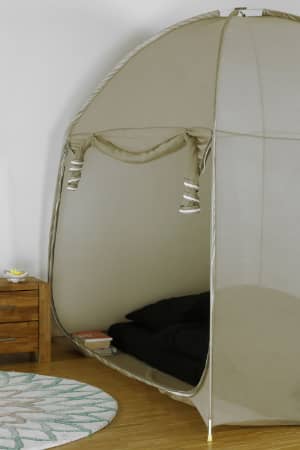 ShieldingShielding is the protection from the effects of external fault zones and environmental influences (on a person's health most of the time). More tent SAFECAVE QUEEN. Stable and free-standing without the need for ceiling mounting. Maximum flexible electrosmogElectrosmog is a colloquial term for all emissions from electric, magnetic, and electromagnetic fields. More full protection for the whole body – no part of the body remains unprotected. Optionally groundable LF.
We can't say it more directly. We have been looking for this kind of protective product for years. Searched for ourselves and also on behalf of our customers and patients. As good as our previous mobile electrosmog products are, they all have one thing in common when it comes to "sleeping": the head and thus the brain as the central switching point of the entire nervous system remains more or less unprotected.
Until now, mobile shielding products were considered purely as an addition to the high-quality shielding canopy or shielded bedroom, but this basic rule is now shifting in a massive way. With this large freestanding screening tent for the single bed, we now also fulfill the wish for something larger than the ingenious Pop-Up Safecave throw tent.
This version of a screening tent can be an alternative to the ceiling-mounted canopy. There are various reasons why drilling into the ceiling to fix brackets is difficult; this screening tent with a good sense of space can be a solution here because it is free-standing and dimensionally stable. What we cannot recommend, however, is to place this shielding tent on a bed, i.e. on the mattress. This shielding tent was developed for the floor with the mattress in the shielding tent.
The SAFECAVE shielding tent convinces with over 99.99 % shielding effect (42 dB)!
SAFECAFE is simply the perfect name for this wonderful anti-electrosmog development. This shielding tent is the free-standing and flexible personal safe cave for protection against electromagnetic fields. And there are simply many reasons to invest in this SAFECAVE.
This shielding sleeping tent SAFECAVE SINGLE BED can be easily and quickly assembled with only 2 poles. It is made entirely of a silver fabric and is closed by means of a zipper. The result is a high quality and effective shielding. We recommend using a mattress for sleeping and placing it directly on the ground in the shielding tent. In addition to our Pop-Up Safecave, this much larger screening tent can also be used well for travelling or for holiday homes. The entrance to the tent is at the time.
Sewn from a high-quality silver fabric with high light and air permeability. Unique in this price range is the high shielding attenuation of 42 dB.
SAFECAVE QUEEN
135cm width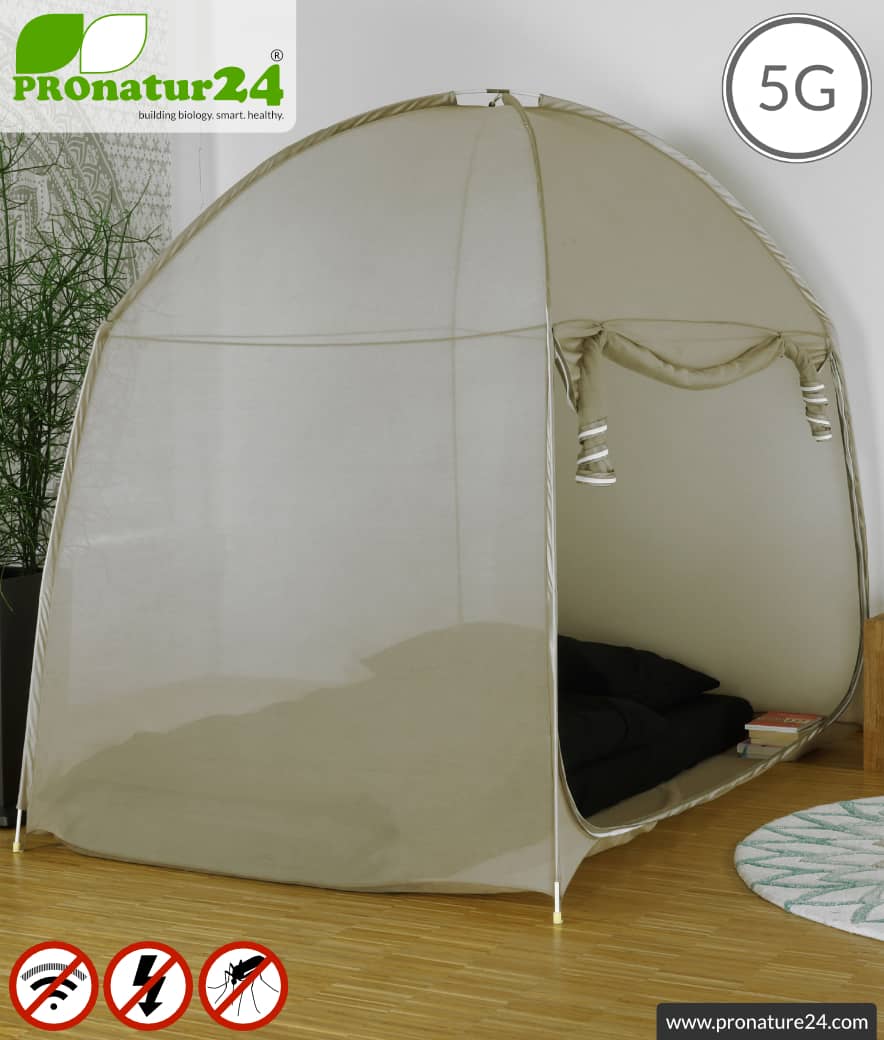 Breite: 135 cm | Tiefe: 205 cm | Höhe: 170 cm
Shielded room, canopy, tent, pop-up throw tent or sleeping bag?
What remains is very clear: the agony of choice. In the meantime, effective mobile protection products are also available with very individual strengths. Still valid for your own home is the recommendation for a shielded room or a fixed ceiling-mounted canopy. If ceiling mounting with a drill becomes an obstacle, our free-standing shielding tents can be a good alternative for holiday homes and travel. For professional field work, i.e. when mobility is the priority, our pop-up throw tent is probably the right choice. And if everything has to fit into a suitcase, then it's probably the shielding sleeping bag – possibly supplemented with a shielding cap.
Technical data for the shielding tent SAFECAVE QUEEN
Dimension shielding tent full size
Width 135 cm | depth 205 cm | height 170 cm (+/- 5 % Toleranz)
The inner dimensions are perfect for mattresses up to 120 cm width.
Attenuation: 42 dB
Color: silver-beige
Raw materials: 85 % nylon, 15 % silver
Scope of delivery: Tent with suitable bars

Shielding and grounding
This product shields high frequencyFrequency is the number of occurrences of a repeating event per unit of time. It is a physical measurement that is important for describing periodic processes, such as vibrations. More electromagnetic fields (HF). The indicated dB-values apply to 1 GHz, view chart for other frequencies. Expert reports ranging from 40/600 MHz to 40 GHz according to standards ASTM D4935-10 or IEEE Std 299-2006, view report above.
This product is a closed Faraday cageThe faraday cage is an enclosure made out of a conductive material that acts as an electric shield. More for non-stationary application.
GroundingGrounding is an electrically conductive connection with the electric potential of the ground. More is not provided by the manufacturer. However, a measuring verification has shown that grounding is very easily possible using our magnetic holder. The earthing contact is attached directly to the shielding fabric at the head end or foot end, is not sharp-edged and holds very stably due to the magnet. Carefully remove the earthing plate by pulling it apart on both sides to prevent damage to the shielding fabric. The thicker base is unsuitable for fixing the magnetic earthing plates – an earthing connection is not possible at this point. Damage to the shielding fabric due to earthing is excluded from the warranty and guarantee; PROnatur24 is exempt from liability. Use at your own risk.
Silver products and discolouration
Silver products discolour with time and often already have discolorations right from the start. If you don't want to accept discolorations, please choose Swiss-Shield® fabrics.
Silver fabrics have a limited durability, depending on the frequency of movement.
Our silver fabrics do not contain any nano silver, but a thick metallic silver coating.
Care instructions
Handwashing possible at 30 °C exclusively with our TEXCARE detergents
No ironing
No drying in tumble dryers
No bleaching
No chemical dry-cleaning
Documentation for the shielding tent SAFECAVE QUEEN (.pdf)
Technical details
Expert report EMF Test Lab Bavaria
Laboratory report screening attenuation
Withdrawal of the order
This product is a hygiene product, return or exchange excluded.