This shielding clothing set consists of a hoodie and trousers in silver tricot. Protection against RF radiation (mobile phone radiation, WIFI, LTE) with a shielding attenuation of up to 51 dB (99.999 %). Also ideal for hidden wearing underneath. With price advantage by the set. Effective against 5G!
One thing electro-sensitive and hyper-electrosensitive people have in common. They are definitely NOT proud to be part of this growing group, and their lives are changing dramatically. E-smog-free areas are getting less and less every year, and the situation around ELEKTROSMOG is largely due to shaking heads and incomprehension among fellow human beings and, despite technical evidence, is also being put into the "esoteric" drawer.
This misjudgment of the situation makes it even more difficult for people to talk about the topic of RADIATION, although the symptoms of the body speak a clear language. It does not seem to be a contradiction that an active mobile phone can crash the IT systems of an airplane (with corresponding consequences), but should not harm the massively more complex electro-biological system of humans. With this product of a protective clothing, we are now expanding our existing service around the creation of eg. Radiation protected bedroom around the mobile radiation-reduced everyday life outside the controllable own 4 walls.
PART 1 OF THIS SHIELDINGShielding is the protection from the effects of external fault zones and environmental influences (on a person's health most of the time). More CLOTHING SET:
Hoodie with protection against mobile phone radiation, WIFI, LTE & Co
The Hoodie or Hoodie is more a slim long-sleeved T-shirt with a hood. Just a hoodie made of SILVER ELASTIC with sensational shielding performance against NF and HF electrosmogElectrosmog is a colloquial term for all emissions from electric, magnetic, and electromagnetic fields. More.
Silver Elastic is one of our most powerful shielding materials against electrosmog. Despite the complete metal surface, Silver-Elastic is very elastic and adapts perfectly to the body shape. These ingenious properties of Silver Elastic make this long-sleeved shirt simply predestined for invisible under-wear under normal clothing.
Hoodie is above all one thing – FLEXIBLE
Almost in every situation our hoodie is applicable. Whether at home, on vacation or protected on a business trip – the shielding long sleeve shirt always fits. Worn "on top of it" as a thin sweater or "under" under eg. a shirt. It just fits. And what about sleep – of course, that is easily possible. Directly on the skin as the top of a pajamas or pajamas. The hoodie is incredibly flexible and is one of the highest quality items from the sewing industry.
Each individual hoodie is sewn by hand on order. There is no stock with the different sizes therefore the order will take longer. It is absolutely necessary to order the right size as a revocation is excluded due to the individual production per hoodie. So a standard size M can be the size L in this disguising hoodie. The handle to the measuring tape is IMPERATIVE to order the right size!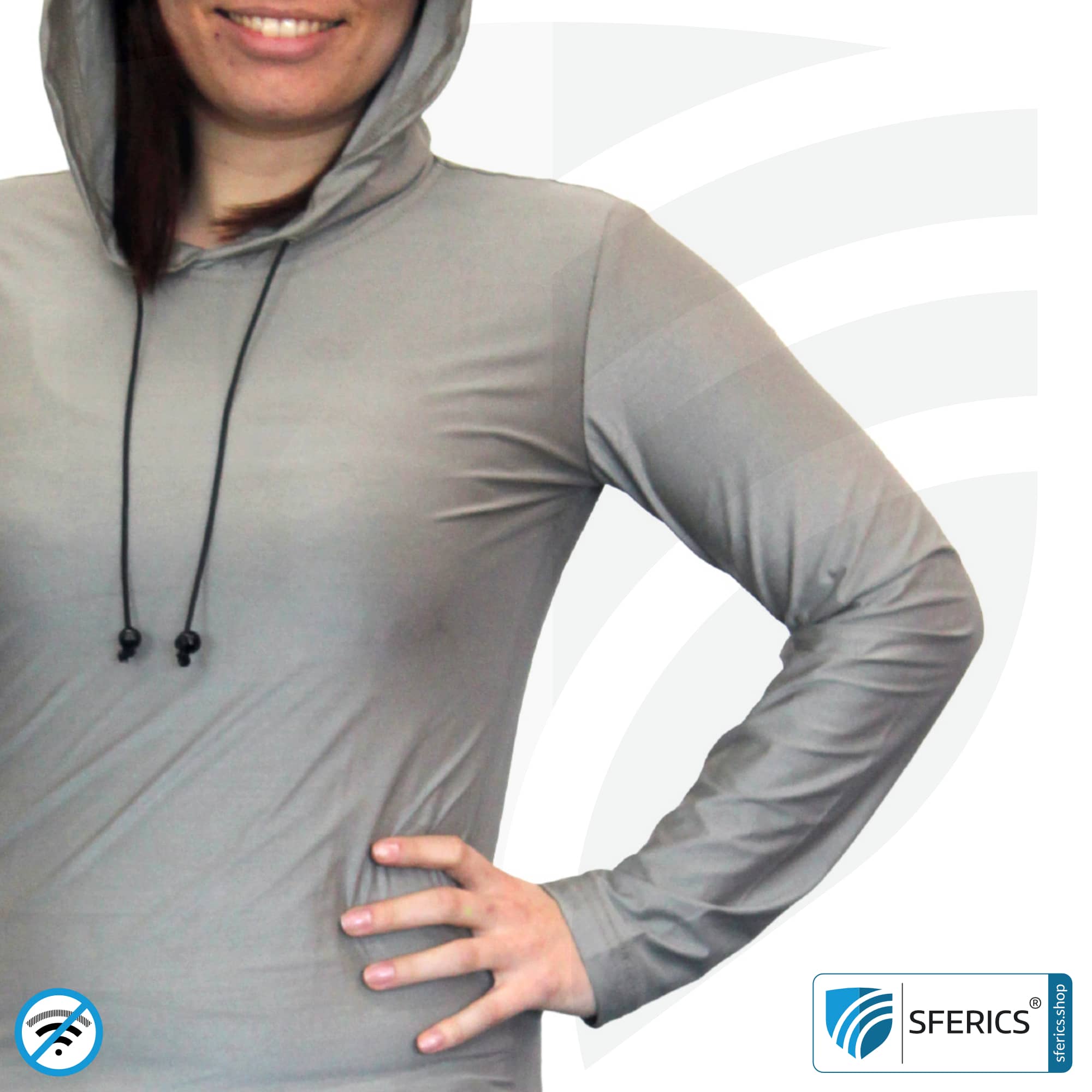 Details on the hoodie incl. size chart
PART 2 OF THIS SHIELDING CLOTHING SET:
Pants or underpants with protection against mobile phone radiation, WIFI, LTE & Co.
The electrosmog protective pants are designed as an extension of the shielding hoodie top, a thin long sleeved hoodie or hoodie, produced from the same shielding fabric. SILVER ELASTIC has a sensational shielding performance against NF and HF electrosmog and is one of our most powerful shielding materials against electrosmog. Despite the complete metal surface, Silver-Elastic is very elastic and adapts perfectly to the body shape. With these ingenious features of Silver Elastic, this host is simply predestined for invisible underpants to wear underneath normal clothing.
This against e-smog protective pants is above all one – FLEXIBLE
Almost in every situation the shielding trousers are applicable. Whether at home, on vacation or protected on a business trip – the shielding thin long underpants are always just right. Worn "over it" as thin pants or "underneath" under a pair of jeans, casual pants or suit. It just fits. And what about sleep – of course, that is easily possible. Located directly on the skin as the bottom of a pajama or pajamas. The shielding trousers are incredibly flexible and are among the highest quality single items from the sewing industry.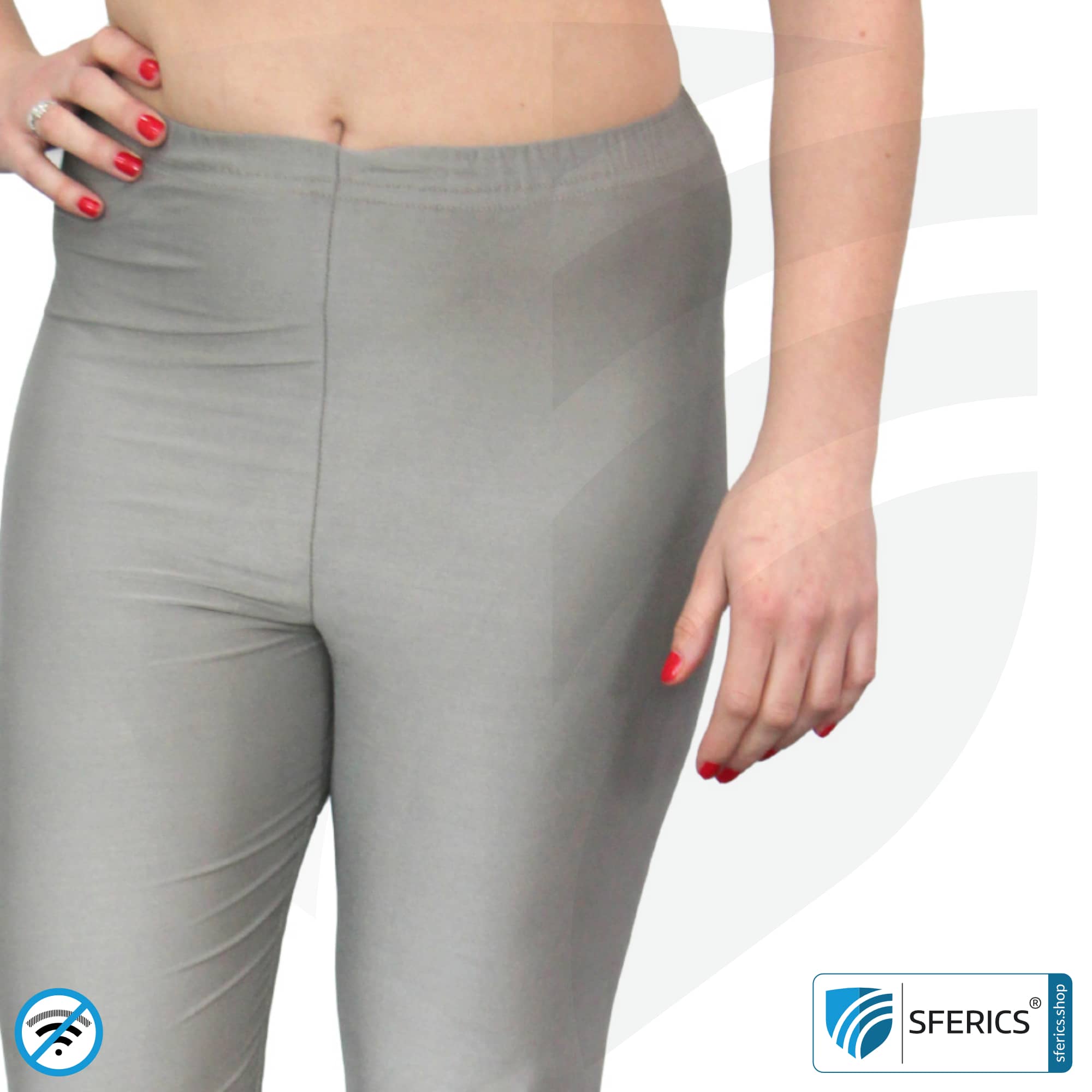 Details on trousers incl. size chart
APPLICATION OF SCARVES OF SILVER ELASTIC CLOTHING
Despite very flexible application areas, the shielding material remains one – sensitive!
So that the joy lasts as long as possible, following a few important rules:
Every "normal" detergent destroys the shielding effect at lightning speed. We have an ideal detergent available in the shop.
Silver discolors on contact with air and moisture such as sweat or washing. The hoodie will inevitably (very) spotty, especially if worn directly on the skin. However, this is a purely visual "problem" and has no effect on the screen attenuation. Preventing these discolorations is not possible.
The shielding clothing is cut as best as possible and sewn to reduce wrinkles to a minimum. A fabric fold always means a kink in the silver thread which can happen at this point faster weakening of the shield. The more often the clothing is worn, the faster the screen performance at the wrinkles may decrease. This effect is inevitable and can not be prevented.
This thin shielding clothing is NOT designed for continuous use – 24 hours a day. The hoodie as well as the pants are to give the electro-sensitive people the opportunity to often leave the sheltered apartment again or in between times again, for example. to experience cozy shopping in the city without being immediately recognized as an "electro-sensitive person" or "funny beekeeper with fabric in front of his face". Of course, the clothes can be worn regularly and continuously, but this will reduce the lifetime of the screen performance massively to a few months. This is especially true when used as a pajama or nightgown, as the body weight is due to the sleeping position on the fabric and rubbing movements occur when sleeping.
The sleeves of the hoodie are long, evenutell too long. This is done deliberately, as longer means a radiation benefit, when the sleeve reaches to the fingertips. If the hoodie sleeves are way too long, just flip them over on the spot.
Shielding clothing basically does not replace underwear. Especially the shielding pants (counterpart to the hoodie) made of Silver Elastic can not replace this panty.
The shielding hoodie as well as the shielding pants are designed as a mobile extension to the shielded bedroom, bed in the shielded canopy or shielded apartment. For eg stay in the garden, for shopping, for the holidays or for the business trip.
Technical data for shielding clothing against electrosmog
European sizes: S, M, L, XL, XXL
Shrinkage after the first wash: 0% width, 0% length
Screening attenuation: up to 51 dB. All values provided apply for 1 GHz. Measurement from 40/600 MHz to 40 GHz according to standards ASTM D4935-10 or IEEE Std 299-2006.
Color: silver
Use: Clothing, textile products
Materials: 80% elastane, 20% silver
Grammage: 130 g/m²
Surface conductivity: 0.5 Ohm / Inch (2.54 cm)

SILVER ELASTIC – an ingenious material creates the opportunity for protective clothing
With these trousers or underpants, we also want to show what can be produced with a high quality shielding fabric like the SILVER ELASTIC. It therefore does not mind to sew even with Silver Elastic shielding garments. However, if the screened inside of a jacket or jacket is the topic, we recommend as shielding the handle to the SILVER SILK shielding fabric.
The properties of SILVER ELASTIC are convincing in their full length:
Silver-Elastic is very elastic and adapts to your body shape. Thus he does not wear as "underneath" under the clothes.
Silver-Elastic has a very good washing resistance with suitable detergent without losing the shielding.
Despite the complete metal surface Silver-Elastic is soft and pleasant on the skin.
Due to the double-sided electrically conductive surface and the direct contact with the body, low-frequency fields will connect less and can be conducted away more easily. Many electrosensitive people find this more comfortable than using a non-groundable shielding fabric.
Care of the shielding clothing set made of SILVER ELASTIC
The normal "shrinkage" that happens after the first wash should not happen with SILVER ELASTIC as long as the washing temperature stays at 30 °C. Wash gently at 30°C.
Gentle cycle at 30°C
No ironing
No drying in tumble dryers
No bleaching
No chemical dry-cleaning
Wash only with our special washing detergent TEXCARE, without enzymes or bleaching agents
For allergy sufferers: every new fabric smells, wash before first use! We recommend TEXCARE or our ecological, vegan UNI SAPON detergent.