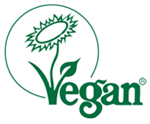 When a linen cloth competes with microfiber …
For years UNI SAPON® has been looking for an alternative to microfibre cloths. The aim was to find a cloth which comes as close as possible to the cleaning performance of microfibres and yet fits the ecological orientation of the product series. The UNI SAPON team finally found what they were looking for in linen fibre.
Linen has many special properties: it requires five times less fertilizer than cotton and no additional irrigation. The natural rainwater is usually sufficient for the plants to thrive. Linen can absorb up to 20% of its own weight in moisture, and linen fibers are also very stable and tear-resistant, so this linen cleaning cloth will remain lint-free and dimensionally stable for years.
Linen also has antibacterial properties, a special feature which is very beneficial when used as a cleaning cloth.

Cleaning and care of the linen cloth
This linen cloth can be easily washed at 60 °C, but under no circumstances should fabric softener be used. Furthermore, the linen cloth is completely biodegradable, as even the seam and the fabric label itself are made of natural fibers.
machine washable up to 60° C
no dryer
no fabric softener
Additional details to the linen cloth
Dimensions: 30 x 30 cm
100 % linen
vegan