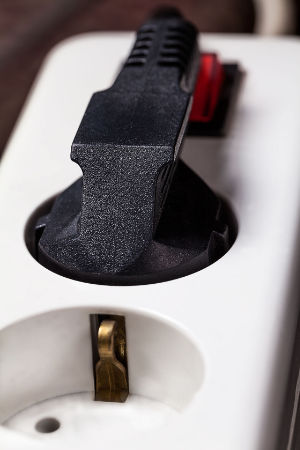 Shielded device connection cable with on/off switch, plug type EF and free end, white, 2 meters length
This shielded electric cable with fixed Schuko plug, a shielded on/off switch and free end gives even more healthy freedom in dealing with electrical equipment. Even if the terminal such as TV, stereo or satellite receiver modern standards such as TCO meet so the electrical cable used is usually the "weak point" in electrosmogElectrosmog is a colloquial term for all emissions from electric, magnetic, and electromagnetic fields. More by low-frequency alternating fields NF. With this shielded cable, the electrician can change this situation quickly and effectively – simply by a cable exchange.
After the exchange, the alternating electric field NF at the electric cable is no longer measurable ie. not available anymore. In addition, this shielded cable with free end also creates a reduction of the magnetic field. This is done by twisting the wires – 15 times per meter.
The on / off switch makes this shielded electric cable so special!
The special feature of this shielded cable is the shielded cord switch, meaning the shielded on / off switch directly integrated in the cable. Since this electric cable has a free end, virtually any existing cable of a commercial consumer can be exchanged with it. The integrated switch does more than just be comfortable to operate. Each electrical appliance except the washing machine needs a transformer for the conversion of AC to DC. This transformer can be installed in the device as well as in front of it visible part of the electric cable.
Is the device such as a floor lamp permanently connected to the socket, it may be that in addition to the electric field also a strong magnetic field is produced. This depends on where the disconnector – ie the on/off switch – is mounted. If this switch is located between plug and transformer so the magnetic field does not exist, but the on / off switch is between the transformer and the load so the magnetic field is permanent and permanent (because the transformer is permanently supplied with power). This shielded electrical cable with on / off switch solves both issues directly by replacing the electric cable which leads directly to the transformer – electric field (V / m) and magnetic field (nT). 
Details of the plug with shielded cable with on / off switch and free end, white
Length: 2 meters
Wire size: 0.75 mm²
Color: white
This shielded cable is usable in the following countries
CEE-7/4 (German system) and CEE-7/7 (French system): Afghanistan, Algeria, Andorra, Austria, Belgium, Bosnia-Herzegovina, Bulgaria, Croatia, Czech Republic, Estonia, Finland, France, Germany, Greece, Hungary, Iceland, Indonesia, Italy, Korea, Latvia, Lithuania, Luxembourg, Macedonia, Moldova, Monaco, Montenegro, Morocco, Netherlands, Norway, Poland, Portugal, Romania, Russia, Serbia, Slovakia, Slovenia, South Korea, Spain, Sweden, Tunisia, Turkey, Ukraine.

Information about all shielded cables on the online shop
With (H)05VV-F3G cables to provide protection against low-frequency alternating fields. The conductors are twisted 15 times per meter in order to reduce the magnetic field.
Nominal voltage: 250 V / 50 Hz
Protection class 1 (with protective conductor)
Current load 0.75 mm²: 6 A
Current load 1.0 mm²: 10 A
Curent load 1.5 mm²: 16 A
Documentation of biological electric installations for construction
Connecting and groundingGrounding is an electrically conductive connection with the electric potential of the ground. More shielded cables and sockets