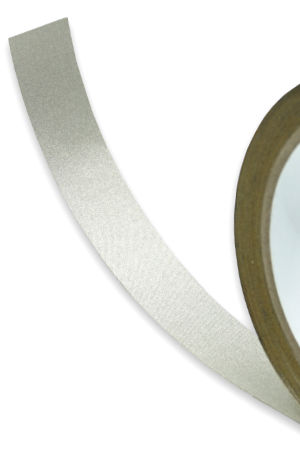 Self-adhesive, strongly adhering grounding tape EB2 with electrically non-conductive glue for grounding of shielded surfaces.
This grounding tape is based on our shielding fabric HNG80 and has been converted to a high-performance grounding tape by means of self-adhesive, electrically non-conductive glue. Due to the use of HNG80 as a basis, the grounding cable has, in addition to the electrical conductivity, an additional screen attenuation of 80 dB against high-frequency radio radiation. Thus, this grounding tape EB2 is not only suitable for use as a grounding tape but also for shielding small cracks and can effectively bridge them.
The big difference to our earthing tape EB1 is the massive stronger adhesive force of EB2. In contrast to EB1 with 3 N / cm, this grounding tape EB2 adheres with 10 N / cm and therefore sticks very well on difficult surfaces. By using a new very strong gluing this ground tape EB2 is electrically non-conductive and can be glued only UNDER the shielding materials to be grounded.
Grounding a Faraday cage is mandatory!
The grounding of a Faraday cage is imperative. This is also a legal requirement – the legislator writes that an electrically conductive surface must be earthed for reasons of personal safety. This is about the mandatory potential equalization (up to the FI circuit breaker) which results from the "requirements for protection against electric shock" and is binding in a DIN VDE regulation.
Processing of self-adhesive grounding tape EB2
A grounding tape with electrically non-conductive adhesive has an insulating effect with respect to the adhesive ie. only the metallic surface is electrically conductive. As a result, installation for grounding on shielded conductive surfaces and tracks is not possible. In addition to conductivity, however, the adhesion strength on the substrate is an important issue. This requirement of adhesion even on difficult ground comes this ground tape EB2. For this reason, this ground tape EB2 must first be adhered to the substrate and the application of the selected shielding only after that. An alternative to the ground tape is our AF3 additive, which contains electrically conductive carbon fibers.
Therefore, this ground tape EB2 is only suitable for processing under shielding colors, shielding fabrics and shielding fleeces. EB2 adheres due to the adhesive force of 10 N / cm very well on difficult ground. Basically, we recommend the use of ground tape EB1, if necessary also in combination with primer GK5. If the adhesive force of EB1 is still insufficient, this EB2 grounding tape is a very well-functioning alternative – however, the processing must be much more precise in order to guarantee electrical contact with the shielding surface.
Details of shielding grounding tape EB2 with conductive glue
Self-adhesive
With electrically non-conductive glue
Attenuation: 80 dB at 1 GHz
Adhesive force 10 N/cm
Width 2 cm
Length 10 m
Thickness 0.2 mm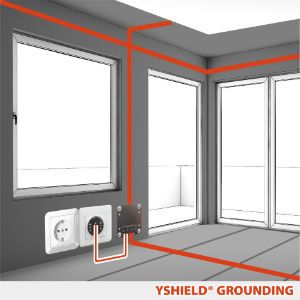 Schematic representation of the grounding of a room by means of EB2 grounding tape
In the case of the shielding paint, the grounding tape is first glued on, regardless of whether it is shielded with shielding paint, shielding fabric or shielding fleece. Basically, the grounding tape is laid so that all surfaces are connected to each other. Whether this connection is done down at the bottom or above just below the ceiling is irrelevant.
All shielded surfaces are always grounded, in the predictive installation are the 6 sides – floor, ceiling and 4 walls. Simply put, the grounding tape is glued all around, so that all 4 walls are connected to each other. Then up to the ceiling and along one side of the ceiling. Then down to the ground and along one side of the floor area. In this simple way, all surfaces are electrically connected together and can be easily connected to the grounded outlet or grounded heating pipe.
This simple theory is usually more complex in practice, for example. Wall breaks, doors, windows, glued parquet floors, etc. In such cases it may be necessary to combine different grounding materials and shielding materials. Use our hotline for advice!
The connection to the earthing must be carried out by the electrician. We recommend checking the electrical installation and grounding. Grounding is only permitted in buildings with TN-S, TT and IT systems. The ground connection on a TN-C system is not possible or connected to a renewal of some parts of the electrical system. Under no circumstances may earthing be carried out in network forms with a combined PEN conductor!
More Information
Beware of unreasonable purchase of improper or incorrect use of this grounding tapes!
Even if the health risk is rather low, ultimately it's about nothing but your own safety and in the worst case of your own life. If, for example, a grounding tape such as this EB2 is used incorrectly, it will act insulating instead of connecting, leaving the screened area unearthed and thus making the shielded room extremely dangerous. Thus, this grounding tape EB2 must imperatively be glued under the conductive shielding material on the substrate, since only the surface of the grounding tape is electrically conductive.
This is about the problem when drilling in the electrical line or a nail is hit. Without functioning grounding or equipotential bonding, the electrical current could spread to the entire shielded area via the shank of the drill or nail. Even if the chance for that is very small, the highest possible risk is assumed. This would be at home current 220 V at 16 A on the wall, with power much more.
The life-threatening accident happens when touching the wall surface by an electric shock. Grounding or potential equalization of shielded, conductive surfaces prevents this.