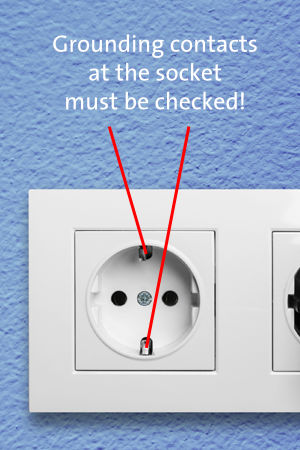 Test and check an earth with a plug – quick earth check without an electrician!
Checking the earth has finally become easy with this socket outlet tester
"Yes and no" is the answer to this plug for checking the connection between the socket and earth. YES, this plug is significant if an electrosensitive person wants protection against electrosmog and invest in a product that can be grounded, such as shielding paint, canopies or sleeping bags. NO, this grounding checker is not too complicated for household sockets and can be used by people who are not electricians. With this plug, we are the consumers, or simply put, anyone can check the earthing of their house electrics.
Available in 2 types – Europe (Type EF – shockproof) and Switzerland (Type J)
Plug in the earth-checking plug and wait for the display
With an active shielding product, such as our Electrosmog PRO canopy or the Electrosmog PRO sleeping bag, it is possible to shield yourself against electrosmog for a few hours. With our canopy, you will be practically free of stress caused by continuous exposure to (mobile) radio and electric alternating fields from the house supply, you will feel a considerably lower amount of radiation with the sleeping bag. If the product can be grounded, we have provided an earth connection to easily connect it to the earth on the socket. However, there is still one question that, until now, only electricians could answer most of the time – is the socket's earth actually connected?
In every house and residence, it feels like the years fly by, and whoever checks the quality and function of the earth or if it was actually connected will check over and over as time goes on. Electricians are used time and again when we have done a geobiological search of the bedroom and spotted a missing earth. Reasons for this vary from defected cables to forgotten connections during construction.

Earth check in practice – a second-long movement. For laymen as well as professionals!
We have two types of earth checking plugs – Type EF (Europe) and Type J (Switzerland). Before you connect the product to the earth, quickly plug the plug into the socket and read the display for a healthy sleep without electrosmog. If everything is fine, unplug the plug and connect the earth cable of the canopy, sleeping bag, etc. Nothing is left in the way of relaxing night's sleep. If there is something wrong with the earth, or in other words, if the earth is not connected, simply try the next socket. If there are several sockets and earthing problems are displayed, this should not apply to all socket earths.
This quick earth check is an unbelievable asset for professional use. We have used these for a few years for electrosmog research in their houses. After a year of using it in practice, we know the unbelievable practical benefit of this tool and we, as well as all building biologists, electrician biologists, and geobiologists use it at the heart of our daily tasks.