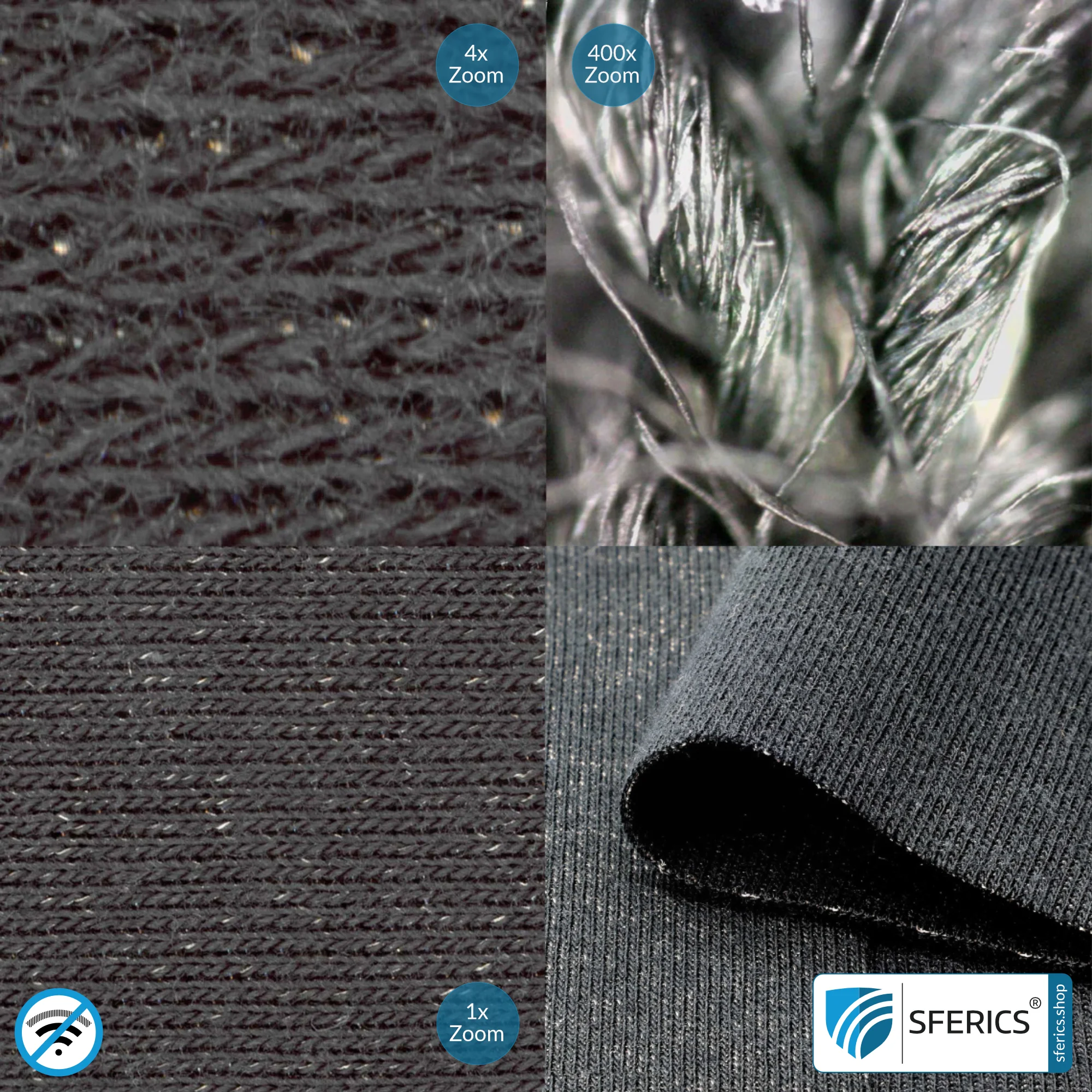 BLACK-JERSEY shielding fabric against HF electrosmog from RF radiation (mobile phone, WIFI, DECT, …). Very comfortable to wear on the skin and therefore ideal for textiles that come into contact with the skin, such as clothing, sleeping sleeves, etc.. Washable, ironable, sewable. Easy-care. Shielding efficiency over 99,99%. Effective against 5G!
BLACK-JERSEY is a compact cotton fabric with high silver content for HF+LF shieldingShielding is the protection from the effects of external fault zones and environmental influences (on a person's health most of the time). More. The ideal application of the BLACK-JERSEY shielding fabric is in the processing of textiles with skin contact. This makes this shielding fabric ideal for clothing as well as a protective sleeping sleeve for the bed.
It should be noted that the usual characteristics of silver fabrics also apply to this fabric:
Silver fabrics have a limited durability, depending on the frequencyFrequency is the number of occurrences of a repeating event per unit of time. It is a physical measurement that is important for describing periodic processes, such as vibrations. More of movement.
Our silver fabrics do not contain any nano silver, but a thick metallic silver coating.
Application and capabilities of BLACK-JERSEY
Due to the elasticity typical of jersey, perfectly suited for custom-fit pieces of clothing. This BLACK-JERSEY shielding fabric is our best and most stable clothing fabric.
Very high screening attenuation for a fabric with such a high cotton content.
Textile characteristics: Easy to sew, wash and iron.
Quality grade: Very high
Please note: For professional reasons, we can generally only recommend mobile electrosmogElectrosmog is a colloquial term for all emissions from electric, magnetic, and electromagnetic fields. More protection measures such as clothing or headgear as a supplement to a protected, controlled environment. Such a valued environment is ideally a canopy, shielding tent or room, which can be very strongly protected against electrosmog with effective materials such as shielding paints, shielding fabrics or shielding fleece. Building on this, such an addition via clothing makes perfect sense. Not on its own, however, as the protective effect on the organism is too low.

Technical data of the BLACK-JERSEY shielding material against HF electrosmog
Shield attenuation: 40 dB. Unless otherwise stated, the specified dB values ​​apply at 1 GHz. Measurements from 600MHz to 40GHz per ASTM D4935-10 or IEEE Std 299-2006 standards.

Application for: clothing, sleep cover, etc.

Width: 145 cm, +/- 5%
Raw materials: 83% cotton, 17% silver thread
Colour: black with metallic sheen on one side
Length: sold by the meter
Stretchability: 40% width, 15% length
Weight: 165 g/m²
Surface conductivity: 3 ohms/inch (2,54 cm)
Field type: HF (Radio Frequency Electromagnetic Fields)
Ecology: Normal