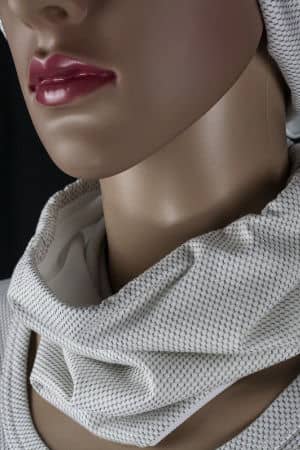 ANTIWAVE shielding, elastic hose scarf Buff. Effective against electrosmog HF by radio radiation (cell phone radiation, WIFI, LTE, …) with an efficiency of over 99.9% (up to 33dB). When pulled up to the face it is also suitable as a mouth-nose protection mask. Effective against 5G!
This shielding hose scarf Buff combines high flexibility, effective protection against radio radiation and noble design. Produced from our new shielding fabric New Antiwave, it can be worn comfortably on the neck and, if required, can also be pulled up as a face shield and is therefore also suitable as a mouth-nose protection mask. Due to the elastic shielding material the tubular scarf is comfortable to wear. Combined in a fashionable and high-quality design, this hose scarf Buff is simply perfect for every day. Effective against 5G!
ANTIWAVE is our new generation of underwear and clothing that shields electromagnetic radiation directly on the body. This shielding cloth is a garment from this new product series. Completely i.e. 100% produced in Germany.
Like all our mobile EMF products, this hose scarf Buff extends the protected bedroom or apartment by an effective protection against electromagnetic radiation. Even if it cannot be a substitute for an EMF shielded living space, it makes it easier for electrosensitive people to move around outside the shielded apartment, e.g. on the way to work, while shopping or participating in public life.
Effective EMF protection with ANTIWAVE hose scarf Buff
Thanks to the innovative structure of the NEW ANTIWAVE shielding fabric and the use of high-quality materials, this hose scarf Buff protects against electromagnetic radiation in the range from 20 kHz to 10 GHz with a shielding effectiveness of over 99.9 percent. This is also confirmed by an expert opinion from Prof. Pauli of the University of the German Armed Forces in Munich.
ANTIWAVE hose scarf Buff also suitable as protective mask for mouth and nose
For this garment, New Antiwave was combined with another layer of fabric. This woven-in polyamide is coated with pure silver and thus has an antibacterial effect, which in turn further enhances the protection & hygiene function of the mask. This coating consists of 20% pure silver which surrounds the entire polyamide fiber. No nanosilver is used. The metallic silver is absolutely harmless for human health and nature.
Further details about the hose scarf against electrosmog HF
Maximum shielding effectiveness: 33 dB
Maximum EMF Effective range: >99,9 %
Area of application: can be worn directly on the body
Raw materials: 89% cotton, 9% polyamide, 2% silver

Care of the ANTIWAVE hose scarf Buff
Gentle washing at a maximum of 40°C. Gentle ironing on level 1. Do not tumble dry. Do not bleach. Do not dry clean. For allergy sufferers: Every new fabric smells, wash before first use! We recommend TEXCARE or our ecological, vegan UNI SAPON detergent.
General information about NEW ANTIWAVE shielding material
For large area shielding of high-frequency electromagnetic waves
Very good tear resistance with soft quality, antistatic, elastic
100% textile properties
Elastic knitted fabric for various applications
The quality of New Antiwave is a right-left jacquard knit in a combination of combed cotton and silver-coated polyamide.
The coating is not made of controversial nanosilver, but of 20% pure silver, which surrounds the entire polyamide fiber. The metallic silver is absolutely harmless for human health and nature.
Pure silver has a natural antibacterial effect and can also have a positive effect on skin problems as well as excessive sweating and body odor.
Documentation on NEW ANTIWAVE shielding fabric (.pdf)
Technical deatils New Antiwave shielding fabric