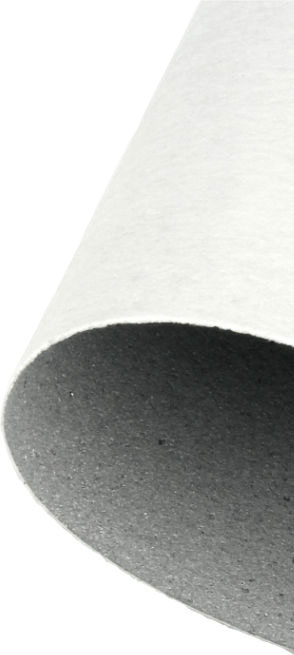 The YCF 100-100 shielding wallpaper is an alternative to shielding paints. Wallpapers offer extremely effective protection against electrosmog from HF mobile radiation (alternating current). Up to 100 dB attenuation!
Opting for a wallpaper can make sense if the surface makes one necessary. This way, a base wallpaper is always a surface preparation as well because it balances the unevenness and can bridge cracks in the plaster. Furthermore, base wallpapers ensure a consistent absorption when sticking it to the wall.
You get all of these benefits with this "YCF 100-100 shielding wallpaper by YSHIELD" base wallpaper combined with an effective protection against electromagnetic radiation from RADIO (HF) and the power supply (LF). YCF 100-100 enables an attenuation of up to 100 dB with the metal coating applied to one side of the shielding wallpaper.
Convincing properties of the YCF 100-100 shielding wallpaper
The base of the YCF 100-100 shielding wallpaper is a white wallpaper base, certified to FSC© Mix Credit by the world's leading manufacturer. The VCF 100-100 fleece wallpaper has a very high dimension stability before, during, and after processing.
The YCF 100-100 shielding wallpaper's characteristic is that it is very ecological. Most EMC shielding products are "chemically" metalized, which means that a lot of chemicals are required to make the copper or nickel layers. The exact opposite of the production of the YCF 100-100 shielding wallpaper. During this coating process, the metal parts are applied to the base material without any chemicals – with the use of air and green electricity. The ecological awareness is very high during production.
Furthermore, the YCF 100-100 shielding wallpaper has a high vapor permeability. The metal alloy is spattered and not extensively which gives the YCF 100-100 shielding wallpaper a higher vapor permeability.
Using and processing the YCF 100-100 shielding wallpaper
YCF 100-100 is purely intended to be a base wallpaper and to be workable and therefore it can only be used indoors. It is also applicable for loose laying, the YCF 100-100 shielding wallpaper must be protected from mechanical damage in this case.
YCF 100-100 must be grounded!
You need to ground each sheet of wallpaper. This grounding is also a "small" challenge for the YCF 100-100 shielding wallpaper. Only the metalized side of the wallpaper is electrically conductive and must be used in a timely manner when grounding. A subsequent grounding will no longer be possible as long as the metalized side is facing the wall.
Bonding the metalized side towards the wall: The grounding tape is applied to the surface first. The application of the sheets of wallpaper then follows. After sticking together with standard wallpaper paste, there is a chance that the metal side is still contacted. This depends on the adhesive, however. Therefore, we recommend doing research or check the electrical conductivity of the wallpaper paste before buying it.
Bonding the metalized side towards the room: This is the best way to use the YCF 100-100 wallpaper. The metalized wallpaper sheets remain visible, are unhandled, and can be easily contacted. Because it is being used as a base wallpaper, the metal optic does not lose anything.
Loose laying/stapling: The sheets must always overlap by a few centimeters, there can be no gaps/holes.
Edge to edge or overlapping: Normally, the sheets overlap when applied. This gives the best shielding. The overlap should then be smoothed with a fine filler, you won't get a perfectly-flat surface this way, however. Alternatively, the sheets of wallpaper can be glued edge to edge. However, this leads to weaker protection, though it is only weakened slightly.
Convincing properties of the YCF 100-100 shielding wallpaper
Very high shielding effectiveness of up to 100 dB

Shielding wallpaper is 100 cm wide
Very ecological
Please note: If low-frequency electric fields also need to be protected against, extra measures, such as shielding paints, are necessary.

YCF 100-100 HF and LF shielding wallpaper technical information
Screening attenuation: up to an incredible 100 dB. All of the given attenuation numbers apply for 1 GHz. Measurement based on ASTM D4935-10 or IEEE Std 299-2006 or IEEEE Std 1128-1998 or ASTM A698/A698M-07..
Quantity / Length: Yard goods, 20-meter rolls, 100-meter rolls
Order in measures of 1.0 running meter. If tailor-cut for a customer, revocations and cancellations are not possible. It is possible to request a free test sample.
Width: 100 cm
Grammage: 340 g/m²
Thickness: 0.22 mm
Tensile strength: 2.7 – 4.4 kN/m
Surface conductivity: 0.004 Ohm (square resistor)

Earth: Electrically conductive. Must be contacted and grounded to protect against electric alternating fields (LF)! You can find the suitable components under "Grounding". It is difficult to make a recommendation because it depends on the usage. Ask us!

Application: Ceilings, floors, indoor walls

Field type: LF (low-frequency electric alternating fields), HF (high-frequency electromagnetic fields)

Ecology: Very high

Color: Silver, white
No cancellation for WALLPAPERS

Like for cuts, there is no right to return shielding wallpapers.

Please note that cancellations do not apply to these products, because they were cut to the customer's specifications. Reselling a tailored item is no longer possible. For this reason, it is possible to request free sample of the YCL 100-100 wallpaper. By ordering pre-finished products, waiving the statutory right to return goods is accepted.
Documentation of the YCF 100-100 shielding wallpaper (.pdf)
Technical data wallpapers HF + LF
Technical details about shielding wallpapers