The TENMARS TM-190 can handle max. be regarded as a multi-entry-level meter. It is convenient for the quick measurement in between to detect an "approximate note" of loads.
Unfortunately, it is impossible to offer meaningful measurements in the form of a meter at a low price. The necessary parts of a measuring device are far too expensive. Thus, the main board of our GEOVITAL measuring probes alone consists of gold conductor tracks in order to convey the high frequencies above 3 GHz in a meaningful way. Nevertheless, there is always the question in the room for a solution for laymen in order to get at least one "note of the burden".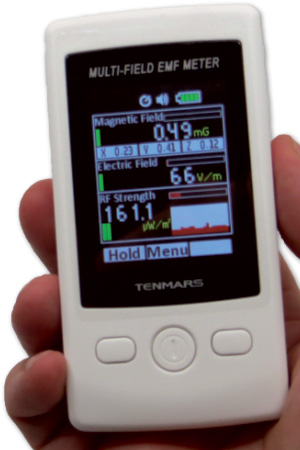 TENMARS TM-190 Multi-Field EMF Meter for quick review
The TM-190 is suitable as a beginner device or better for the "hobby ray hunter". The technical measuring range of this combination device is as follows:
High frequency electromagnetic fields (HF) in the frequency range of 50 MHz – 3.5 GHz
(WLAN (2.4 GHz but not 5 GHz), mobile (GSM, UMTS / HSDPA, LTE), bluetooth, radio, TV, …)
Low frequency electric fields (house electricity) at 50/60 Hz
Low frequency magnetic fields (house electricity / transformer-station) at 50/60 Hz
The advantage of the TENMARS TM-190 meter is, in our opinion, the ease of use, the digital display of the field strengths, the combination measurement of HF and LF in one and above all the attractive price. Due to the handy small design, it also fits in any travel case and is therefore just kind of cool. 
Limited accuracy in HF / NF measurement with the TENMARS TM-190
For electrosensitive people, the TENMARS TM-190 Multi-Field EMF Meter is completely unsuitable!
The TM-190 Multi-Meter is clearly too insensitive and in principle not very accurate in the measurement. For example, it does not even indicate high-frequency loads (radio) below 30 µW/m². For the electrosensitive people this is an absolute no-go!
Nevertheless, we see in the TENMARS TM-190 a chance for the layman to recognize an "approximate indication" of the electromagnetic load HF and LF or to carry out rudimentary checks on the screening performance of a product or room. As a relatively robust travel companion it is ideal to find a "good" sleeping place.
Scope of delivery of the TENMARS TM-190
TENMARS TM-190 Multi-Field EMF Meter
Protective bag with straps for storage
3 AAA batteries, with 1.5 V
operation manual
Technical data of the TENMARS TM-190
Electromagnetic fields (HF) from 50 MHz to 3.5 GHz
Low frequency electric fields (LF) at 50 – 60 Hz
Low frequency magnetic fields (LF) at 50 – 60 Hz
Displayable units magnetic field: mG and µT
Displayable units electric field: V/m
Displayable units High frequency: µW / m² – mW / m², µW / cm² – mW / cm², mV / m – V / m, dBm
Battery: 3 x 1.5V AAA, 8 hours of operation
Dimensions: 11.5 x 6 x 2.1 cm
Weight: 120 g
Scope of delivery: Measuring device TM-190, batteries, manual
Documentation to the TENMARS TM-190 Multi-Field EMF Meter
Download manual