Choose the ideal position for fixing the shielded desk lamp or workplace lamp in aluminium-silver design. The type of application determines the ideal holder.
As soon as the professional application becomes an issue, the quality of a product automatically increases and also very often the flexibility in the form of available options. The reason for this is the significantly longer service life per day and thus the increased risk of faster wear and tear. The quality of this shielded lamps is at the highest level and thus guarantees optimum use over many years. All that remains is the question of the ideal mounting for this work lamp for the specific situation. Two fixing variants are available for the aluminium-silver design.
CLAMPING FOOT in alu-silver design
The silver clamping foot is above all one thing – space-saving. With a fixing screw, it can be attached and fixed to practically any tabletop, furniture edge or other mounting location.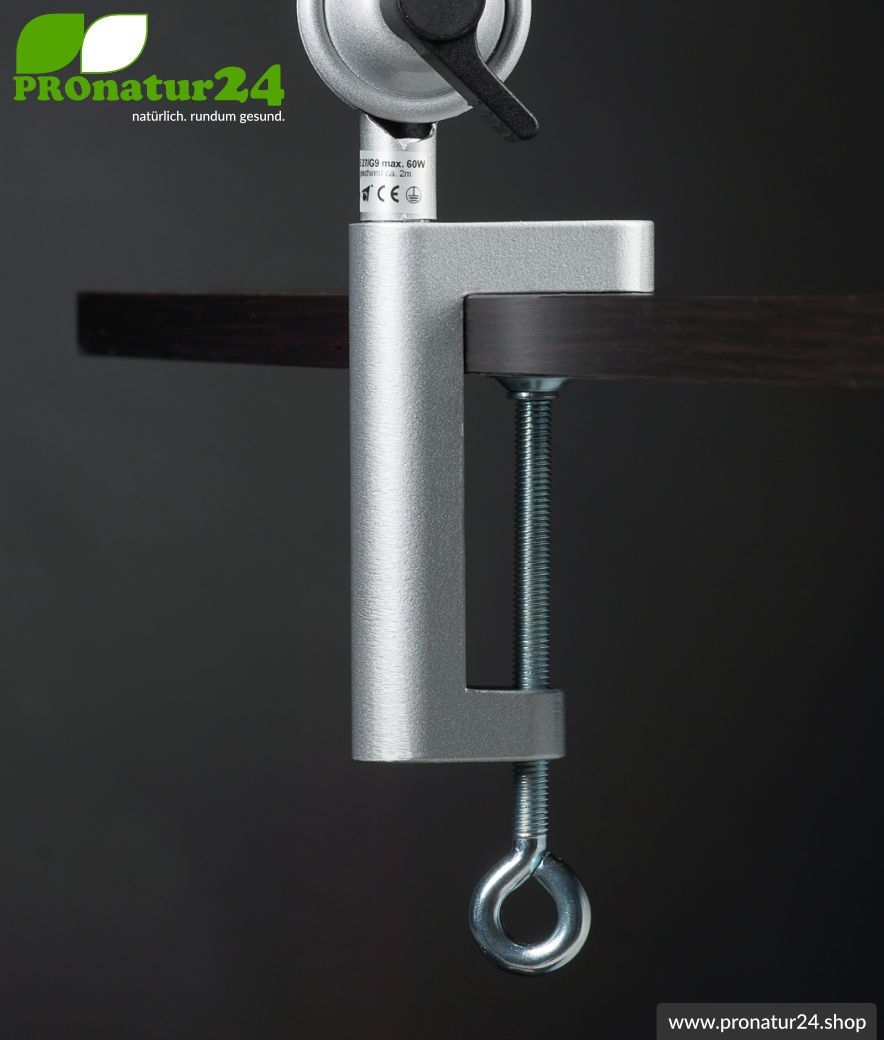 Flexibility is a top priority with the clamping foot, which means that the combination of lamps and clamping foot automatically becomes the ideal work luminaire in production facilities. Together with a high-quality light source, the optimum lighting becomes a guarantee.
| | |
| --- | --- |
| TECHNICAL DETAILS | CLAMPING FOOT |
| Suitable for | Shielded lamp for desk and workstation in alu-silver design |
| Maximum panel thickness | 70 mm |
| Material, Colour | aluminium, alu-silver satin finish |
| Other information | Replacement foot, replacement foot and clamping foot |
| Warranty | The guarantee is with proper treatment with the usual 2 years (§434 BGB + §446 BGB) |
TABLE STAND in alu-silver design
The table base, which matches the colour of the aluminium silver lamp, convinces above all with its simple design. Clear edges, circular design and straight surface are the features of the table stand in silver design.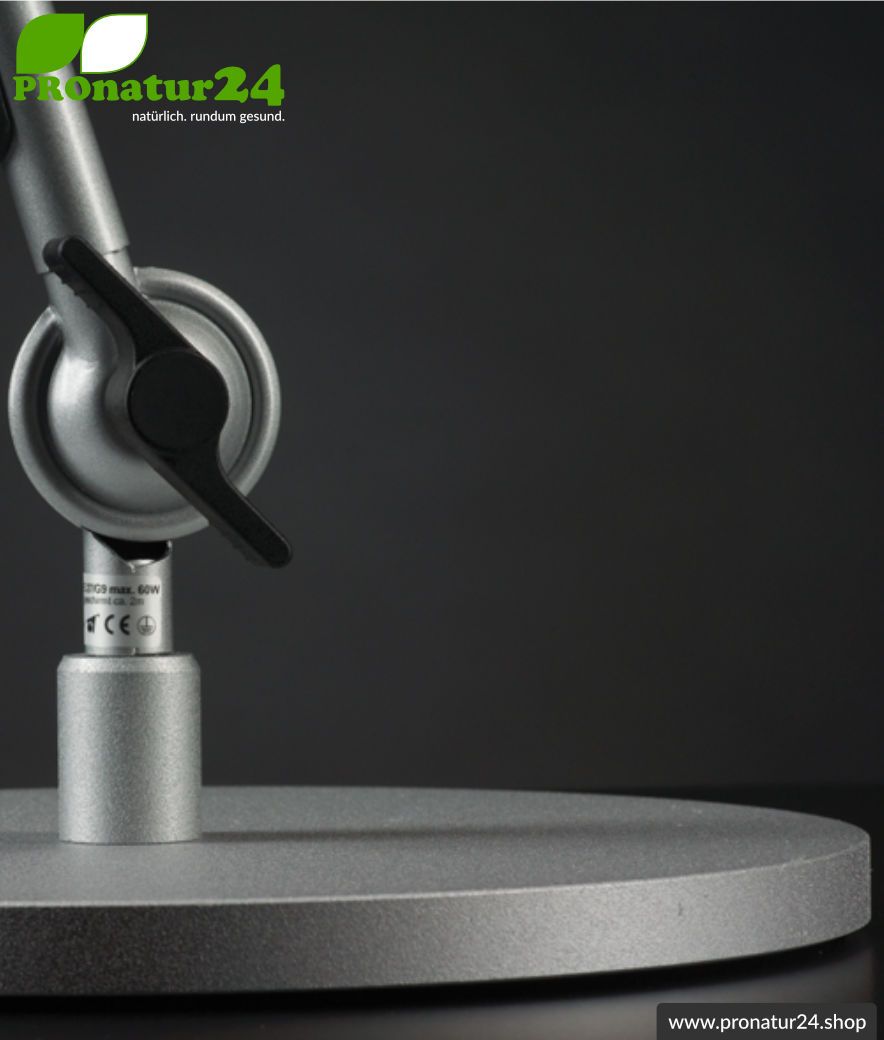 The dead weight of 6.5 kilograms ensures a stable hold for the shielded luminaire, even if it is completely "extended" to one side. The elegant look of the table stand is simply convincing and fits perfectly on any modern or classic desk, whether at home or in the office.
| | |
| --- | --- |
| TECHNICAL DETAILS | TABLE STAND |
| Suitable for | Shielded lamp for desk and workstation in alu-silver design |
| Weight | 6.5 kg |
| Diameter | 26 cm |
| Material, Colour | steel, silver satin finish |
| Other information | Spare foot, replacement foot, table foot and stand |
| Warranty | The guarantee is with proper treatment with the usual 2 years (§434 BGB + §446 BGB) |
Ideal lamp for the clamp base or table stand