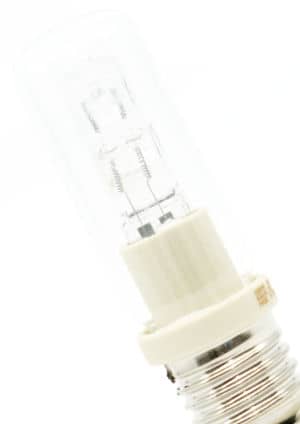 205 watts halogen lamp HALOLUX CERAM®. Model 64404 ECO from OSRAM. Extremely bright, warm-white light that is healthy for building biology. Capsule design for E27 socket. Dimmable. 
Remaining stock.
This halogen bulb with E27 socket produces a very pleasant, high-quality and very bright light. This E27 version of the halogen bulb is now banned in the EU i.e. manufacturers are no longer allowed to bring it onto the European market (same as the bulb before). However, this law does not affect existing stock and so we can make this wonderful halogen lamp for the E27 socket available for a limited time – while stocks last.
Just like the light bulb, halogen bulbs contain a filament that is made to glow by the flow of current. This produces a continuous flow of light, which produces a stronger yellowish-orange light (similar to the evening sunset). The result is a high quality of light! All halogen lamps are free of the toxic heavy metal mercury!
205 watts output
Illuminant for E27 socket
Attention: Observe the maximum wattage (e.g. max. 100W) and do not exceed it! See the information on the lamp, the type plate or in the operating instructions of the lamp.
Details 205 watts halogen HALOLUX CERAM
Halogen lamps provide a high quality of light with higher lumen values (lm) for more light and lower wattages (W) for lower power consumption. This results in effective lm/W values.
Extremely bright with 205 watts
4,200 lumen
Building biologically healthy light
Colour rendering: RA = 100 %, for authentic and eye-friendly colours
Colour temperature: warm white light at 3000 K (Kelvin)
Harmless to health: Free of mercury – No electronics – Flicker-free
Dimmable
Capsule design for the E27 socket
Protection: Integrated UV filter
Average service life: 2,000 hours (2 years at approx. 2.7 hours/day)
Suitable for everyday use: Can be disposed of in household waste