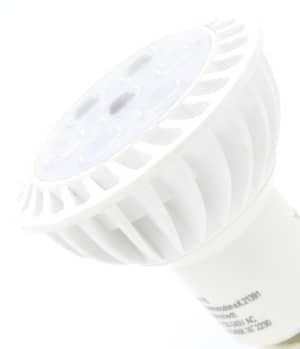 Full spectrum LED spot 3step with 6 watts. Flicker-free, natural light based on the sun with CRI 95. Colour temperature 5400 Kelvin. Bright like a 35 watts halogen lamp. GU10 socket. Dimming without dimmer in three brightness levels: 100%, 50% and 15%. GU10 socket.
This LED spotlight is the biologically healthy and direct replacement for the high-voltage halogen lamp (without travo). It is self-explanatory, that this full spectrum daylight LED can effectively replace a halogen and standard LED of this power class 35 watts in terms of light quality and performance. Naturally mercury-free!
The full spectrum daylight produced here is very low flicker and subjectively as bright as a 35 watts spot.
Full spectrum LED spot 3step: Ingenious lighting technology in 3 brightness levels, modelled on the sun
Dimming natural light without dimmer is the strength of this LED full spectrum spot. The dimmer is simply replaced by pressing the light switch again. Simply press the light switch within a second and the LED changes to the next three available brightness levels:
Switching mode 1: Maximum brightness with 100% at 6 watts (comparable to a 35 watt halogen lamp)
Switching mode 2: 50% brightness
switching mode 3: 15% brightness
The LED Spot always starts in switching mode 1. When the light switch is pressed again – change to switching mode 2. The same thing is repeated – change to switching mode 3. The maximum time span between switching off and switching on again is one second. Confirming the light switch 5 times in succession (ON – OFF – ON – OFF – ON) changes, for example, directly to switching mode 3 with 6 watts. When switched off after 10 seconds, the LED returns to switching mode 1 with maximum brightness.
Natural light thanks to state-of-the-art technology in this LED Spot 3step with 6 watts!
This high-tech LED spotlight with 6 watts impresses not only with its lighting quality and ingenious dimmer switch, but above all with its very high colour rendition. The colour rendering index CRI is 95 i.e. with this full spectrum LED spotlight you can enjoy a maximum of full spectrum light close to the sun. In terms of colours this means: seeing colours naturally, recognising colours naturally and comparing colours naturally, but also being less tired and able to concentrate better.
Other useful factors are: low heat generation and a beautiful fresh, clear light for maximum natural lighting in the home and at work. When switched on, this LED spot is immediately lit up with full brightness, i.e. without any start-up time.
Full spectrum daylight LED: Convincing performance at a glance
Sunlight does not flicker, i.e. it does not flicker at 0 Hz (Hertz). Developed according to the model of our sun, this LED spotlight is also maximally flicker reduced, i.e. healthy flicker-free even according to building biology guidelines. This LED produces 450 lumen luminous flux at a brightness of 35 watts.
Colour temperature: 5400 Kelvin
Flicker-free
95 CRI Colour rendering index
480 lumens
dimmable in 3 steps (100%, 50% and 15%)
Consumption: 6 watt
Switching cycles: > 25.000
Lifetime: > 35,000 hours
suitable for continuous operation
3 years warranty
Recommendation: Read a book under the light of such a full spectrum daylight LED spot. We can hardly describe the difference in the contrast of the typeface and basically this pleasant reading – only experiencing it yourself helps!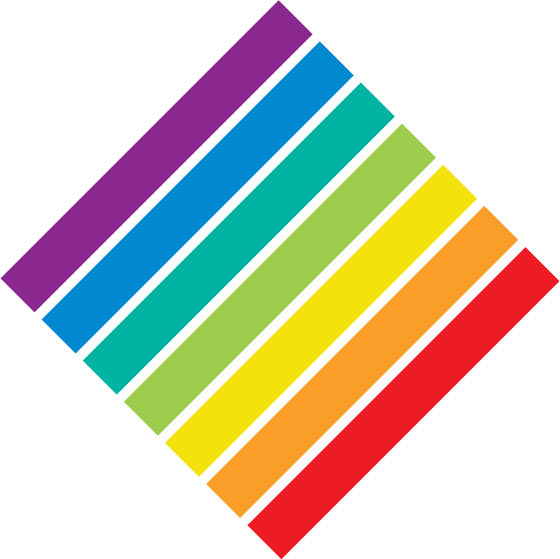 FULL SPECTRUM LAMPS – THE HEALTHIER LIGHT
Our near-sun full spectrum daylight lamps support your natural vision and health in many ways. This is because their spectrum is very similar to sunlight. They therefore achieve similar supporting effects as the sun. The most important advantages for you are:
More well-being
High contrast viewing of small fonts
See and distinguish natural colours
Fewer eye problems
Less tired
Concentrate longer
More capacity
FOR THEIR ILLUMINATED EVERYDAY LIFE THIS MEANS:
Awake longer
Feel better
More concentrated
More relaxed eyes

Examples of use
As an LED spot (without mercury), it can be used wherever you have previously used high-voltage halogen spots. For example, for lighting at the desk, in the kitchen, in the hallway, in the bathroom, etc., or for spotlighting and highlighting pictures or other objects of art.
Easy mounting
Simply replace your halogen spotlight with the natural LED spot – that's it. Technical changes to your lights are not necessary.
Brightness
The brightness of this full-spectral LED spotlight corresponds somewhat to that of a 35 watts halogen spot.
Additional information and notes
This full spectrum LED lamp must NOT be operated with a dimmer!