Low-frequency (LF) is a technical description of frequencies that are in the range of audible sound waves.
Appropriate frequencies as mechanical vibrations of air or metal are audible and noticeable sounds.
According to the laws of physics, tension and magnetic fields are formed as soon as a line (copper) is under tension. These fields are low-frequency. In a regular house supply with 220 volts and 16 amperes maximum, the magnetic field created is insignificant and only a few centimeters long. However, the tension field's effect spans 5 meters at 360°, which means up to 2.5 meters in the room. In the bedroom, the field usually reaches furniture, the bed, curtains, and most importantly, the person sleeping in the bed. This is also an unnatural alternating current (not direct current), which doesn't exist in nature.
Low-frequency in geobiology and in practice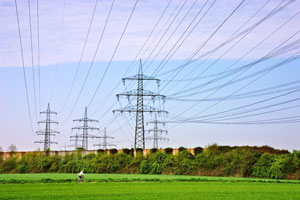 Tension fields generally disturb internal communication between the brain and body cells significantly, even more so in combination with alternating current. This leads to interruptions and disturbances of important recovery and the subsequent health problems.
Geobiologists automatically deal with the power situation (low-frequency) when analyzing electrosmogElectrosmog is a colloquial term for all emissions from electric, magnetic, and electromagnetic fields. More. Tension fields, which lay in the walls, boxes, and bed because of existing power supplies, can be easily and effectively shielded. Normally, a mains disconnector is installed in the fuse box, or the room in question is shielded with an earth provided by shieldingShielding is the protection from the effects of external fault zones and environmental influences (on a person's health most of the time). More paint or  shielding fabric. Our shielding materials also automatically shield you from mobile radio radiation (high-frequency).
» Low-frequency explained on PROnatur24
Back to the technical term Wiki