Interference describes the superposition of two or more waves based on the principle of superposition – therefore the addition of their individual amplitudes.
Interference occurs for all types of waves, thus for sound, light, matter waves, etc. If the amplitudes get stronger, that is constructive interference.
Interference in geobiology and in practice
The GEOVITAL Academy uses interference in their radiation protection mats for protection against natural radiation. The oscillating circuits integrated into the radiation protection mats connect to an interference and, consequently, to a type of technical blockage. The radiation that reaches the mat (geopathic fault zones) is shielded and deflected. Furthermore, the vibration of the GEOVITAL radiation protection mat is harmonic, which means that it is identical to the vibration of the human body, so it supports and strengths the human organism.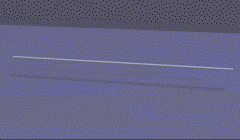 This interference in the radiation protection mats is used to protect from fault zones caused by water veins, faults, fault rocks in the ground, and grids. Its main use is to shield the bedroom, but it can be used for radiation protection in the living room, office, and stables.
» Interference in detail on Wikipedia
Back to the technical term Wiki