Interference describes the superposition of two or more waves based on the principle of superposition – therefore the addition of their individual amplitudes.
Interference occurs for all types of waves, thus for sound, light, matter waves, etc. If the amplitudes get stronger, that is constructive interference.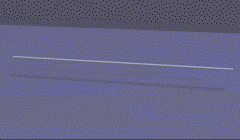 Interference in geobiologyGeobiology deals with cause studies and shielding technology for restoring and maintaining health. More and in practice
Interference in radiation protection mats for protection against natural radiationNatural radiation is a collective term for all of the types of the Earth's natural faults zones. Natural radiations are generally physical phenomena. More. The oscillating circuits integrated into the radiation protection mats connect to an interference and, consequently, to a type of technical blockage. The radiation that reaches the mat (geopathic fault zones) is shielded and deflected. Furthermore, the vibrationA vibration (also oscillation) is described as a measure that repeats after a determined time interval. More of the radiation protection mat is harmonic, which means that it is identical to the vibration of the human body, so it supports and strengths the human organism.
This interference in the radiation protection mats is used to protect from fault zones caused by water veinsWater veins are essential for providing the ground and plant world with nutrients. Simply put, without water veins, we would not have any vegetation (see deserts). More, faultsA fault is a tear or fracture in rocks that moves two rocks or crusts by distances of a few centimeters to a few dozen or even a hundred kilometers. More, fault rocks in the ground, and gridsGrids of energy-filled lines that encompass our Earth like longitudes and latitudes. More. Its main use is to shield the bedroom, but it can be used for radiation protection in the living room, office, and stables.