The Faraday cage is an enclosure made out of a conductive material that acts as an electric shield.
The inside of the cage remains free of external static or quasistatic electric fields. In the case of operations that vary in time, such as electromagnetic waves, the shielding effect rests on the eddy currents created in the conductive enclosure which cancel the effects of the external electromagnetic field. A Faraday cage does not offer the best protection possible against magnetic fields.
Faraday cage in geobiology and in practice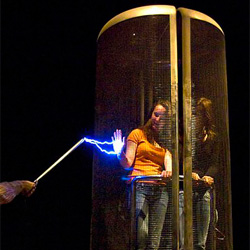 The Faraday cage is an issue in geobiology when it comes to "technical shielding from tension fields (from power supplies). Especially when it can't be done with just mains disconnectors. As long as there are no fault zones, such as high-frequency, the GPA shielding mesh is enough to make a Faraday cage for shielding. If there is additional radiation, the T98 shielding paint is needed because it also shields from tension fields and radio waves.
Generally, you cannot forget about grounding the Faraday cage under ANY circumstances.
Our Electrosmog PRO canopies on the online shop are an easy-to-install version of the Faraday cage.
» Faraday cage in detail on Wikipedia
Back to the technical term Wiki