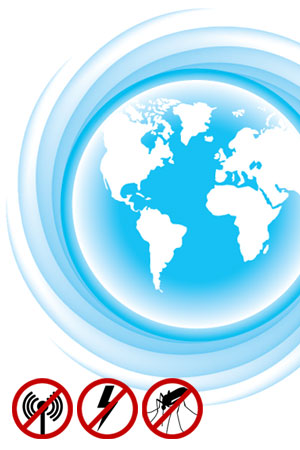 Worldwide use for our ElectrosmogElectrosmog is a colloquial term for all emissions from electric, magnetic, and electromagnetic fields. More PRO canopies, sleeping bag, blanket and bed linen
This plug set was designed for the worldwide mobile use of our Electrosmog PRO canopy.
The continuous stress on the body caused by electrosmog is growing exponentially worldwide because man has sensationally managed to electrify their entire lives. We are talking about 24 hours a day, 7 days a week. Electrosmog in the form of electric fields from power supply lines and photovoltaic systems, as well as radio frequencies from WLAN, mobile phones, mobile Internet, Powerline, cordless telephones, Bluetooth, etc.
Protected from electrosmog LF worldwide
With this plug set that is compatible worldwide, it is now possible to use our Electrosmog PRO canopy worldwide:
Living abroad, outside of Austria or Germany
Out and about on holiday
In hotel rooms for work or private reasons
Usage of the worldwide grounding plug set
This plug is suitable for portable products, such as our Electrosmog PRO canopy or shieldingShielding is the protection from the effects of external fault zones and environmental influences (on a person's health most of the time). More flooring underlays.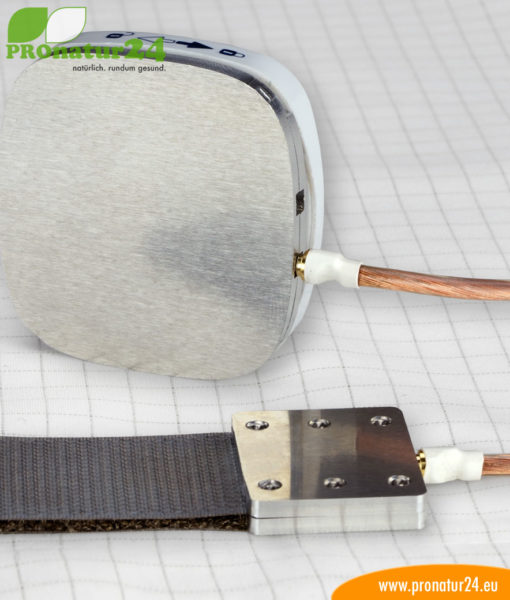 Simply connect the canopy or shielding flooring underlay and a long-enough groundingGrounding is an electrically conductive connection with the electric potential of the ground. More cable with this plug to the connection socket.
Please note: Stationary shielding products, such as shielding paints or meshes, cannot be grounded with this.
World plug set safety information and usage of the Electrosmog PRO canopy
Life-threatening with bad earth! Examination and installation only by an authorized electrician in grounded 3-pole gridsGrids of energy-filled lines that encompass our Earth like longitudes and latitudes. More with a fault-current circuit breaker lower than 30 mA.
Compatible for grounding canopies or grounding mats with the following parts: