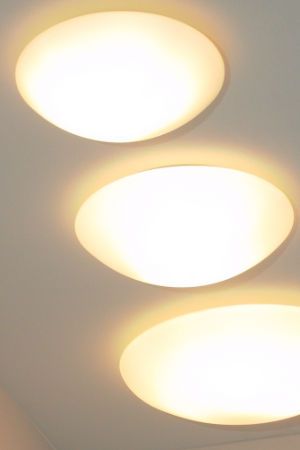 Shielded ceiling / wall lamp with mouth blown opal glass shade in two sizes. With lamp base E27.
Elegance and comfort are at the forefront of DANELL's opal glass luminaire series. In addition to the special feature of shielding against low-frequency electric and magnetic alternating fields, the optics also play a central role. The same applies to the quality of the light, which is determined by the bulb used and the glass body of the lamp.
All these factors have been taken into account in this shielded table lamp and elegantly shaped. Available in two sizes in 32 cm or 40 cm diameter, this luminaire is ideally suited as a ceiling lamp as well as a wall luminaire.
This wall lamp or ceiling lamp is completely made of opal glass. The production of the opal glass shade takes place after traditional glassblower art in wood forms manufactured. Slight irregularities or possibly occurring inclusions of air bubbles are a quality feature for this craftsmanship. Thus each piece of this lamp series is automatically a unique specimen, a unique piece and an eye-catcher.
Wall lamp or ceiling lamp for the reduction of low-frequency electric and magnetic alternating fields
Opal glass, mouth-blown
Ideal for corridors, stairwells and as a ceiling light in any living room
Protection class 1 (with protective conductor) acc. to DIN / VDE
In these countries this shielded lamp can be used:
CEE-7/4 (German System) and CEE-7/7 (French System): Afghanistan, Algeria, Andorra, Belgium, Bosnia-Herzegovina, Bulgaria, Croatia, Czech Republic, Estonia, Finland, France, Germany, Greece, Hungary, Iceland, Indonesia, Italy, Korea, Latvia, Lithuania, Luxembourg, Morocco, Macedonia, Monaco, Montenegro, Moldova, Netherlands, Norway, Poland, Portugal, Romania, Russia, Serbia, Slovakia, Slovenia, South Korea, Spain, Sweden, Tunisia, Turkey, Ukraine, Yugoslavia, Iceland.
Ideal accessory for this shielded lamp