In this seminar, you will go into detail about high- and low-frequency. Everything surrounding directional radio, mobile radio, high voltage and house current. Why do different construction materials react differently to electric fields? How is a mains cut-off planned correctly? How do I recognize the quality of shielding materials? Many questions and even more answers…
Seminar contents: electrosmog from current and radio (LF and HF)
Live radiation-free
Foundations of electrical engineering
Links between current and diseases
effective technological shielding of electrosmog
Mains disconnetor shielding technology
GPA shielding mesh shielding technology
T98 shielding paint shielding technology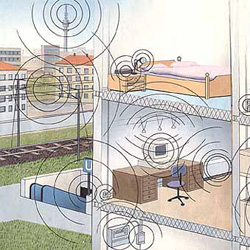 The stress caused by alternating fields from the current (low-frequency) and radio radiation (high-frequency) in everyday life constantly increase, which also reflects the growing number of civilization diseases. Modern technology, such as mobile radio, WLAN, mobile Internet, SAT systems and home electronics leads to massive loads in all of the rooms used in everyday life.
Living rooms and offices, everything fully electrified and mostly fully supplied with radio technology. However, the tragic thing is that this also concerns the important recovery room for our health, the bedroom. Even the bedroom should be completely free of any electromagnetic influence so that the body can recover from the day's physical exploitation. Because the modern person successfully hinders this regeneration, this is also the foundation for symptoms and diseases.
The electrosmog seminar serves as an in-depth extension of the advanced Geobiology & Radiation protection seminar.